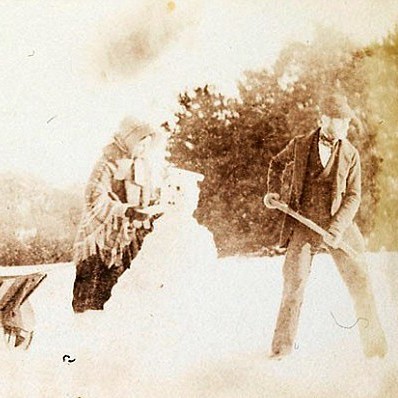 It's probably fair to say that when we were all kids we would wait for the first snow to fall so we can spend a few hours outside building a snowman. And this is not some modern way of enjoying winter and snow. People have been doing it for centuries and now we have photographic evidence for it.
Historian Iestyn Hughes has discovered an 150-year old photograph in the National Library of Wales of a woman building a snowman while a man is shoveling snow next to her. While it does look like a snowman, a few things we're used to seeing are missing — there's no carrot for a nose, no scarf, or hands. (So okay, maybe it's a less fancy version of modern-day snowmen but the photo was literally taken in a different era.)
[DON'T MISS: This is How You Build the Perfect Snowman, According to a Champion Snow Sculptor]
In fact, we also know the photographer's name — Mary Dillwyn who is thought to be the first female photographer in Wales. She was 37 at the time the picture was taken in 1853. 
And while this was the first time, a snowman was caught on film, the snow figures date back all the way to 1380 when the earliest artwork depicting a snowman was depicted in Koninklijke Bibliotheek, in The Hague.
On a snowy day, why not make your own tiny snowman in a handmade snowglobe?