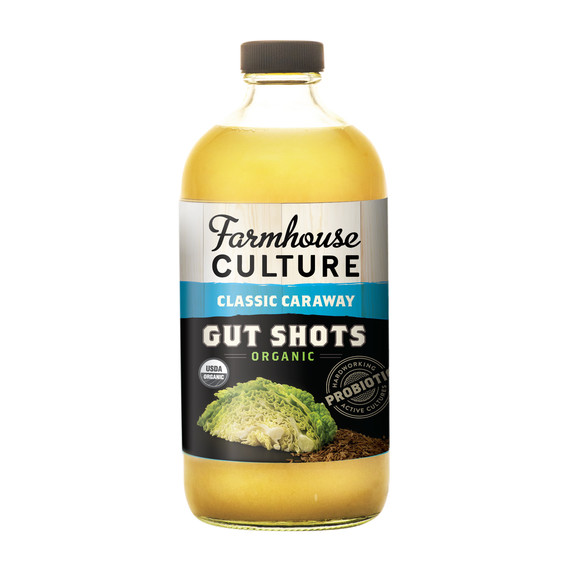 Our test kitchen has fallen hard for Farmhouse Culture gut shots. Made in Watsonville, California, the concentrated flavors, such as the classic with cabbage and caraway seed, come from the by-product of the company's sauerkraut. Founder Kathryn Lukas first started making organic sauerkraut in 2008 and expanded into kraut juice, or what the company calls gut shots, in 2010. She says, "We had to skim off quite a bit of juice from each barrel of sauerkraut, so we decided to start selling it at the Bay Area farmers' market for a buck a shot and $5 a bottle. Within three months, it was selling out regularly and became a Bay Area cult drink."
Gut shots have since eclipsed the company's sauerkraut in popularity, so much so that Lukas had to set up a separate production where they make sauerkraut specifically for the juice. "We press the heck out of it, and the leftover kraut is used to feed pigs and cows at local farms," she says.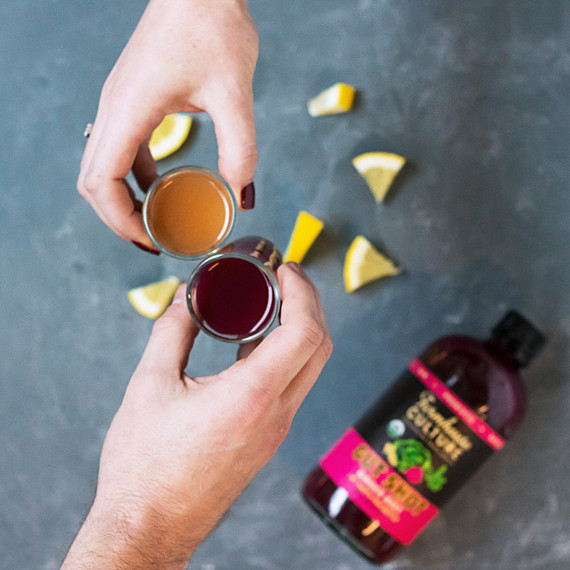 Lukas first learned about the wonders of kraut juice when she was living in Germany in the '90s. "The chef that I worked under was Alsatian, and he showed me how to use it to finish sauces. We didn't have access to lemons year-round, and vinegars got old after awhile, so whenever a dish needed acidity, we'd add a splash of kraut juice. It's the best secret ingredient," she says. Lately, she loves using the classic gut shot to make lemonade, adding the ginger-beet flavor to smoothies, and using the kimchi or smoked jalapeno version to make ceviche.
Our test kitchen's suggestions? Stir some gut shot into vinaigrettes or soups, or simply swig it when you need a pick-me-up. According to Lukas, the Germans have already been doing the latter for quite some time: "Kraut juice is a big thing in Germany. You can buy it in cans, and people drink it when they're sick or hungover." Prost!
Farmhouse Culture Gut Shot, $6 each, wholefoodsmarket.com