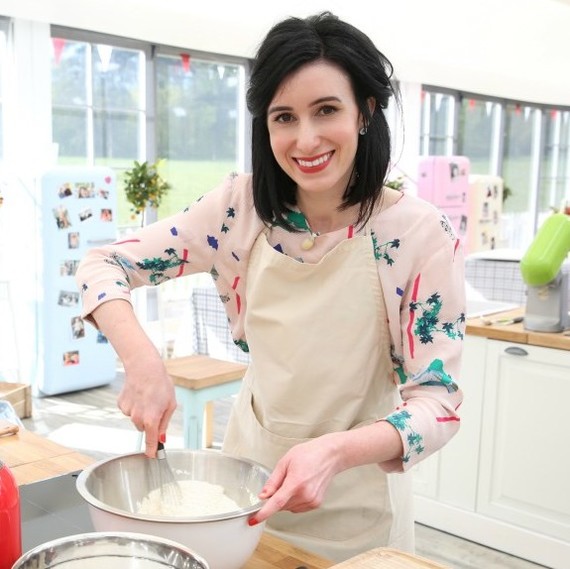 Baking and reality TV: These just might be two of our very favorite things. So it's only natural many of us are big fans of "The Great British Baking Show" on PBS. If you've seen it, you, too, understand the appeal: Twelve self-taught bakers duke it out with whisks and rolling pins while we watch with bated breath. Their creations are judged by Paul Hollywood and the one and only Mary Berry, a venerable baker and cookbook author.

Week after week, we watch the contestants work through three challenges under the umbrella category of that particular week's theme: The Signature Bake, The Technical Bake, and the Showstopper Challenge. Drama. Revenge. Lovely, pastel-colored pastries. What more could a girl ask for?
(GET: all the latest recipes from our very favorite baking show, Martha Bakes)

Another reality TV show about baking, that's what!
Yup: There's a French version, an Australian version, and spin-offs in Poland and the Netherlands, too. But even better than all that (and doubly international) is the inspiring story of the woman who just won the French contest: Chelsea Wilson is a 29-year-old Australian home baker who was proclaimed the victor of "Le Meilleur Pâtissier" (or "The Best Pastry") as it's known in France. 

Wilson, who lives in Paris, secured her victory by crafting a magnificent chocolate bird sculpture complete with ginger-caramel chocolates and rosemary-and-olive-oil infused chocolates. It took her four hours, and a whopping four million French viewers watched as she created it.
"Voila," she wrote on Instagram after her win. "My baking adventure has come to an end and I could not be more thrilled to announce that I won!" 
Her culinary fairytale only gets more magical: Before competing on the show, Wilson led a relatively quiet life with her French husband, writing a food blog titled "A Parisian Journey" and working part-time as a nanny. She says she only applied to be a contestant on "Le Meilleur Pâtissier" because she figured it would improve her French. "I never really even wanted to win, so it was a big surprise," she told Australian newspaper, The Advertiser. "It was insane. A lot of actual qualified pastry chefs probably couldn't do a sculpture in chocolate because either you're trained in patisserie or you're trained in chocolate; it's hard to do both."

We imagine it was harder still when she found out that one of her idols, celebrity pastry chef Pierre Hermé, was the guest judge who'd inspect her final creation. But hard as it was, Wilson made it happen. And now, we have a feeling this is far from the last time we'll be hearing about her stellar pastry skills. 
Just one question remains: When, oh when, does the next season begin?