Give cupcakes an Easter upgrade by borrowing a tool from German baking: a springerle mold. With a quick press, you can imprint a bunny design in circles of fondant. Then, set the disks atop our Carrot Cupcakes with Cream Cheese Frosting.
Tools and Materials
Cornstarch
Fondant, room temperature (available at baking-supply stores)
Springerle mold with bunny design (available at houseonthehill.net)
Round cookie cutter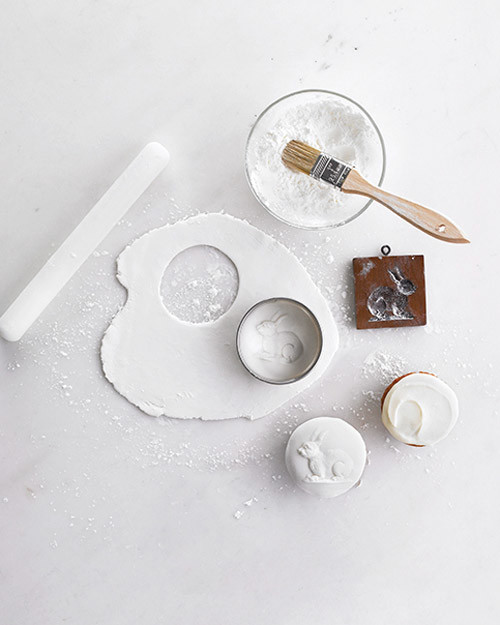 Steps
1. Dust a work surface lightly with cornstarch. Knead fondant until soft and pliable. Roll out to 1/8 inch thick.
2. Slide springerle mold, face up, under fondant. Press fondant into mold. Slide mold out from under the fondant; flip fondant over so raised image faces up.
3. Punch out a circle around image using the cookie cutter. Frost cupcakes. Lay fondant circles on top.
Tips
If you don't have a cookie cutter, you can use a juice glass. Fondant circles can be made up to 2 days ahead and stored in an airtight container at room temperature.
Get the Carrot Cupcakes with Cream Cheese Frosting Recipe