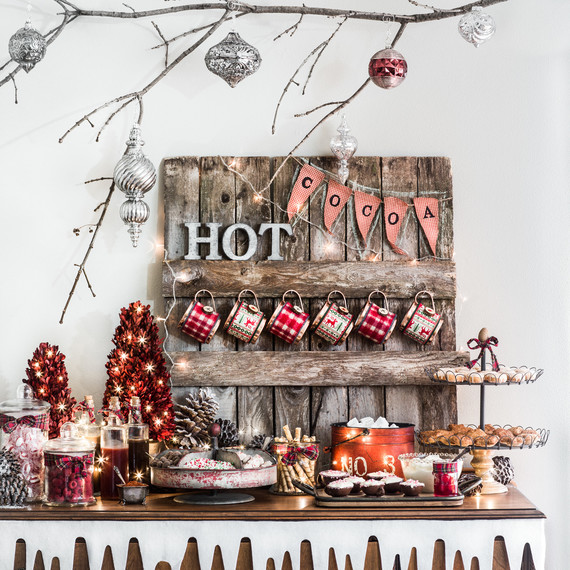 Inviting family and friends over for the holidays? Our hot chocolate with a rustic, cozy, cabin feel is sure to impress! Easily recreate one for your home with these helpful tips for decorating your space. We have suggestions for decor, food, and an amazingly adorable DIY gift your guests can take home!
Deck Out the Bar
When it comes to entertaining, we at Little Rusted Ladle never skimp on the personal handmade touches and this party is no exception. Jazz up your hot cocoa bar fixings displays with strips of torn up red flannel. We tied these flannel ribbons to a wide variety of glass jars and our pedestal. Add personality to your sign by mix and match lettering. We used tin letters for the word "hot" and then made a banner for the word "cocoa" out of red plaid fabric, stencils, paint and jute. Once we hug the banner to the distressed wooden board, we outlined it with a light green chalk for an extra visual layer. On the wooden board, we simply added nails to hang our mugs for an inviting display. Fake snow was added to pinecones using spray adhesive and then scattered on the table. We brought in a branch, adhered it to the wall above our sign and hung intricate lightweight ornaments from them bringing in the colors of silver and red. 
[DON'T MISS: Our Top Tips for Making Hot Chocolate]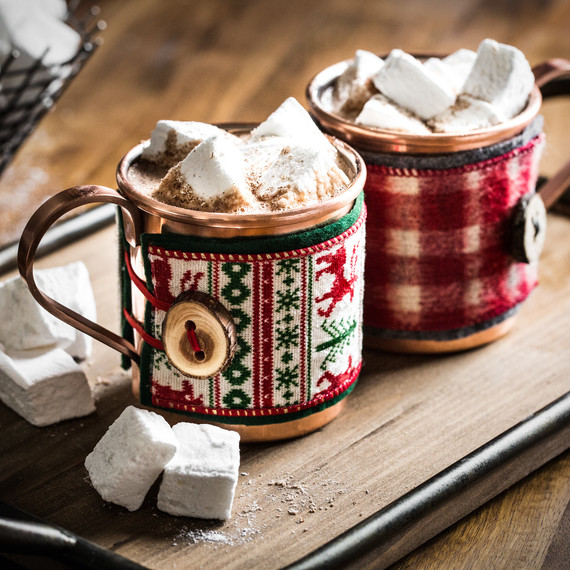 A Cozy Gift
Learn how to make these simple mug cozies to give your guests (or keep for yourself). Now, I didn't add measurements because it will depend on your mug selection. I do recommend a mug that is a simple cylinder shape with no tapper so the cozies wrap around tight at both ends. 
To enhance our cabin theme, we chose to use a holiday print ribbon, red flannel ribbon and handmade buttons from branches. We bought some buttons from a crafter and made some ourselves too by sawing thin slices from a branch and then drilling small holes.
[MAKE: A Holiday Mug Cozy]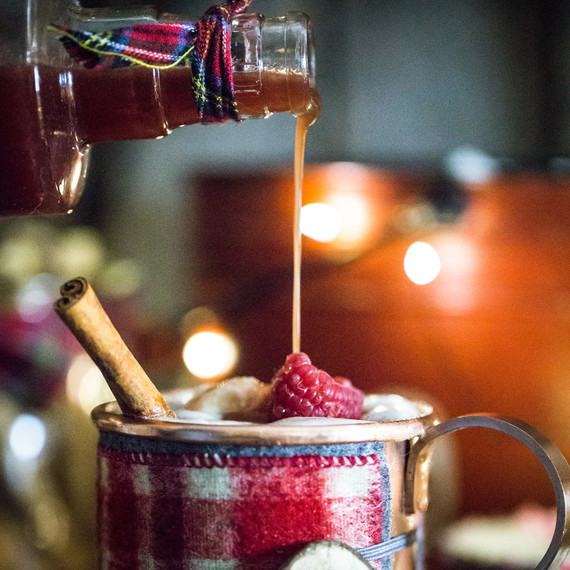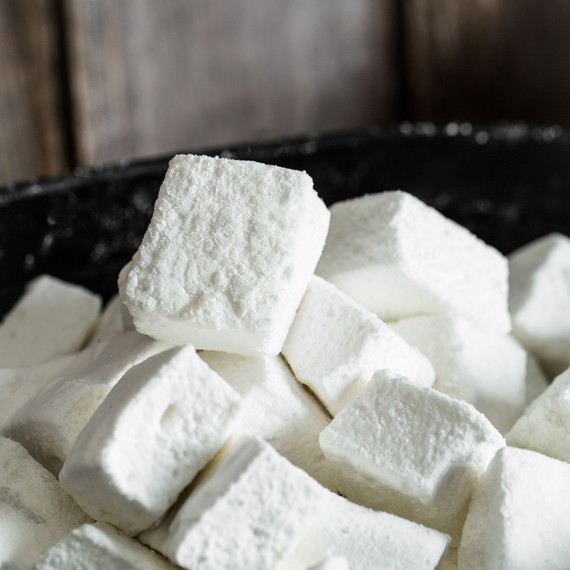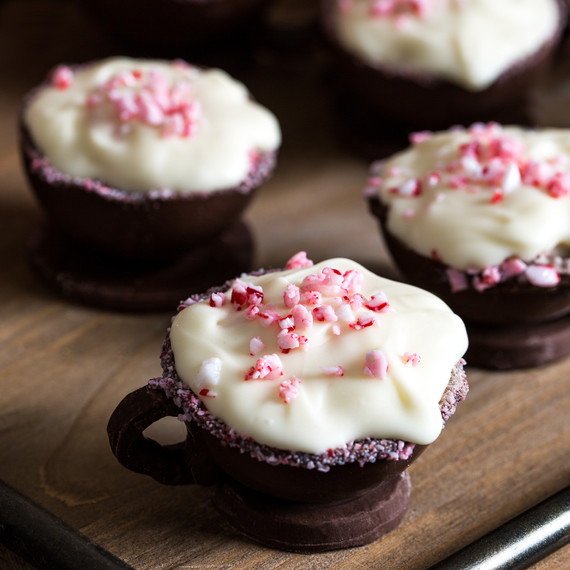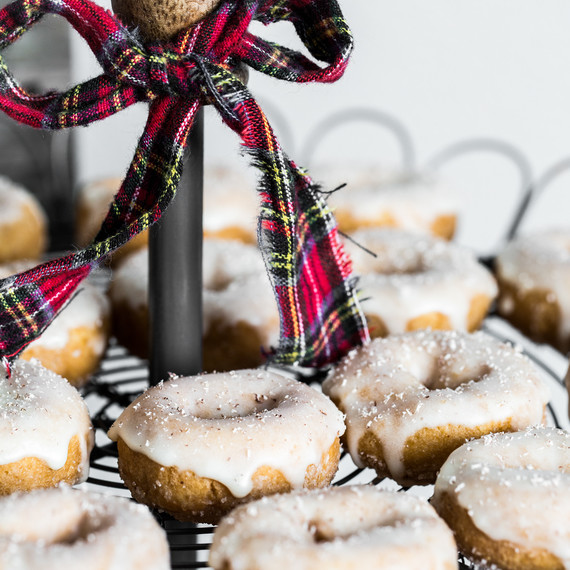 Of course, no hot cocoa party would be complete without dunk-worthy foods like eggnog cakes, doughnuts...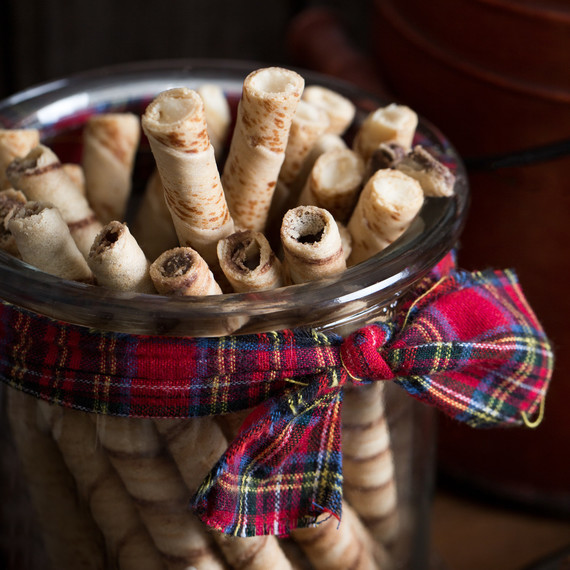 ...and wafer cookie sticks.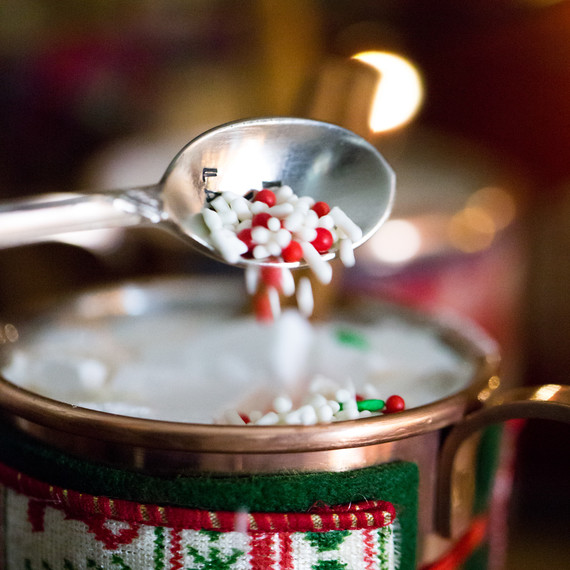 A hot cocoa bar is a great way of following up a day of fun in the snow. Whether it's sledding, ice skating, skiing, or an old fashioned snowball fight, Adults and kids alike will sing your praises as they sip their custom cocoa creations wrapped with their cocoa cozies. The delicious flavor of chocolate will only be outdone by the memories it creates.
Feeling inspired? Watch how to make holiday mug cozies: