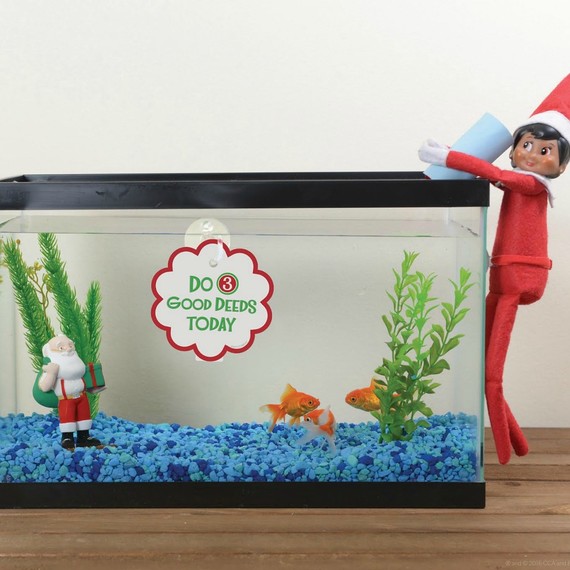 By now, you've heard of the latest Christmas tradition The Elf on the Shelf — both the children's illustrated book and the scout elf. The story was written back in 2004 by a mother and daughter duo, Carol Aebersold and Chanda Bell. Aside from the magical message of the book, a selection of darling images accompany the story which was illustrated by Coë Steinwart.
Once an elf is adopted by a family, he becomes a part of that family's Christmas traditions year after year. The North Pole writes about the role that each family's scout elf plays, telling, "When a family adopts a scout elf and gives it a name, the scout elf receives its Christmas magic and can fly to the North Pole each night to tell Santa Claus about all of the day's adventures. Each morning, the scout elf returns to its family and perches in a different place to watch the fun."
Today, more than 10 million Elf on the Shelf sets have been adopted into homes spanning the globe — and they're still growing. In fact, the elves have introduced their new friends such as Elf Pets: Reindeer and Elf Pets: a Saint Bernard Tradition as part of an expansion on the original idea. Beyond that, you'll see the scout elf floating in the Macy's Thanksgiving Day Parade, starring in an animated TV special originally appearing on CBS, and a new line of Elf Couture: The Claus Couture Collection. (It goes without saying, that the scout elves have kept rather busy throughout the years.)
However, there once was a time when it wasn't always smooth (sleigh) riding weather. Think back to the early 2000s when Chanda Bell (and co-author of The Elf on the Shelf: A Christmas Tradition) went to visit her mother, Carol Aebersold one afternoon. While talking, Chanda looked up to a shelf and noticed her old treasured family elf, Fisbee sitting on a shelf. Warm memories of her family's holiday tradition of having one of Santa's scout elves coming to Chanda's home each season came flooding back to inspired the jolly idea of co-writing a Christmas theme book with her mother (with Santa's permission, of course).
Chanda admits that the intention of keeping the elf and Christmas story "as synonymous with Christmas as we could'' while maintaining the values of love, compassion, generosity, and kindness was a marketing challenge. At the start of the book, Chanda and her mother picked 10 agents to whom they would pitch their idea. It was no surprise that the idea was a hit, but really that's all agents, marketing gurus, retail advisors, and branding experts could agree on — it was a cute idea. "They really didn't know what to do with it," Chanda recalls. "They really didn't get it." It was brought to the mother and daughter's attention that no child would be interested in a rhyming book. Also, there were concerns that the concept might become a fad.
However, both Chanda and Carol knew that their family tradition and the Santa approved idea really did mean something. Refusing to listen to the naysayers, one agent recommended that Chanda and Carol self-publish their story. This way, they'd be able to bring The Elf on the Shelf into the world the way they wanted it to be. Self-publishing did seem like the only answer but with limited funds, the idea of funding their idea was as daunting as squeezing lumps of coal into glittering diamonds. Money was an issue for Chanda and her family, but good credit was their good fortune as she and her husband started the journey of The Elf on the Shelf merely on credit. "The bank wasn't going to invest in a bunch of elves," Chanda recalls on the risky move. Chanda proved she didn't need the bank as she had confidence, determination, and the Christmas spirit on her side. She also had the support of her friends and family.
Her twin sister, Christa Pitts sold her Pennslyvianna home, which assisted the family to buy their first 5,000 units. What comes after, Chanda recalls as, "quite a sleigh ride." After their first units were purchased, it was up to Chanda and her family to promote their new concept. Chanda was able to pay for the first 5,000 units of their elves within the first year by traveling around the country to junior fairs, craft shows, and mostly sharing their tradition with other accepting families.
[DON'T MISS 8 Elf on the Shelf Ideas to Try With Your Family]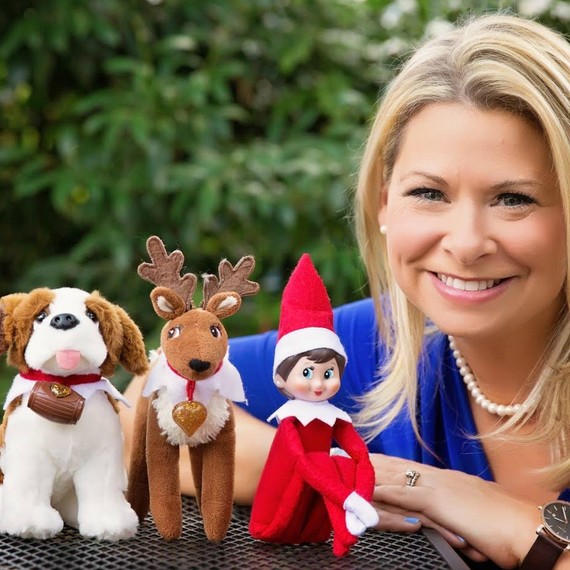 Today, Chanda and her merry team understand the importance of being able to represent (and work for) Santa Claus. Chanda refers to Santa as "The first great philanthropist.'' True, The Elf on the Shelf is a cheerful picture book about a scout elf that assists Santa during the busiest time of the year all the while watching children's behavior. However, knowing the true Christmas story behind the scout elves you'll notice that together Chanda, the elves, Santa Claus, and the friends at The North Pole have a bigger — more meaningful message. Faith, hope, and love are all ingredients that go into making Santa so great. The tale of The Elf on the Shelf as well as it's prequel, Elf Pets: Saint Bernard teaches children and their families about generosity as well as kindness. Together, these jolly ingredients make the holidays more about sharing not so much about wanting and getting. These are the core characteristics that come together to help parents around the world introduce into their children's lives. The Christmas tradition story that Chanda and her family created merely does so in a very meaningfully understandable way.
Their website also opens a new avenue for children to explore the world of The North Pole as well as interact with Santa and magical friends. There is a blog written by Santa, portals for children to send Santa their wish lists, as well as craft ideas, elf name inspiration, and countless other activities. Chanda admits that it takes a "specialness'' to work and represent Santa in a kind-spirited way. As each Christmas season comes into swing, you can bank on the fact that millions of scout elves are returning to their adopted homes some dressed in a few new elf fashions. Others presumably accompanied by an Elf Pet (a reindeer or Saint Bernard). However, you can also snowbank on the fact that millions of new elves will be adopted into their forever homes too. Chanda comments on the holidays, saying, "It's a busy time of the year, but it's a pleasure to get to work for Santa."
If you're still looking a few laugh-out-loud scenarios for your family's scout elf, see our ideas: