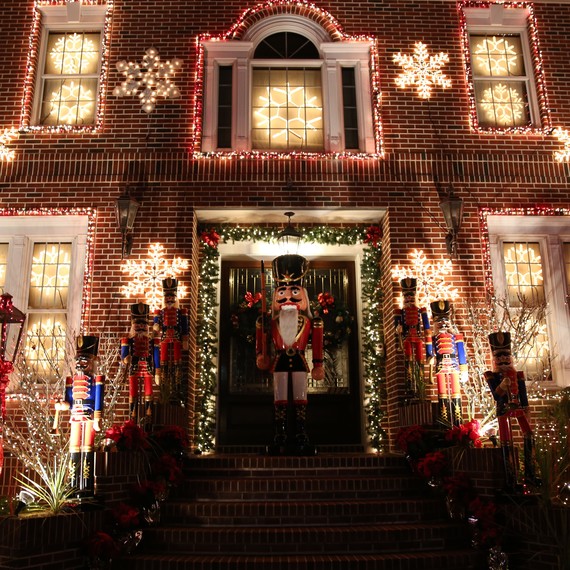 Many neighborhoods across the country go full-on Clark Griswold as soon as the Thanksgiving dishes are put away. Take in your own town's decorations by foot or car — you'll surely find front-yard extravaganzas to ogle. These famous spots really get lit, and if they're hundreds (or thousands) of miles away, Google Images does them dazzling justice.
Brooklyn, New York
More specifically in Brooklyn's borough: the Dyker Heights neighborhood puts on one of the most stunning Christmas light shows of the season. People will come from all over just to see what extravagant and wonderful lighting decorations the homeowners have set up to celebrate the holidays. From musical light shows to statuesque Nutcracker Kings, the "Dyker Lights" as they've been dubbed will amaze and delight 100,000 tourists who visit every year.
Hartford, Connecticut
Hartford's annual Holiday Light Fantasia provides a two-mile show of life-sized lighted scenes that celebrate Christmas, Hanukkah, New Years and Three Kings Day for an inclusive and beautiful experience for the whole family! In 2015, the event attracted 90,000 visitors and more are expected to attend this year. The lights begin in Goodwin Park and proceeds will benefit the Channel 3 Kids Camp. You'll drive through the park and see large, animated light displays of holiday scenes that will have you oohing and ahhing the entire night.
Little Rock, Arkansas
Decked out in lighted glory, this historic state capitol building culminates the Arkansas Trail of Holiday Lights with its deep connection to the history of Arkansas. White lights outline the columns and the domed rooftops, cover the trees and reflect across the lighted fountain. Fireworks shows add to the majesty of the evening.
Strongsville, Ohio
The nine families that live on the Crown Point cul-de-sac put their houses on the national map by turning each one into a blitz of bling.
Arlington, Texas
One local man illuminated his home in 1976. Now, all 200 or so on the two-mile Lake Interlochen loop do, drawing thousands of visitors.
[TRY THESE: Spectacular Christmas Light Ideas to Try at Home]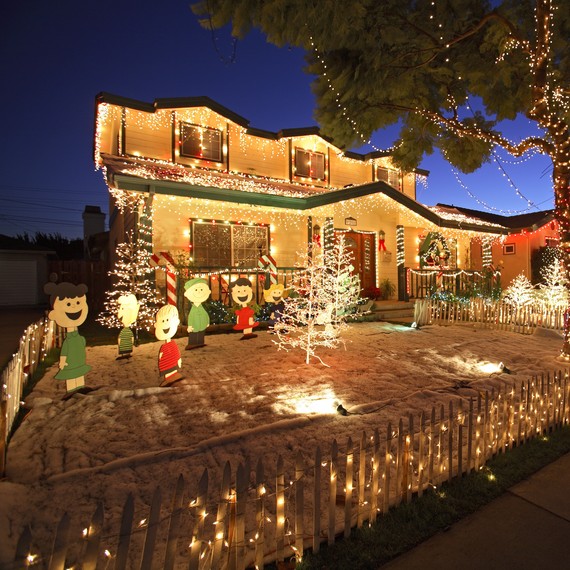 Woodland Hills, California
The homeowners of the informal Candy Cane Lane, located on Lubao and Oxnard Streets, have created one of the most elaborate holiday lights displays in America. Each home is different and reflects a theme. Residents decorate their yards with large lighted figures, such as Santa Claus or the Nutcracker, and add candy canes, gingerbread houses and more for a wonderful drive-by holiday experience.
Orlando, Florida
Add an extra dose of magic to see the Christmas light display at Disney World. Castles frosted with tiny white lights and illuminated in blue provide a spectacular tribute to the season and its beauty. In this Winter Wonderland, visitors experience live orchestral music and a candlelight procession retelling of the Christmas story. The entire resort shines from the lights adorning the buildings and trees throughout the park.
[TRY THESE: Creative Christmas Tree Decorating Ideas]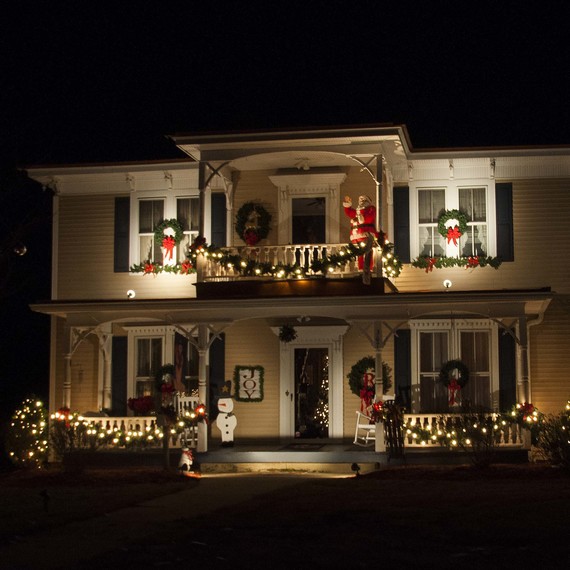 McAdenville, North Carolina
The month-long visual and musical spectacle put on by a local textile mill has earned this place the nickname "Christmas Town USA." In this tradition since 1956, Victorian-style, wood-sided homes are beautifully and tastefully bedecked for the holiday season. 
Branson, Missouri
The theme park Silver Dollar City (established in 1960) celebrates Ozark Mountains culture and, has served as host to An Old Time Christmas festival. Visitors enjoy more than 6.5 million lights and 1,000 decorated trees, nightly parades and musical productions, and that's nothing to be said of the the acclaimed 5-story special effects Christmas Tree that synchronizes with Christmas music and can make up to 100 light changes per second.
North Pole, Alaska
True to its name, the Santa Claus House in Alaska fully embraces the holiday spirit where "It's Christmas every day!" For over a decade, the residents of this suburb in Fairbanks have embraced the spirit as well, hosting the six-week Christmas in Ice festival that combines lights with intricately carved ice sculptures.
Feeling inspired? Watch how to use Christmas lights at home this holiday season: