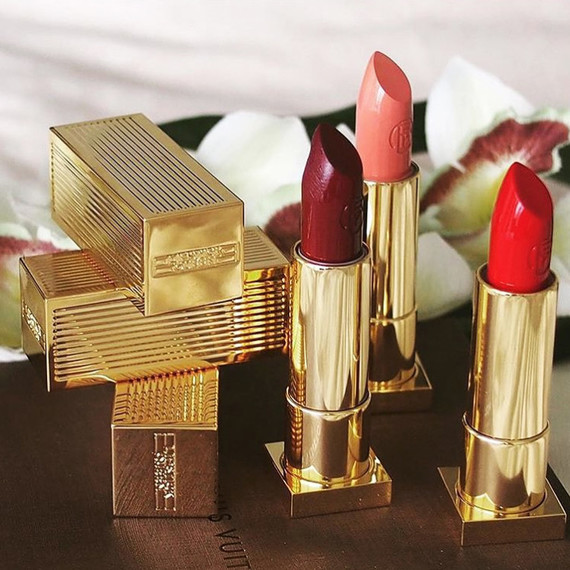 "But momma, please can I come to the Opera?" I'm not sure if these were my exact words, but I vividly remember the sentiment attached to them. I was about 3 years old and my parents were on the way out the door to an evening at the Metropolitan Opera. Given my precocious nature and proclivity towards acting like a person far beyond my years, it was only natural to want to tag along.
"You can't come tonight, but you can wear some of momma's lipstick if you like." This moment, is my very first beauty memory, if not one of my earliest memories at all. I can still feel the weight of the enamel casing that housed my mom's glorious Chanel lipstick. Further I remember that iconic smell. When I get a whiff of that powdery, sweet scent of Chanel, I think of this night, even 20 years later. But more than that, the feeling when I applied the lipstick, comes rushing back to me—like this was the gateway.
Over two decades later, I still love lipstick, and now that I'm a verifiable member of the "grown-up" segment of the population (a term I use lightly—let's not get fast and loose with who we deem to be adults), I still love lipstick. In fact, I feel most like myself when I am wearing it. I wear it while I am alone in my apartment tidying up, and I wear it all the same for a blind date. It's part of what makes me feel sure of myself.
There's something inherently un-natural about a deep burgundy lipstick or a screaming scarlet lip. Absolutely no one is born with lips redder than the reddest rose. And because of that, lipstick can become banner of protest, as if to say, "No, I will not be ignored." Given my very clear feelings about the manner, I reached out to the veritable queen of lipstick, Poppy King, the creator of the brand Lipstick Queen, because it is quite simply her specialty. She seldom creates a product that isn't meant for your lips.
On the power of lipstick, King has this to say, "All other cosmetics enhance, correct or conceal something; lipstick is the only cosmetic that has the power to transform what you think you are capable of… It's like a superhero's cape!" Which is probably why so many iconic women have taken to lipstick as part of their signature look. For example, in her book The A to Z of Lipstick, an adorable illustrated guide to all things lippie, Poppy actually writes about how Madonna defined a new era of girl power with red lipstick—her red lipstick was a symbol of her strength, confidence and will to be her own person.
And when you think about it—that's the beauty of red lipstick. Because it forces you to acknowledge it by virtue of its sheer visual nature, it can be a form of silent strength. For so many women, myself included, a kick-ass red lip makes one feel like she is wearing a coat of armor. Confidence in a case—that come in every shade of the rainbow. Lipstick is indeed a weapon of femininity in a way.
For the woman who has yet to experience the life-changing magic of a red lip, King has this advice when it comes to finding the right shade, "Look for a lipstick that lights up your face whether it's sheer or intense. You'll know when you find it. It's a color that makes your hair, skin, and eyes come alive, without any other makeup. Once you find that shade, make it your signature shade. Trust me, it will do magical things for you every day." In other words, go play. There's no such thing as the wrong lipstick. You'll know when you've found your true blue. You can often tell how I'm feeling by the shade of lipstick I choose. If it's nude or rose, I'm feeling demure and quiet. If it's fire engine red—well, that's my war paint, and I'm here to slay. If it's vampy, I'm feeling myself.  That's all part of the fun. Every time I open a tube, it get a little rush of dopamine, and it's been that way since I was rummaging through my mom's makeup bag and stealing her lipstick (much to her chagrin.)
And of course, Poppy King believes, as does yours truly,  that every woman should own lipstick, but more importantly every woman should have a red lipstick in her back pocket. King says, " It doesn't have to be matte, overwhelming, or scary. It can be a sheer red that looks like a stain and bring color to your face. Red lipstick is like a sports car, it's going to get attention no matter what, so find the one that you love and wear it with confidence!" At the end of the day, the next time you need some courage, or a renewed bounce in your step, maybe red lipstick is the answer. You never know when it will make you feel more like you, or if it will help you channel the strength you need.