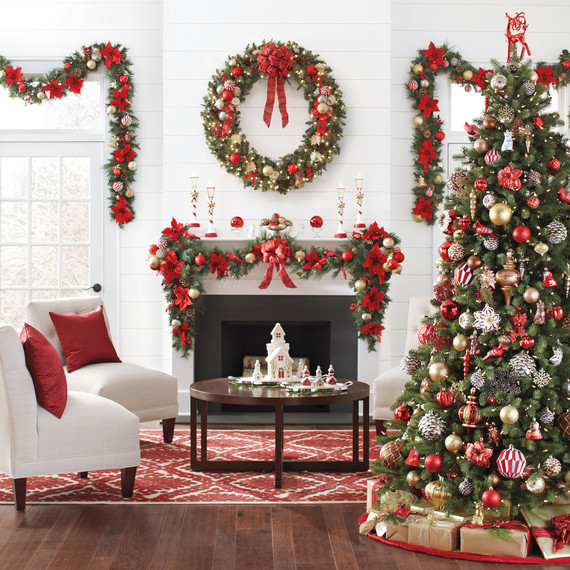 Perhaps you want to throw the biggest Christmas gala of the year in your neighborhood or host a holiday fundraiser? Maybe you just need a little help in putting your Christmas together the way you want and have no idea where or how to start? That's where a Christmas stylist comes in. While celebrities like Beyonce and Caitlyn Jenner have hired Christmas stylists for their decorating needs, non-celebrities can take part in the trend as well.
"Most of our clients are either retired, or they're very busy people like celebrities and public figures," says Bob Pranga, tree stylist and co-owner of Dr. Christmas. "And we also have clients whose children have all grown, so now they can decorate the house the way they've always wanted. Other clients want to decorate for a big party."
Pranga remembers working for two expectant mothers who weren't able to decorate the house for the holidays themselves. They wanted to make the season special but couldn't do any climbing or heavy lifting. So, they hired him as a Christmas stylist to make their homes Christmas ready.
What truly sweetens the deal is that Pranga and his Dr. Christmas partner, Debi Staron (who is also a tree stylist), bring in a crew that will take down all the decorations as well. "We make sure that they get a chance to enjoy Christmas because we handle both the installation and the take down," Pranga says. "People really love that."
[HOLIDAY HOME TOUR: Take a Sneak Peek at These Rainbow-Inspired Christmas Decorations]
When hiring a Christmas stylist, you'll first receive a consultation that includes looking at the house or venue and sharing what experience you would like to create. Do you want a magical winter wonderland? Would you like to create a real-life polar bear paradise? Pranga will also ask if you would like him to take care of the entire decorating plan or only handle part of it, such as just decorating the tree.
Depending on the project, Pranga and his team will either use the decorations the client already has on hand or go out and find the perfect decorations to make their Christmas a success. It really comes down to what the client envisions and how much they intend to budget. While the cost of hiring a Christmas stylist will vary according to the needs of the client, it definitely does not come cheap.
"I always make sure that my clients are comfortable with the budget," says Pranga. "But the cost of materials are factored in, not just labor. Even if we went to Target, it can really add up when you're buying a lot of decorations. There's no ceiling on Christmas. It will be based on what the client wants, the materials needed and how large the project is. Our services are entirely customized." Some of his projects have ranged from $2,500 to $80,000.
The great thing about hiring a Christmas stylist is that it gives you time to focus on other aspects of party planning and allows more time with your friends and family. Think about how wonderful it would be to not have to worry about placing garland and lights all over the house! But before you hire a stylist, make sure you know how much you can budget toward the service. A stylist should make you aware of all the costs involved. Yes, it can be expensive, but it might be exactly what you're looking for this holiday season.
Or if all else fails, you can always turn to Martha for perfect holiday decorating advice: