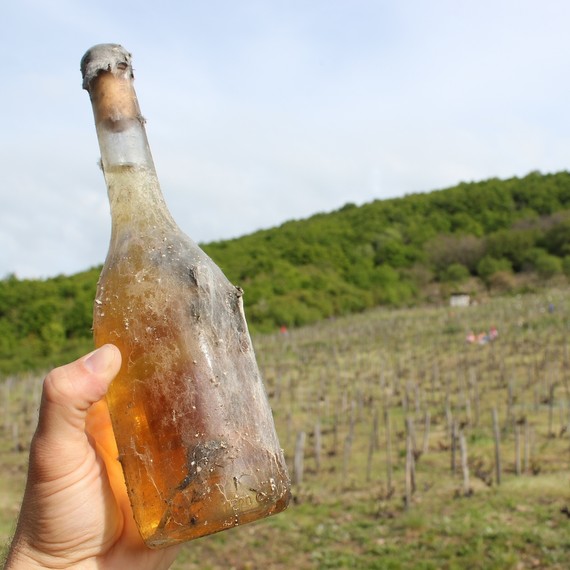 Have you noticed a new category of wine at your favorite wine bar or in your Instagram feed -- orange wine? This wine style may be new to you, but it's one of the oldest known wine styles that we know of today.
So... What Is Orange Wine Exactly?
It's simply a white wine that's made like a red wine.
When red wines are made, the grape skins are incorporated with the juice during fermentation -- lending their pigment and structure to the finished wine. White wines do NOT make use of the grape skins: the fruit is pressed, the skins and stems are discarded right away, and only the clear juice is used to make the wine. Orange wine is what happens when the skins of white grapes are welcomed into the fermentation vessel along with the juice -- this prolonged skin contact means the 'white' wine now comes out in orange, amber, and copper tones.
It's not just color that gets infused from this production method, it's flavor and texture too. The seeds and stems of the grapes contribute tannins -- the compound that makes your tongue pucker up and makes your mouth feel dry -- and most orange wines have some savory or nutty flavors as well.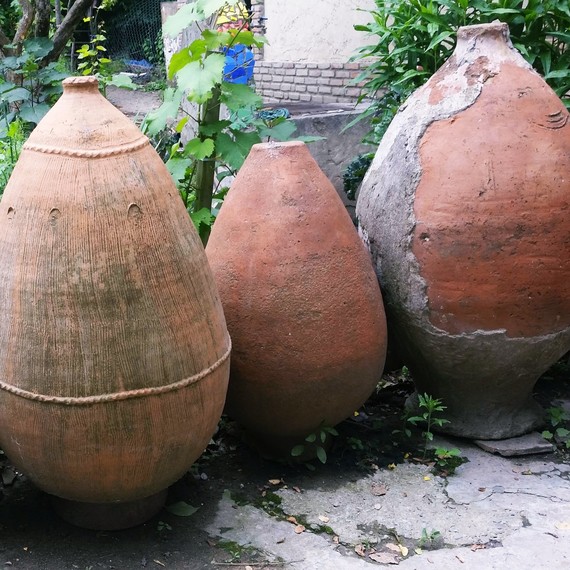 Orange Wine's Ancient Origins ... And Why It's Trending Now
Over the course of thousands of years, there was no sorting or destemming of grapes as is standard in modern winemaking. For both red and white wines, all the fruit was put whole-cluster into large clay vessels called qvevri (or amphorae, depending on your location) and left to ferment. By the 1800s, more sophisticated production methods had taken root in most wine regions and this more 'primitive' way of making wine had fallen out of fashion -- except in the Republic of Georgia wines were still produced in this traditional way. With the opening up of the Eastern Bloc in the early 2000s, winemakers from around the world were able to visit Georgia and once they tasted these fascinating wines, many were inspired to try this ancient method. Currently, orange wines are produced not only in Georgia but worldwide.
Why Winter Is The Time To Drink It
For fall and winter, orange really is the new pink! The reason rosé wines are so popular in the summer is because they are lighter and fresher than their deeply toned red counterparts (Rosé is made from red grapes but the juice has contact with the skins very briefly, just until the wine starts to be tinted pink). Conversely, orange wines are a great way to enjoy Chardonnay, Sauvignon Blanc, or Pinot Grigio in the fall and winter, because when these familiar grapes are fermented on their skins in the orange wine-style, they come out richer and heartier, all the more cozy to enjoy by the fire or paired with braised meats.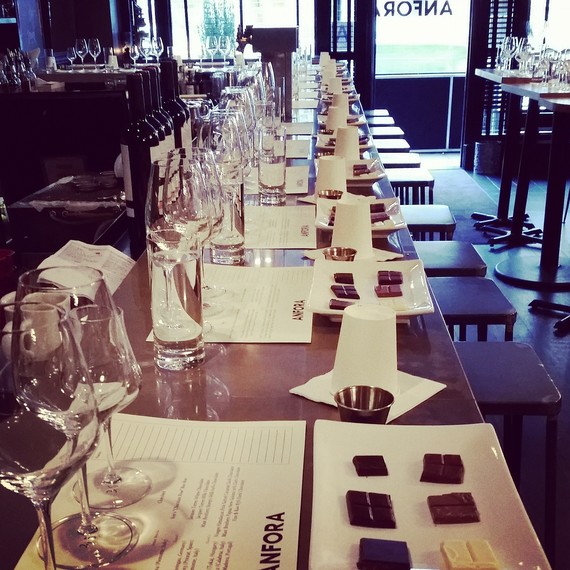 How To Drink Orange Wine
In order to learn more about orange wine, I went to Anfora in New York City: a charming wine bar that specializes in orange wine. On any given evening at least 2-3 orange wines are poured by the glass, with and an additional 20-30 by the bottle ranging from classic and approachable to highly funky and even smoky. I taste an array of orange wines with Dave Foss, Anfora's sommelier and wine buyer, and got his expert tips on how to serve them.
The first thing I learned is that there are no standard rules in terms of serving, storing, and pairing these wines with food. Dave recommends you treat each bottle on a "wine by wine basis ... the fresher, lighter, more dainty orange wines can be served chilled, and the heavier more tannic orange wines with more skin contact -- the ones that drink more like reds -- can be served at cellar temperature." Dave's tip? Find a great wine shop where the staff can advise you on which style you're buying and the best way to drink it.
The same goes for food pairing -- as with rosé, you want to match the intensity of the dish with the body of the wine. Try a subtler, fresher style of orange wine with roasted salmon or root vegetables. Orange wines with more oxidized, funky flavors can pair really well with game meats.
Orange wine isn't widely available in the U.S. As it becomes more popular, it will be easier to find. American wineries experimenting with orange wines quite deliciously include Scholium Project, Donkey and Goat, Dirty and Rowdy, Thomas Fogarty, and Shaw Vineyards.
And here are three Old-World bottles that are currently widely available for a great introduction to the adventurous world of orange wine:
Kabaj Ravan 2012, $23.99
Ravan is the Slovenian name for the Friulano grape. Dave recommends this as a fresh, delicate, and appealing example of orange wine (not too funky). With notes of apricots and honey, and just a touch of hazelnut, it's a lovely drinking experience served chilled.
Pheasant's Tears Rkatsiteli 2015, $16.99
The 2015 vintage of this wine only has one month of skin contact, making it softer, less tannic and smoky than previous vintages that had a longer maceration period. Aged in qvevri, it's round, savory, and complex. Serve this one at cellar temperature.
Attems Pinot Grigio Ramato 2015, $19
Dave calls the Ramato style "orange wine with training wheels." Not many people know that Pinot Grigio has pink skins -- so when these skins are used in fermentation, the wine comes out a pretty copper color. Silky smooth and light enough to be a winning pair with seafood, this a wine to start with if you're just easing in slowly to the world of orange wine.