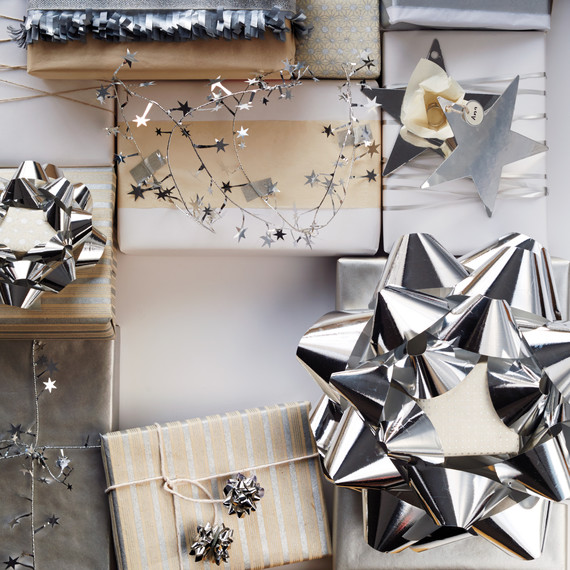 According to new statistics, Americans will spend an average $830 on Christmas gifts. So, what exactly are people dashing through the malls and store halls for and how much jingle do they plan to spend? Gallup took a pre-holiday peak at anticipated Christmas shoppers during the month of October to gather their information and revisited their findings in November again to come up with these seasonal numbers.
Gallup reports, "Regardless of the amount spent, Christmas gift giving remains an important cultural and economic tradition in the U.S. Nearly nine in 10 U.S. adults intend to spend something on gifts, including 3 percent who think they will spend less than $100, 53 percent who plan to spend $100 to $999 and 31 percent who will lay out $1,000 or more."
[DON'T MISS: 6 Rules to Regifting, According to the Etiquette Experts]
Many have already made a dent in their shopping list, but there is room for 6 percent of shoppers who are undecided on how much jingle they'll part with this year. Let's not forget the other 7 percent who are not planning on spending anything due to not celebrating the holidays. Averaging the American population as a whole and what they plan on spending this Christmas is one thing, but breaking up spending methods by various age groups and categories is another way to gain Christmas spending insight.
PWC.com is reporting that the holiday 2016 digital sales will increase by 25 percent due to mobile/one click shopping options. Generation Z is leading the one-click/store app shopping surge increasing the new buying method this year to 25 percent. This only makes sense as they are the most mobile savvy generation with the millennials right behind them. So, what is everyone buying with their smartphones? PWC is reporting that millennials will buy their pets $81 dollars worth of Santa-Paw worthy gifts as other generations plan to spend $62 dollars on their fur friends. Some most trending gifts this year are being sold on Amazon. If any of the Harry Potter books, the Amazon's Echo, Hamilton soundtrack, and/or the Hasbro game, Pie Face is on your shopping list you are not alone. Actually, online shopping has increased by an additional 10 percent during this year's shopping season. Amazon is leading the online retailer pack (ahead of Walmart) for the third year in the row according to Forbes Insights. It's a safe bet that these digital dollars amounts are expected to rise on National Free Shipping Day which is December 18th.
Gift shopping aside, many American are saving room in their wallets for charities too. Going back to PWC, gift buyers are expecting to spend at least $244 on charitable causes. Shoppers also prefer to patronize stores that give back to various charities. 75 percent of retailers this year are expected to give a portion of their earnings to a charitable cause of their choosing. The important thing to take way here is to spend only what you can afford and, by doing so, your holiday budget will last well into the new year.
While shopping, it helps to have a wrap and ship station at home. In this video, Martha shows how to make one: