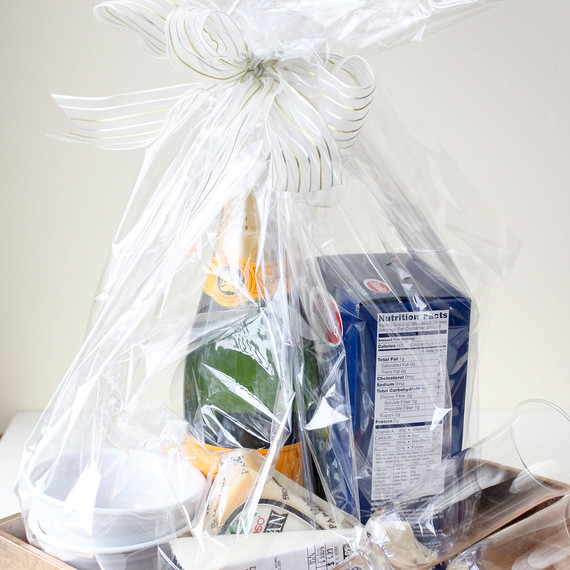 In this gift tray, I offer some of the key ingredients (that do not need to stay refrigerated) to make a batch of seafood mac and cheese. Seafood is a common food item eaten during the New Year and, when I think of this dish, I think: indulgence meets comfort. Add champagne and you have your decadence! For the mac and cheese, I use cellentani noodles and two types of cheese. I also provide mini bowls that fit nicely on the tray in bed. A nice bottle of champagne, matching flutes, and you'll be ready to pop the bubbly. All wrapped up on a gold tray, it makes a lovely holiday gift.
I always print out the recipe and tuck it in the breakfast-in-bed basket as well, so your recipient does not need to go looking for what it is you imply they make!
[TRY THIS: 11 Thoughtful Ways to Display and Preserve Family Recipes]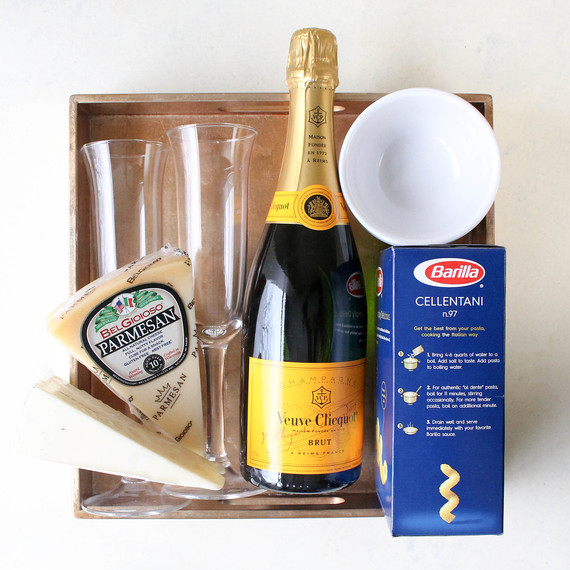 The great thing about this gift is that the items can be used in the future. Place that gold tray on a bedside table or display at the bar. Save those flutes for special occasions and the small glass bowls can be used for prep bowls in the kitchen or to hold jewelry all-year-round.
[GET INSPIRED: 7 Kitchen Items You Can Use as Creative Gift Packages]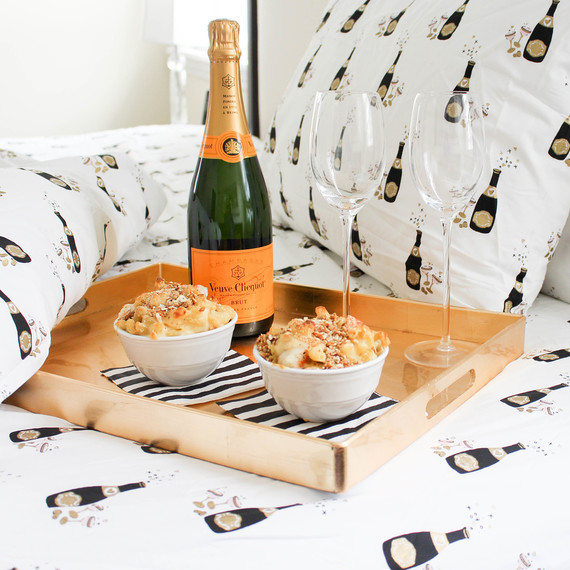 Setting the scene (or the bed, I should say) is fun for the recipient who receives this basket. I own a pair of champagne bottle sheets from Martha Stewart's Macys collection and we put them on the bed for special occasions whether it's New Years Day, birthdays, anniversaries, or even a big promotion. It's a fun way to remind ourselves that celebrating is necessary and to have fun with ways in which you decorate — even if that means bed sheets!
Although this gift tray focuses on a savory later-in-the-day brunch type dish you can get creative and give any type of gift basket you see fit for your friend. Here are a few more ideas:
Pancakes! Stick to the champagne and add in maple syrup, chocolate chips, and a nice non-stick pan.
Dessert. Who doesn't want to eat a nice coffee cake or ooey-gooey cinnamon nut buns all snuggled up. Once again I would stick with champagne as my staple and add in the necessary items to make a delicious morning pastry treat.
Quiche. Add in a pre-made quiche crust, some cheese, and a nice serving spatula for your friends to make a delicious egg custard.
For the tray itself, why not personalize it with a beautiful floral motif?