1. Take stock of your Christmas inventory
If you have boxes of Christmas decorations that span ceiling to floor and half of a room, you have too much. Are there any boxes that have remained unopened for several years? Clear those out first. You aren't using those decorations anymore, haven't for many Christmases, so it's time to move on. You can donate the salvageable decorations to a thrift store or recycle the ones that have been broken or are missing pieces.
2. Toss out broken Christmas ornaments and lights
Next, sort through the decorations you've been using and take out any ornaments that have been broken. Unravel your Christmas lights and look for broken bulbs, frayed wires, and loose sockets. You should also test if the lights still work. If the only thing wrong with the lights is that a few of them have burned out, you can replace the individual light bulbs. Dispose of Christmas lights that have frayed or broken wires to avoid a potential fire hazard, or if you'd rather not try to replace the light bulbs.
3. Re-gift those novelty items
(We know, we know.) Traditional etiquette calls this a no-no, but modern opinion is changing on the matter... and what else can you do when your well-meaning family keep giving you novelty Christmas items, like a scary laughing Santa Claus that you've never used and never will? You can re-gift those items that are in new or great condition or donate them to a nearby thrift store. Storing them in your attic will just take up space, and you're never going to fall in love with that odd statue, no matter how hard you try.
[DON'T MISS: 6 Rules to Regifting, According to the Etiquette Experts]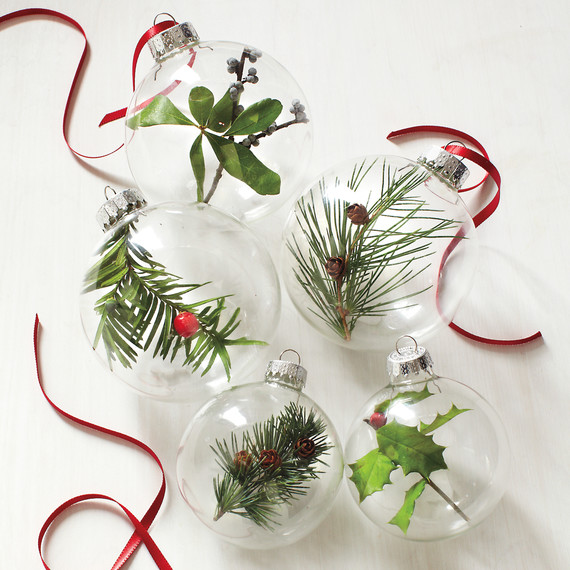 4. Recycle Christmas cards, wrapping paper, even the tree
Have you been holding onto mementos from Christmas past? While they provide sentimental value, they often also contribute to the boxes of clutter in our homes. You can repurpose old Christmas cards by cutting out some pictures and turning them into paper ornaments or wall decorations. You can repurpose gift tags and wrapping paper into new crafts. You can even recycle the boughs of your Christmas tree into new decorations. (And if you really can't part ways with those cards, consider this: keep a card from each family member.)
5. Organize the leftovers
Your Christmas decorations should be easy enough to get to and find what you're looking for. You can use storage solutions to organize your Christmas decorations, such as placing your ornaments in a plastic bin that's labeled for Ornaments and craft boxes for your recycled gift bags, gift wrap and ribbons. Try organizing your decorations onto shelves and simplifying your storage space. Find a "home" for the decorations you intend to keep and reuse, label them so you can locate them easily and call it day.
[TRY THIS: 12 Beautiful Ways to Recycle Your Christmas Tree]