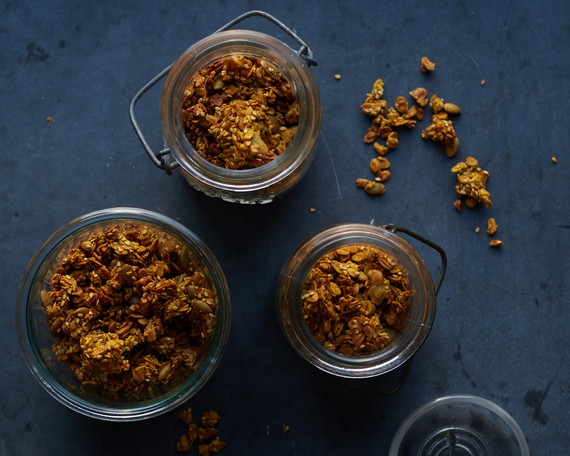 I seem to be going through a granola faze lately, besides good wholegrain bread -- which is not always easy to get -- granola is the best thing to have on hand for impromptu breakfast get-togethers. It also makes a great gift; everyone seems to be delighted when presented with a jar of homemade granola, especially if it's a new flavor. It keeps fresh for weeks and is nice to sprinkle over warm porridges and fruit compotes. It can also step in for a quick dessert or snack when you're in a pinch. 
(SEE: Our Other Granola Recipes)
For this recipe I dialed back the sweeteners big time and added pureed winter squash. Although the granola does contain brown rice syrup, to most people it tastes unsweetened and to some, even savory! If you keep your sugar intake to a minimum, you'll appreciate the very subtle sweetness. If not, then I suggest offering maple syrup or honey for drizzling -- it's also delicious served with apple sauce or a simple pear compote. The fact that this granola contains no dried fruit also adds to its subtly though I can easily imagine some chopped dried dates, golden raisins or figs stirred through if you like a sweeter breakfast.

Steaming squash is something I do almost daily at this time of year. It provides the perfect base or side to a meal and it's easy to prep extra. I like to have at least a cup or two in a jar in the fridge to use in breads, nut milks, waffles, scones, humus or for adding to porridge. 

The turmeric in this recipe helps keep the color vibrant and I love the tropical notes the fresh root provides. You can replace it with dried turmeric but it won't have the same bright flavor -- in fact I would start with less as you don't want it to remind you of curry … or maybe you wouldn't mind?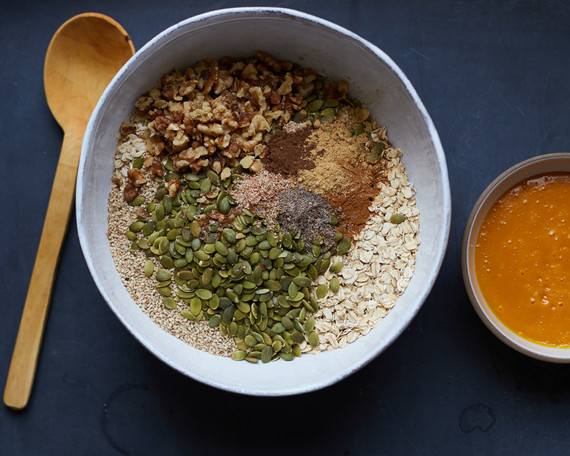 Pumpkin-Turmeric Granola
Makes about 10 cups
Ingredients
5 cups rolled oats (gluten free if necessary)
1 cup raw pumpkin seeds
1 cup raw unhulled sesame seeds
1 cup raw walnut pieces
2 teaspoons cinnamon
2 teaspoons ground ginger 
1 teaspoon freshly grated nutmeg
1 teaspoon ground cardamom
½ teaspoon ground allspice
1 cup steamed red kuri or kabocha squash
½ cup extra virgin coconut oil
½ cup brown rice syrup
2-inch piece fresh turmeric or ¾ -1 teaspoon dry turmeric
1 tablespoon vanilla extract
½ teaspoon sea salt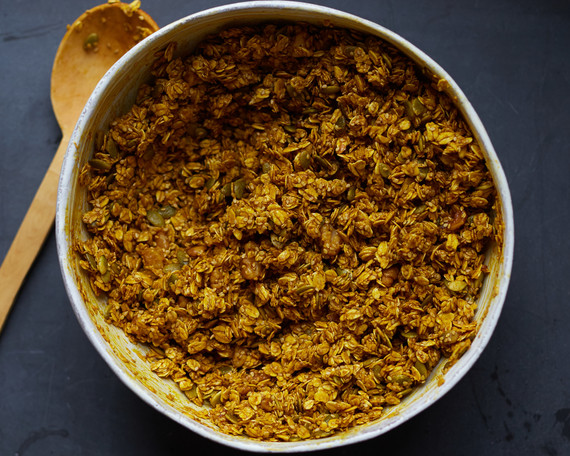 Preheat oven to 325°F.

Line 2 rimmed baking sheets with parchment paper and set aside.

In a large bowl combine; oats, seeds, walnuts, cinnamon, ginger, cardamom and all spice; set aside.

In an upright blender combine the steamed squash, oil, rice syrup, turmeric, vanilla, and salt. Blend until completely smooth. Add to the dry ingredients and stir to combine. Divided between the two baking sheets and spread out evenly. Bake for 20 minutes, rotate trays and cook for another 15 minutes. Remove from oven and allow to cool before storing in jars. Granola will store well for 3 to 4 weeks.