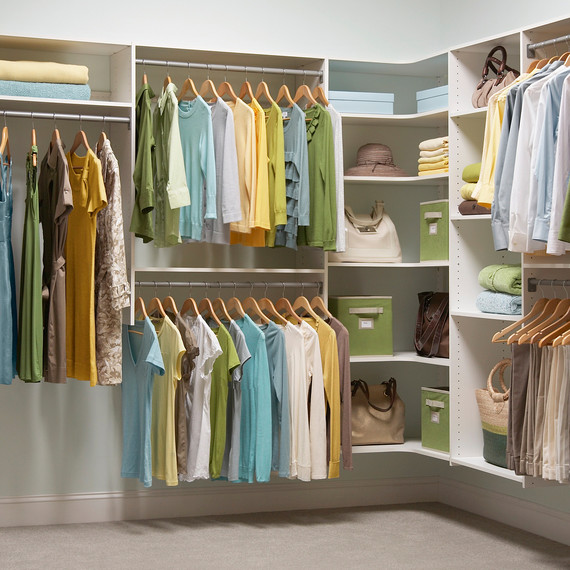 When your closet is unorganized, getting dressed in the morning can feel like a chore. Eventually, putting outfits together becomes so not-fun that you acquiese and start throwing on the same boring ensembles week after week, letting your favorite pieces collect dust.
It doesn't have to be that way! When you organize your closet thoughtfully, getting dressed will be easy and fun. Professional organizer Laura Cattano has several closet organization tips that will ensure you're excited to get dressed in the morning:
Make Your Closet Intuitive
If the experience of getting dressed in time-consuming, inconvenient or frustrating, you're not going to look forward to it.
"Whatever you are organizing, it's about the experience of doing what you are doing. It needs to be graceful, intuitive, and pleasurable," explains Cattano.
Organize things intuitively, as though you're setting up an assembly line. You should be able to pick out one item after another without interruption.
"Have things in one general area so you're not running around from one end of the room to the other," Cattano says. "Have a specific spot for everything so you're not looking for things each time you get dressed."
[LEARN: How to Clean and Organize Everything In Your Closet]
Keep Main Items Visible
Many people tuck shirts, sweaters, pants and even dresses into drawers, but that's a good way to forget about them. When you're in a rush, you're going to reach for the things you see first, so keep all your "main" items visible on hangers or shelves.
"Have what you need to make an outfit out and visible," Cattano says. "Save drawers for socks, bras, underwear, first layers, workout clothes, pajamas and lounge wear."
[DON'T MISS: How to Maximize You Closet Space]
Full-Length Mirrors Are Key
Trying to assess your outfit in a bad mirror is futile. You should have at least one full-length mirror in your closet area, and Cattano recommends two if you have room: "Have a full length mirror—if your closet has two doors, install one on the inside of both doors so you can see yourself from all angles. It's something you think you don't need, but when you have it, you use all the time."
Pay Attention to Details
Surround yourself with items you love, and not just in terms of clothes. If you enjoy the decor in your closet, you're more apt to linger.
"Buy storage that you love! Don't think 'it's just a box' or 'it's just a hook,'" Cattano recommends.
[LEARN FROM MARTHA HERSELF: Take a Peek Into Martha's Closet]
Change Your Shopping Habits
If you buy clothes simply because it's a new season, you'll quickly become disenchanted with your wardrobe. Instead, buy only items that you really love—when your closet is filled with clothes you're obsessed with, getting dressed each day will be much more enjoyable.
"Don't be stuck in the cycle of consuming and purging, consuming and purging," Cattano says. "Have a clear idea of your lifestyle and your desired look so you only buy clothes and accessories that suit your needs."
WATCH: More ways to clean up your closet