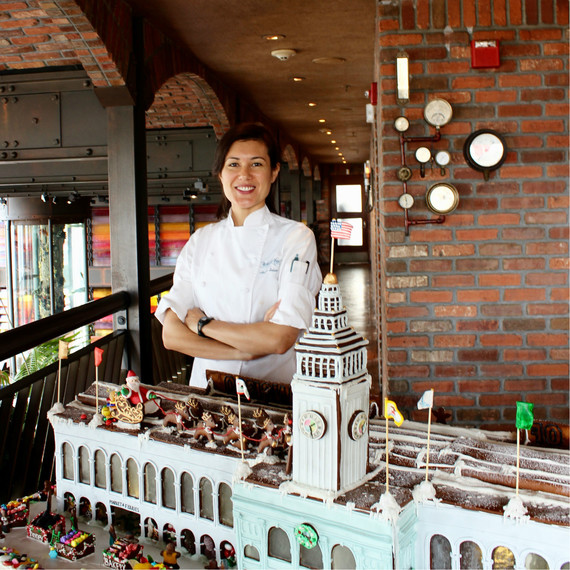 Every holiday season for the past few years, San Francisco's Waterbar restaurant and its esteemed pastry chef Angela Salvatore created an extravagant gingerbread masterpiece. After intricate replicas of Candlestick Park back in 2013 and the Palace of Fine Arts last year, Salvatore has created what is quite possibly her most impressive gingerbread structure to date: a replica of the city's Ferry Building. Or, more appropriately, a massive replica of the landmark.
At six feet long and standing at about 2.5 feet tall, the Ferry Building is the largest of Salvatore's creations to date. It's adorned with intricate frosting details that mimic the facade of the Ferry Building, and additions like a gingerbread clock and "blowing" national, state and city flags made of gumpaste atop the structure help to make it look even more realistic.
(BUILD: Bake everything you need to make your own gingerbread house with this how-to from Martha.)
There's even a farmers' market, inspired by the market that takes place at the Ferry Building three days a week throughout the year. In the gingerbread version there are Runts "fruit," Pez "soap," and candy flowers, eggs, and ice cream. The candy market is brought to life with a little skateboarder and chefs shopping around the stands. 
But perhaps the sweetest details of all are those that celebrate the holiday season. These include a Christmas tree in front of the building, candy wreaths, and a cookie Santa with his reindeer up on the rooftop.
Salvatore says it took her and her team around a total of about 130 hours to build this landmark. It's one that she has had in mind for a while now, making the fact that it's now come to life all the more exciting."I've had my eye on the Ferry Building, it's a bustling scene and just a few blocks from Waterbar," says Salvatore "Our chefs visit the farmers' market stands and most of us pass it every day.  I knew it would be a serious endeavor and this year we were able to make it happen."
And while the feat of actually creating a gingerbread structure of this size and intricacy comes with a number of challenges -- finding perfectly flat sheet pans in the busy kitchen and dealing with warping gingerbread are just two of the most difficult parts of bringing a project like this to life Salvatore says-- she knows that the hard work is all worth it in the end: "I get a buzz out of the guests' reactions." ???Each year, everyone talks about the big hotels and their gingerbread creations and it's been my goal to make Waterbar one of those destinations."
(CREATE: Go beyond the gingerbread house with these easy alternative ideas for gingerbread this season.)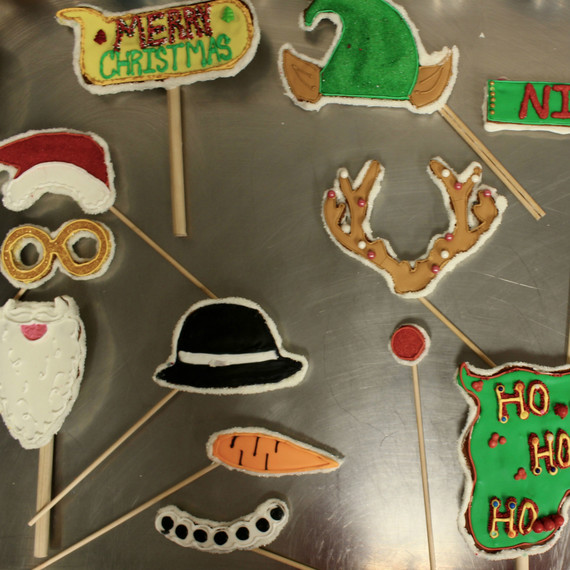 Over at Waterbar's sister restaurant, EPIC Steak pastry chef Sarah Principe has created a very different gingerbread masterpiece: a photo booth made entirely of gingerbread, complete with everything from a Santa beard and hat, to reindeer antlers, to snowflakes to set the scene. There's also a life-size gingerbread frame at the entrance of the restaurant. The goal is to get diners snapping pics and posting them to social media awith the hashtag #EPICcheer.
If you're in the San Francisco area, visit Waterbar to see the Ferry Building gingerbread house now through December 31st, or head to EPIC Steak for a gingerbread holiday photo op.
Watch another masterpiece of gingerbread architecture come together: