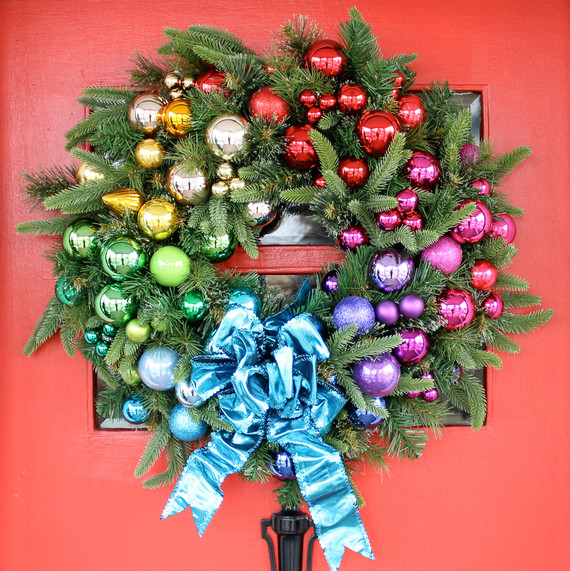 Somewhere over the rainbow is a carefully crafted home brimming with yesteryear cheer. When it comes to decking the halls every year for Christmas, it's no surprise that lifestyle blogger and creative voice behind Inspired by Charm, Michael Wurm Jr., is inspired by a full spectrum of colors. He recalls decorating in different color schemes over the years until, "I said, why not do it in a full rainbow of colors?"
Displayed on the merry-red front door is a pine wreath adorned with bright baubbles. He chose solid colors, and played with size and finish for added dimension. "It's like a sneak peek to what's inside," Michael says.
[GET INSPIRED: Make Your Own Christmas Ornament Wreath]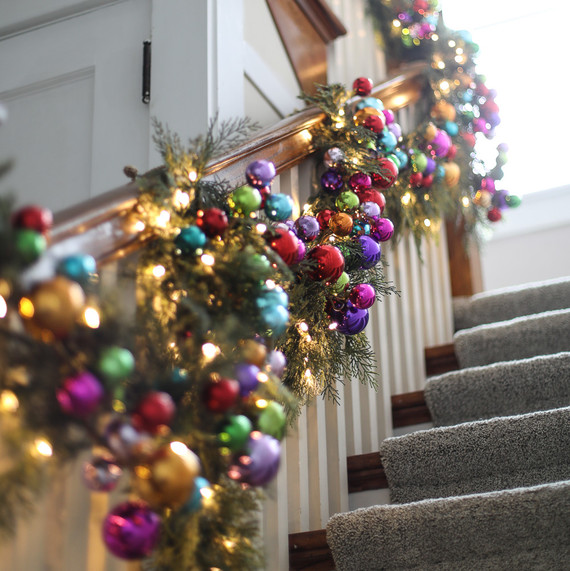 Step inside, and the rooms inside are merry and bright. The white walls provide a canvas to the colorful ornaments that decorate the front door, trim the living tree, and the soft pine garland that winds up this staircase banister. "I like to find an ornament that has a story," Michael says. "For me, Christmas is all about traditions and family, and an ornament embodies those things."
[GET INSPIRED: Make Your Own Christmas Garland]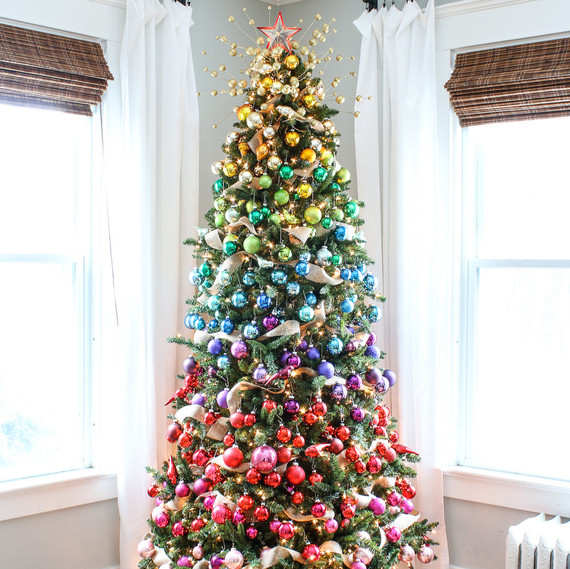 Of course, the tree is the pièce de résistance of this holiday home. When clustered by color, the ball ornaments form a gradient rainbow effect that's nothing short of spectacular. "I first created the tree on a smaller scale, and then recreated a full tree." It took well over a year of collecting vintage ball ornaments (300 to be more precise) from antique stores, estate sales, and online auctions to create the full rainbow effect on a full-sized tree.
If you look closely, you may notice something unique about this rainbow tree: it doesn't follow the ordinary ROYGBIV order. "I meant for it to be that way," Michael explains. Most of the ornaments in his collection were primarily red in color, so he used those to fill the bottom — and largest empty space — of the tree. (Smart thinking, right?) At the tippity top, a vintage metal star topper is surrounded by a halo of gold picks. The boughs of the tree are entwined in burlap ribbon, and the ornaments come in all kinds of finishes including matte, glitter-coated, and shiny glass. "There's something special about them," he says. "I love the cracks and chips, and the way they catch the light — they look beautiful to me."
(Hear about the trend before it goes viral on Instagram when you sign up for our newsletter!)
Feeling inspired? You can create the same colorful gradient effect on a smaller scale with a miniature dowel tree: