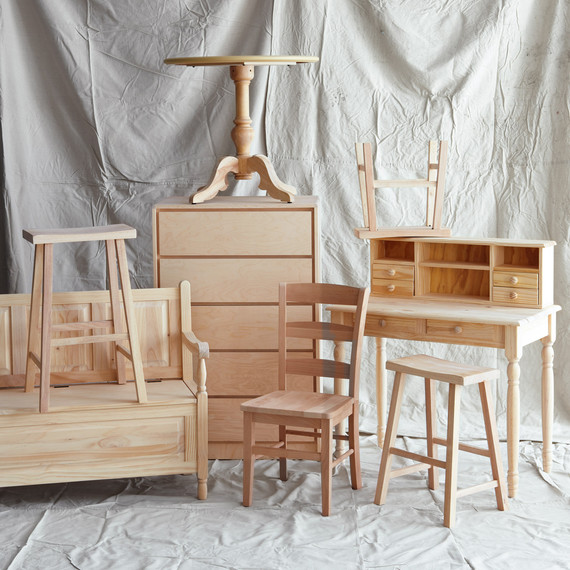 Because furntiture can gather its share of nicks and dents throughout the year, here are seven ways to spruce them up before the guests arrive -- and a few tips for making sure they maintain their luster all through the year.
Things You Can Fix Right Now
Water stains and heat marks:
Fix 1: Apply a few drops of mineral spirits to a clean washcloth and rub the problem area. Re-apply a wood furniture wax and buff.
Fix 2: Put a small mound of table salt on the affected area to draw out any moisture. Cover it with a dry terry-cloth towel and run a warm, not hot, hair dryer or iron over the towel, lifting the towel and checking the stain frequently until it's gone.
Dings and scratches:
Fix 1: Look in your closet for this solution: Shoe polish is a good way to conceal scuffed surfaces -- just make sure it's the right match -- then buff. If it's not, you can remove the polish using a few drops of mineral spirits and a clean rag.
Fix 2: Low on shoe polish? Use a crayon -- yes, you read that right. Pick one that matches the color of your furniture, then gently rub the crayon over the problem area -- making sure to fill the scratch. Remove excess crayon to level the surface.
Burns:
Let the pros handle a deep charring. If it's a minor burn, like a scar from a lit match, rub out the mark using steel wool and ammonia. Be sure to work with the direction of the grain. After the mark's gone, apply paste wax to the surface to reseal it.
Candle spills:
Scrape leftover wax using a plastic dish scraper (or a credit card), then wipe away the remnants with a soft cloth. Just don't use anything too hard that will re-damage the surface, like a dinner knife. Polish the problem area with paste wax. 
Wobbly legs:
Pick up a package of felt pads with adhesive backs (about $6 for 48) and stick them to the bottom of the legs that are causing problems; this should balance out the table. Plastic sliders work best for rooms that see a lot of water, like a mudroom. A DIY solution: Slice the end of a wine cork and add double-sided tape, so it sticks to the bottom of the leg.
Consider putting together a furniture first aid kit, so you can tend to stains, scratches, and spills once they happen.
[PUT THIS IN YOUR POCKET: Holiday Stain Removal Guide]
Things to Upkeep Year-Round
Make sure you are doing your due dilligence in keeping your wood furniture healthy and nourished throughout the year so there are no last-minute panics!
Your furniture deserves to put its best face forward: Make your own polish with oil found in your pantry. If your side table is looking a little worse for wear, dampen a soft cloth and dust if off. Then apply a few drops of olive or almond oil to the cloth and buff the surface. Oils will help to condition your beloved pieces without creating a waxy buildup like some store cleaners can do. If you're looking to remove a few leftover stains -- and do more cleaning than polishing -- combine a few squeezes of lemon or drops of vinegar (white vinegar for light-colored furniture, apple cider vinegar for dark-colored furniture) to the oil. If this is your first foray into making an oil mixture, try a small spot on the side of your piece to test the combination. Remember a little can go a long way.
If you're looking for a beeswax polish... Use the following recipe from Roxanne Quimby of Burt's Bees: Melt 4 ounces of beeswax in a double boiler. Once melted, add 4 ounces of turpentine to the beeswax (the turpentine softens the beeswax and makes it possible to apply to the furniture). Stir continuously. Then, add 4 ounces of hot water and a squirt of liquid soap (pick your favorite), continuing to stir as you go. Add a couple drops of an essential oil (like lemon, orange, or lavender) and stir until it cools slightly. Pour it into a tin or glass container -- not plastic -- and let it cool down for at least 30 minutes before using.
Furniture rarely stays where it's supposed to. Hosts and guests move chairs back and forth for seating. Make sure all wood furniture stays far away from the fireplace, radiator, direct sun, and other heat sources that can damage your furniture's finish.
Remember This: Wipe up spills right away to prevent staining! If you entertain often, make sure to stock the rooms where guests gather with disposable coasters like these ($8.50 for 50) -- it could save you a ton of time during the after-party cleanup. Pretty Carrara marble coasters ($14 for 4) might encourage guests throughout the year to think twice before placing their sweaty glass on the family heirloom.
[TRY THIS: Tips for a Stress-Free Holiday Season]