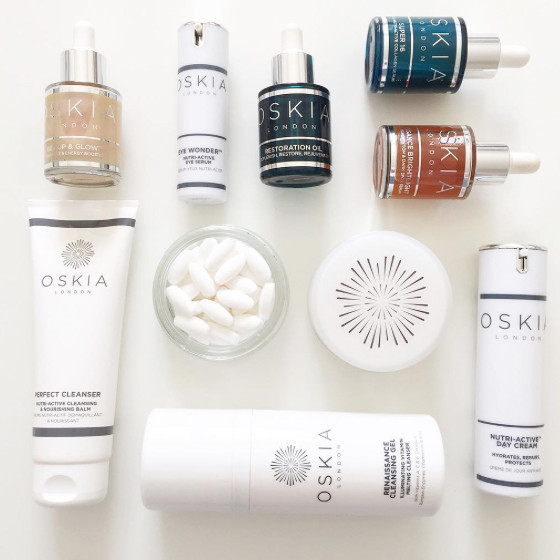 In a woman's weekly repertoire of self-care activities, I firmly believe, there should be a place for an at-home facial. As far as I know, you only get one face and your skin is literally the largest organ in your body, so you should take every opportunity you can get to nourish it and keep it in tip-top shape.
This is an indulgence for me that seldomly occurs once weekly, but if you aren't an enthusiast for hedonism like I am, adding this to your routine -- even just on Sunday nights -- will leave you feeling like your skin is prepped and gorgeous for the week ahead. 
Now these facials can be extensive or simple, but they should go beyond what you do on the day-to-day. I'm talking about a double cleanse, a tone, a mask or two, serum, oils, and then maybe a moisturizer to seal in all the goodness. Obviously, you can make modifications for your own needs, but your Sunday Facial should be beyond basic. As it happens, Georgie Cleeve, the founder of Oskia Skincare (which is my latest obsession that recently launched on Net-a-Porter) happens to know a thing or two about good skin, so I consulted her about what her perfect at-home facial recipe would include.
The answer? AHA's and Omegas. Cleeve explains, "Omega's from avocados will nourish and replenish your lipid barrier while AHA's from lemon or lime will gently exfoliate away dead skin cells to reveal fresh skin cells and boost the regeneration processes." But, if you aren't looking to DIY with ingredients in your fridge, Oskia Renaissance Mask is a wonderful addition to your at-home facial routine, because it contains amazing actives like Lactic Acid (an AHA) that exfoliate and Ribose which gives your skin an amazing boost. "Chemical exfoliants, such as AHAs are better suited for acne prone skin (as they don't put pressure on already pressured pores) and will leave skin super soft and glowing, says Cleeve, adding  "Energy boosting ingredients such as Riboxyl or Ribose which mimics ATP (the skin's energy chemical) are also a great ingredient for facials as it will give an immediate boost to the skin."
As it happens, another ingredient that is very central in the Oskia range  is MSM. And, given that I have seen such a palpable change in my skin with the use of these products, I wanted to know what MSM actually does. According to Cleeve, MSM is the most bio-available form of Sulphur, which is integral in over 150 natural processes within the body, not the least of which are collagen, keratin and amino acid production. Given that those three things are pretty darn important when it comes to having gorgeous skin, sulphur should basically be your beauty BFF. In the words of Cleeve, "MSM is to collagen, what flour is to cake. Vital! It is also a phenomenal anti-inflammatory and helps reduce pigmentation."
So how did I create a facial out of my favorite products to leave me fresh faced for my week ahead? I start with a double cleanse. You'll want to take the time to do this when you have a non-foaming cleanser that not only feels heavenly, but is going to get your skin clean, without any dreaded "squeak." Coincidentally this is exactly how I feel about the True Botanicals Hydrating Cleanser. While massaging this into your skin you are getting a dose of vitamin C, and E (from the aloe) as well as anti-inflammatory oat extract. This will give you a gentle brightening effect, as well as address any sensitivities your skin might be exhibiting. 
Once you have cleansed, your skin is prepped for actives. As a person who uses a daily 5% glycolic acid treatment, I would then reach for this and go over my face with a cotton pad soaked in my holy grail Pixi Glow Tonic. Someone who is less exposed to actives could skip this step, though.
And now the fun part: masks! The Oskia Renaissance Mask has been my treatment of choice for weeks now, because it really does exfoliate while plumping everything up. I always feel like I look worlds healthier and infinitely more well-rested after sitting with this on my face for 20 minutes. And since it is so nourishing, I don't often feel like I have to follow up with another mask. But if I did, I would reach for something super-nourishing and coddling like Kat Burki Complete B Vital Hydration Mask, which you rinse off before the next steps.
Following masks, you should apply a really lovely serum. If I could advise one area to really invest in your skincare, it is a good serum. The Ole Henriksen Truth Serum Vitamin C Anti-Aging Collagen Booster is incredible because it really feeds the collagen in your face. Your skin will look super perky after using it. The superstar ingredient in this vanity must is the highly potent concentration of vitamin C, which not only boosts your collagen production, but also brightens skin and lightens pigmentation. As someone who picks at her skin, this is so crucial for me. In 2017, I will work on my self-control, but for now I won't have to pay the price because of this serum.
Finally, I like to seal it all in with a skin-loving omega-rich oil. Oils are our friends, despite popular belief. Especially in winter, when our poor faces need as much adoration in the form of moisture that we can possibly dose them with. Elemis Super Food Facial Oil is a nourishing selection that absorbs super quickly without an oil-slick finish. Pat on some of this to seal in all that goodness you gave your face and I can guarantee you'll spring out of bed the next day excited to conquer all because your skin looks in-cred-i-ble.