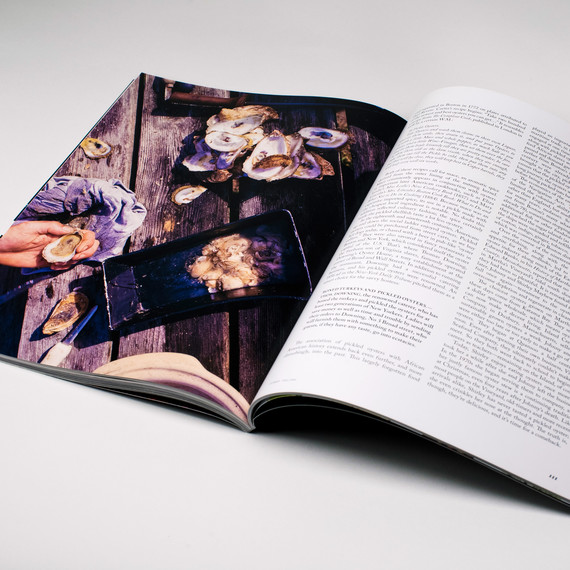 Just the thought of a moldy cheese, with overripe blooms of blue-gray bacteria and that famous odor of old gym socks, can churn many stomachs. But for the right person, someone who loves the taste of an abrasive vinegar and the well-known funk of fresh tofu, the stinkier the cheese, the better. And for that particular palate, a new magazine on all things fermented, moldy, preserved, and pickled has arrived: Cured.
With more than 140 pages filled with images that combine the rich detail of the "Modernist Cuisine" cookbook and the surrealism of Toiletpaper magazine, Cured is as much a feast for the eyes as it is for the taste buds. Who would have thought that cheese bells -- kitschy ceramic-covered cheese servers that sat in the center of Victorian dinner tables -- could be so beautiful? Or that the swirling patterns in sliced cured meats would inspire artists and designers (and a butcher) to contemplate the greater meaning of human existence?
(SEE: the amazing photography of Nathan Myhrvold's "Modernist Cuisine")
Most food lovers understand that cooking and eating are not just about satisfying the appetite, but also about creating a memorable experience. And Cured captures what all food lovers love about food -- it's fun! The magazine's editors include renowned food writer and Martha Stewart contributor Jane Lear. They have a true sense of humor when it comes to talking about things such as the gross stuff that goes along with making kimchi and miso, and this is clear as soon as one sees the cover: an absurd photograph of a ham hock resting in a pink patent-leather high-heel pump.
So, if you are curious about what 2,000-year-old butter discovered in an Irish bog tastes like, or the best way to make persimmon vinegar in a vacuum-sealed bag at home, pick up the latest issue. Cured magazine is available quarterly from curedmagazine.com and at Barnes & Noble stores and other select booksellers nationwide for $20.
Ready for more? Learn about the different types of miso -- and make chocolate ganache!