When Jessica Siskin first decided to launch an Instagram account dedicated to wild Rice Krispies treat creations, the cereal-sculpting mastermind never imagined what was to come. And even 40,000 followers on Instagram, countless emoji treats, and a soon-to-be-published cookbook (Treat Yourself!: Misterkrisp Presents . . . 101 Ridiculously Fun Rice Crispy Treats) later, Siskin still seems to have a bit of trouble processing just how much of a sensation she and her alter ego, Misterkrisp, have become.
Now, in what is the biggest Rice Krispie project Siskin has worked on yet, Misterkrisp has partnered with Kellogg's and Toys 4 Tots to create a one-of-a-kind holiday window – entirely out of Rice Krispies. Here, we chat with the food artist (or should we say visionary?) about being Misterkrisp, creating a holiday display for charity, and how this whole journey started with a cheeseburger.
What first inspired you to start creating with Rice Krispies?
I worked in fashion for seven years, and I never knew how to cook -- I still don't know how to cook! The only thing I know how to make is Rice Krispies treats and eggs. I always say: "I can make anything – it's just going to be made out of Rice Krispies. I can make you a steak dinner – it's just going to be made out of Rice Krispies." So it's really the only thing I know how to make. Then one day, I was invited to a potluck dinner with a friend and we were asked to bring dessert but we didn't want to bring something store-bought. And my friend was like, "Well, you always make these cool Rice Krispies treats." And the birthday girl was a surfer, so I Googled Rice Krispies treat surfboard, and a recipe came up. It was crazy and it had food coloring in it, and I had never thought of adding food coloring into my treats before.
So that was kind of the "aha" moment for you?
It was the weirdest thing. It was literally like a saved-by-the-bell thought bubble; 'You need to make a Rice Krispies treat cheeseburger!' I always drew cheeseburgers – that was my doodle – and if I played with Play Dough, I always made a cheeseburger. It was just my thing. It's easy to make but it's just colorful and fun. So the next night I went home and made the cheeseburger. I made all the pieces and then put it together and then I just screamed. It was 11 o'clock on a Sunday night, and this was the coolest thing I'd ever seen. And [making it] it was just so fun and so meditative for me, so I kept doing it.
(Make: The no-bake peanut butter Rice Krispie treat recipe you need to try)
When did you decide to take that creative outlet and officially turn it into Misterkrisp?
I did it for about a year – the second one I made was a bagel and lox, and I made a giant ice cream cone for my best friend's birthday party – and then maybe ten months after the first one, I just realized I get so many more likes on Instagram for my Rice Krispie treats than I do for anything else. So in October 2013, I made a separate Instagram for it, and I actually got my first order on my first day that I made the Instagram.
Why "Misterkrisp"?
I named it after the villain in the movie "Sister Act II", which is one of my favorite movies.
Posted by misterkrisp 💁🏼 jessica siskin (@mister_krisp) on Nov 17, 2016 at 8:16am PST
How did your partnership with Rice Krispies, and now Toys 4 Tots, come about?
For two years, everyone was constantly asking me when Rice Krispies was going to reach out to me to want to work with me. Finally, in the summer of 2015, they reached out to talk about doing a Treats 4 Toys campaign. And I couldn't believe how perfect it was that I could work with Rice Krispies and encourage people to make treats at home. Then the charitable component – the fact that if you make a treat, post a photo, and use the hashtag #Treats4Toys, a child in need gets a toy – it's just, like, everyone wins. You get to eat something, you get to have fun, and a child gets a toy. It's perfect.
So after partnering with Rice Krispies again this year, what did you think when they told you that they wanted to add a holiday window display made entirely out of Rice Krispies to the campaign?
I could not believe it. When I was in middle school, I always used to say I wanted to be a window designer. My mom went to this hair salon, and they used to do these crazy window installations and I would go sit with her while she got her hair done and just look at the windows all the time. And then my mom, who works in fashion, also used to decorate her showroom for market, and I would always help. So this was kind of a dream come true.
(Celebrate: This Rice Krispie birthday cake is the sweetest treat for your next party)
What was it like to create a Rice Krispies display of this scale?
It was crazy! The biggest treat  I've done is either the robot in the display or the golden retriever, which is a life-sized puppy modeled after my family's dog. It took a long time, and many boxes of cereal! For the whole thing, it was about 24 18-ounce boxes of cereal.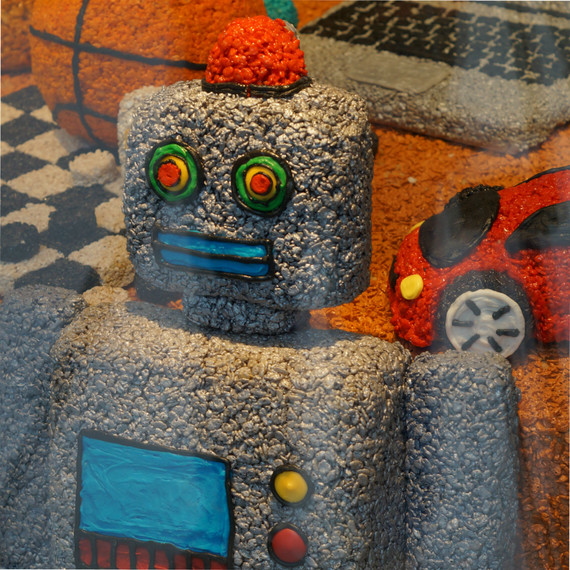 So now that you're finally getting to reveal the window, what's it like for you getting to see people come by and look at it for the first time?
It's seriously – and I know I keep using this phrase – but it's just seriously a dream come true. Last night, I was here and I walked outside and there was a woman screaming, "Do you see everything's made out of Rice Krispies? I can't believe it!" And seeing kids look in there and say, "I can make this at home." It's been awesome. I mean, I make interesting things all the time, but seeing them all together in this professional installation where I had help from professional window designers, my jaw just hit the floor. It's just like world inside my head in concrete form. I never imagined I would have something to look at like that, that feels so magical.
How do you think the window kind of captures the essence of Rice Krispies?
The whole premise of Rice Krispies treats is that there are endless possibilities, and I think that you can really see that in the window. Everything from the classic Christmas trees to the Pinterest-style desserts to the things that are more like what I traditionally do, like the 3D toys – that just shows the range of what you can do with Rice Krispies.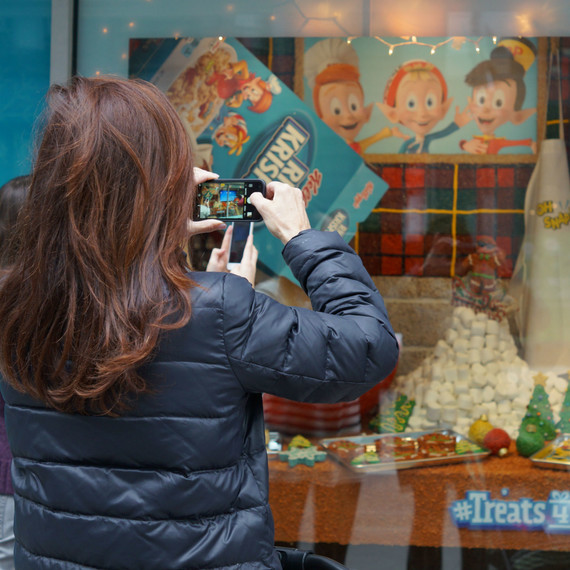 What are some of your tips for families making their own Rice Krispies creations at home?
My big tip that I share with everyone is that the secret to getting really great texture in your treats is not letting your marshmallows melt too much. You wanna put the butter in first and then melt the marshmallows on medium to low heat until they're about 75 percent melted. Which means that it's not completely liquid, and then you turn off your burner and add the food coloring and the cereal. That allows you to keep it really soft and moldable. And really just a few small tweaks like adding food coloring and icing makes such a huge difference.
To peep a look at the Misterkrisp Rice Krispies holiday window, stop by 225 East 57th Street in Manhattan now through the morning of Monday, December 12th.
And to support the Treats 4 Toys campaign, create your own Rice Krispies treats at home and post a photo to Instagram with the hashtag #Treats4Toys. For every tagged photo, Rice Krispies will donate a toy to a child in need.