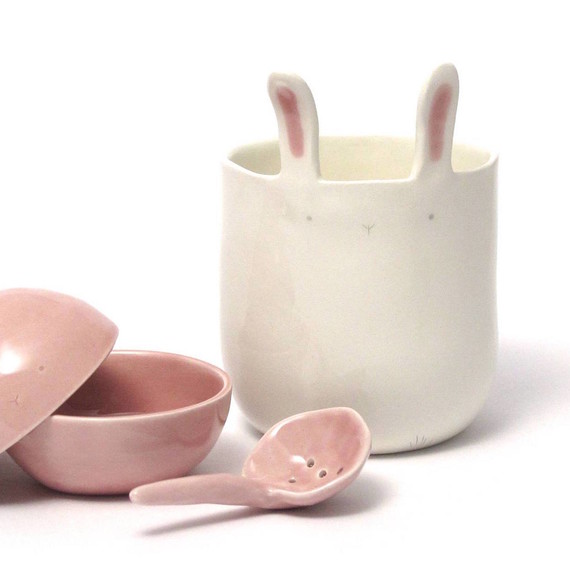 What better way to ensure you have a good morning than by eating breakfast from a bowl that smiles up at you? Thanks to some amazing artists around the world, you can have cute animal-shaped tableware to brighten up your day every morning.
Here are some of our favorite handmade ceramic animal bowls:
Clay Opera
The lovely creations from Clay Opera look so serene that they're bound to make you feel calmer. There are adorable bowls in the shape of cats, bunnies, pigs and even unicorns, but one of the cutest has to be the Big Bad Wolf bowl with Little Red Riding Hood perched on the edge.
Tramai Ceramics
If you love polka dots, you'll die for these adorable ceramics from Tramai. The bunny-themed bowls, cups and kitchenware come in white and pastel pink, and many designs are decorated with too-cute polka dots.
phOceramics
The bowls from phOceramics are colorful, quirky, and irresistible. There are a variety of animals to choose from, including hippos, koalas, pandas, penguins and dragons!
Noe Marin
Whether you're looking for new bowls for your kitchen or a planter for your favorite succulent, Noe Marin Studio has quirky, off-beat ceramics that fit the bill. The panda, fox, owl and dog bowls are just the thing to make you smile in the morning.
Siro's Funny Animals
The only thing cuter than Shiba Inu dogs are these ceramic bowls shaped like the Japanese pups. From the ombre orange coloring to the sweet little faces, the creations from Siro's Funny Animals are the perfect addition to any home.
[CHECK OUT: Visiting Frances Palmer, an Amazing Ceramic Artis]