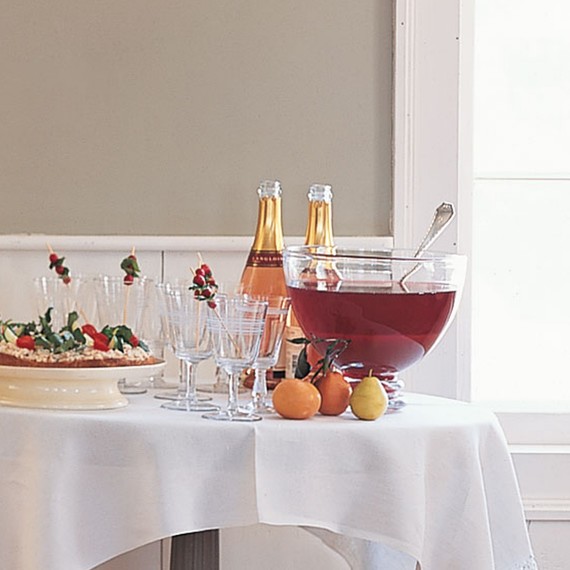 Cava
If you're on a conservative budget this year, consider cava: the flagship sparkling wine of Spain. I think cava offers some of the highest quality at some of the lowest prices of any category of sparkling wine. Cava is made in the same method as Champagne, at a fraction of the price. Part of the reason for the value pricing is that while Champagne is made with world-class grapes chardonnay, pinot noir, and pinot meunier, cava is made from indigenous Spanish grapes like macabeo, xarel-lo, and parellada. So, while the raw material for this wine is a bit more obscure, the taste is fresh, clean, and lively; typically full of green apple and pear flavors. Cava also comes in a rosé version for those of you who love to 'drink pink.'
How to Entertain With Cava:
Cava is excellent in a festive punch (Try our Cranberry, Tangerine, and Pomegranate Punch) -- or get creative, mixing your own favorite juices and botanicals with cava and some club soda. Not only is punch a delicious and fun addition to any party, but you can stretch the wine a lot farther for very tight budgets. Added bonus: you can set everything out and let guests serve themselves rather than spending the evening making cocktails.
Pairing with Food:
Take the Spanish theme into your menu and serve tapas. Try our recipes for party-friendly dishes including Patatas Bravas, Paprika Chickpeas, and Piquillo Pepper and Cheese Toasts.
Our Cava Picks: Campo Viejo Brut, $13; Segura Viudas Extra Dry Cava, $8.99; Cristalino Cava Brut, $8.99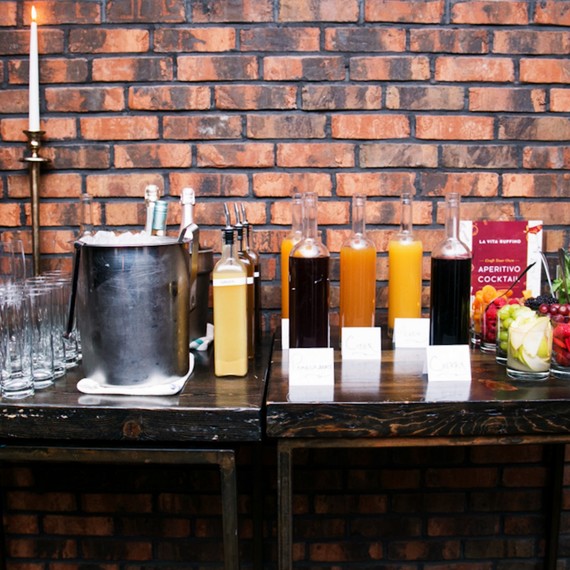 Prosecco
A crowd pleaser at any event and wildly popular right now, this Italian sparkler is known as a fantastic 'apertivo,' typically served before a meal to open up the appetite. Crisp and citrus scented, prosecco is very easy to drink. For an in-depth look, check out our Prosecco Primer.
How to Entertain With Prosecco:
Pamela Wiznitzer, bartender and creative director at Seamstress in New York City, recommends having a DIY Prosecco Cocktail Bar at your holiday party. Simply set out glassware, some chilled bottles of Prosecco (Wiznitzer recommends Ruffino for this), a selection of flavored syrups and juices, sliced fruit garnishes and some fresh herbs,. Then let guests go to town with the different flavor combinations, building their own fabulous concoctions (pomegranate/ginger/rosemary, anyone?). For the best possible results, Wiznitzer stresses the importance of using fresh juices: "Juices from concentrate and juice cocktails have loads of preservatives and additives that won't make your drink 'pop' like fresh juice will. If you have a juicer at home, make them yourself. Otherwise, choose brands that are 100%' juice or use nectars or purees to make sure you have quality offerings."
Pairing with Food:
Keep it simple: a selection of cured meats, cheeses and vegetables is the perfect accompaniment to Prosecco and Prosecco cocktails.
Make a Classic Antipasto Platter.
Our Prosecco Picks: Ruffino Prosecco, $14.99; Mionetto Prosecco Prestige Brut, $14.99 750 ml bottle/$25 1.5L bottle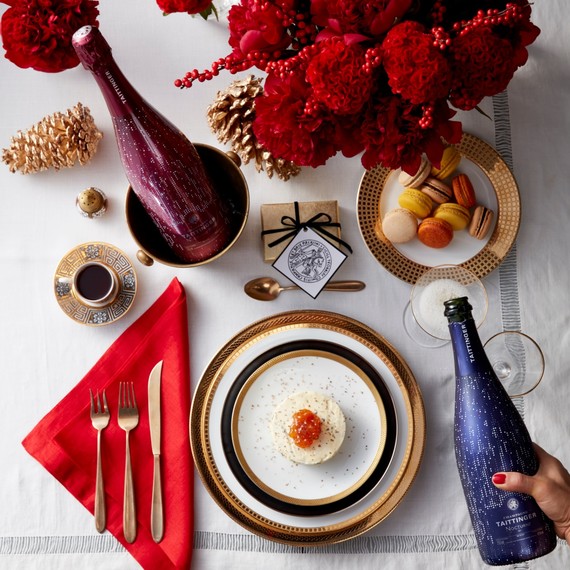 Champagne
For those that prize quality above all else, and budget isn't a concern, there's only one choice for your holiday toasting: Champagne! True Champagne is only made in the Champagne region of France, and producing it is a highly skilled craft, from the growing of the grapes in this difficult climate to the work of Champagne artisans in the cellar. Nicole Burke, the U.S. brand ambassador for Champagne Krug explains: "It is a region that was once under a prehistoric sea and chalk soils are remnants of this ancient sea. Vines struggle in this climate burrowing downwards into these chalk beds, while at the same time stretching upwards seeking precious sunlight in this cool, and often unpredictable northern latitude. It is this struggle that gives Champagne its characteristic verve, not found in other sparkling wines."
Champagne expert and founder of New York Champagne Week, Blaine Ashley explains why this is the exactly the time of year where the luxury is worth the splurge: "Not only does the pop of a real Champagne cork epitomize celebration, but breaking out the best bubbly for your dearest friends and family to close out the current year and ring in a new one is a no brainer, don't you think?" Champagne also makes a decadent gift idea for anyone you'd like to impress.
How to Entertain With Champagne:
This is one sparkling wine that needs no adornments: it's just perfect as is! Keep in mind that the richer styles like Blancs de Noirs don't need to be served ice cold... and if you don't have enough flutes to go around, don't worry: many sommeliers including myself prefer to serve Champagne in regular white wine glasses, all the better to appreciate all of those complex aromas.
Pairing with Food:
Luxurious foods like oysters and caviar are classic partners for Champagne but a fun and unexpected pairing is ... fried chicken! The light, frothy bubbles in the wine are a great match for the light, crispy batter and succulent juicy meat of this all-American classic dish.
Our Champagne Picks: Champagne Taittinger Nocturne, $81.99; Champagne Nicolas Feuillate Brut Rose, $48; Krug Grand Cuvee, $160