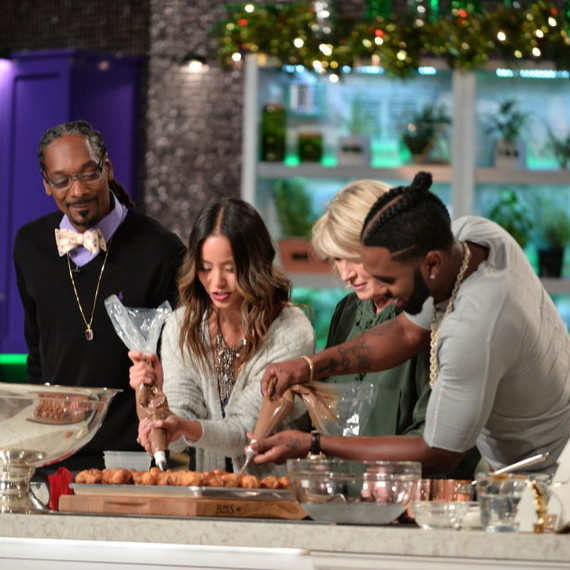 Introduced by the Tinseltone Carolers, Martha Stewart and Snoop Dogg hosted a show all about Christmas that got us all extra excited about the  holidays. With their guests Jamie Chung and Jason Derulo, Martha and Snoop taught us how to make a delectable eggnog and a special catfish while having us laugh real hard a lot during last night's episode of "Martha & Snoop's Potluck Dinner Party."
Here are the 11 times that our cackling had us almost fall off the couch:
1. Snoop mentions his special diet
Introducing the night's theme, Christmas, Martha spoke of her love for the holidays and deemed the episode's highlighted recipes as ideal to learn "before we all go on a diet." Snoop's response? "Speak for yourself, Martha. The only diet I go on is a gin-and-juice cleanse."
2. Snoop learns a very important fact about eggnog
Using her family antique punch bowl to make her holiday eggnog, Martha asks Snoop to help her mix the ingredients. "Is there eggnog in there too?" asks the rapper while adding the milk. "What do you mean? That's what we're making!" responds Martha. "Oh, I thought eggnog came in a box!" exclaims Snoop.
3. Martha and Snoop discuss the different types of trees they have at home
When talking about holiday traditions, Martha mentions the many trees she has at home during Christmas. "I think I have about 25 trees at my house during Christmas time," she says. "Every room has at least two or three trees in it." Snoop tells her that he also has many trees at home, albeit a different variety of them. You get points for subtlety, Snoop.
4. Jamie Chung really likes Martha's eggnog
"That's strong… and I do shots," says the actress after sipping Martha's concoction. Snoops seems to agree, saying: "That thing got me feeling strange."
5.  Chung gives Snoop an awesome gift
The actress offers Snoop a gift as soon as she arrives: "nice balls" boxers and socks that the rapper seems to love. "You know what?" he says. "I think I'm going to go home to my wife with just them draws on tonight!"
6. Martha asks Snoop to "just put the tip in"
While making her specatular holiday dessert, croquembouche, with Jason Derulo, Martha asks Snoop for some help adding chocolate to the choux pastry. "Just put the tip in and don't push too hard," she says. You're allowed to laugh.
Get Martha's Croquembouche Recipe Card
7. We find out why Snoop cooks with only one hand
Martha asks Snoop why he's breading the catfish with just one hand and his response had us and Derulo rolling with laughter: "Because I never know what I might have to do with that other hand!"
Get Snoop's Fried Catfish and Shrimp Recipe Card

8. Martha's "spider web game" is top-notch
As a final touch to her croquembouche, Martha adds spun sugar in a way only she can. "I like the way you're spinning that sugar around them balls, Martha," says her co-host. "Your spider web game is incredible."
9. Martha says "fo shizzle"
Taking a page out of Snoop's book (well, dictionary), Martha tells her co-host that he can help out with the spun sugar… fo shizzle ("I've been waiting to say this [word]," she announces. So have we.).
10. Snoop's grace is one of the best we've ever heard
Before digging in, Snoop recites grace: "Oh Lord, on this evening we join hands over this food and as Santa dishes out presents I hope the Lakers win this evening because I don't want to be mad. Thank you for this catfish, for this shrimp, for that thing that Martha made, I don't know the name of it, and those balls full of chocolate. May we eat up and be merry." Amen!
11.     The Tinseltones' very special carol is very special
Ending the show right, the hosts and the guests join the Tinseltone Carolers in a very special carol:
"On the first day of Christmas my true love gave to me, five wasted guests," they sing together. "Four plates of kimchi," sings Chung. "Three pillow shams," continues Martha. "Two Wiggle Wiggles," says Derulo. "And my own big ass cannabis tree!" concludes Snoop. Happy holidays indeed!
Get some of the holiday fun here, watch this clip just packed with Christmas kisses: