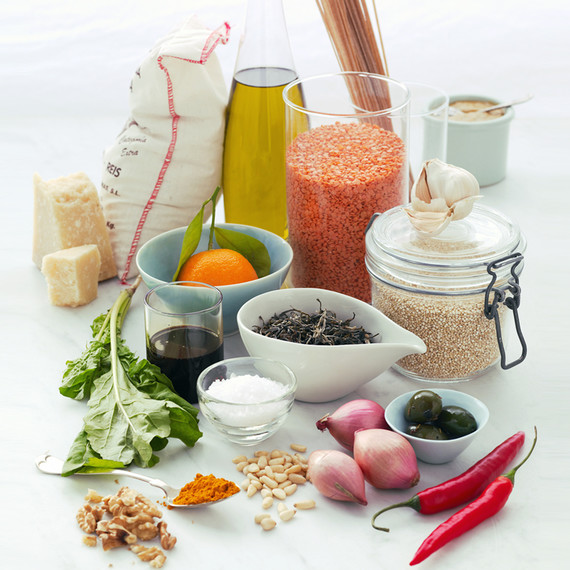 The pantry is at the center of it all, the keeper of ingredients that cook up to your family's favorite dishes.
Prep your pantry for the holiday rush by taking stock of what you have, tossing what you don't need, and giving yourself a leg up on organization for the rest of the year. Here are five reasons you should clean out your pantry right now.
So You Can Make A Better Shopping List
This one seems like a no-brainer, right? Before you head off to the store, take inventory of what you already have -- there's no use in buying more when it's already sitting on your top shelf. Who knows, those three cans of cannellini beans you need for the stew may be hiding behind the cake mix.
Here are a few holiday staples that always come in handy: brown sugar, white sugar, powdered sugar, flour, spices (nutmeg, cinnamon, allspice), baking powder, baking soda, baking chocolate, nuts, sweetened condensed milk, canned pumpkin, dried fruits, and jams.
To Declutter Your Life!
First things first: Is there anything in your pantry that shouldn't be there? Is it really the best place for the pancake griddle, or even the eight-pack of paper towels? Consider finding a new home in your kitchen for the items that take up too much space: Paper towels and cleaning supplies might be better suited stored under the kitchen sink. Group the items that do belong: rice and grains on the bottom shelf, oil and vinegars on the top, grab-and-go snacks on the middle, for example. Label each shelf so you, and your family members, know where to return each container when you've finished with it.
To Set Yourself Up for Future Success
Wouldn't it be nice to see everything in your pantry the minute you opened the door? Investing in a few organizers can save you the hassle of riffling through your pantry to find the can you need. Consider beautiful, clear, airtight organizers for flour, rice, and sugar. This way, you'll know exactly how much you have of each ingredient -- and when it's time to hit the store to replenish them. Chalkboard labels can ensure your family members know which container holds the bread flour and which holds the cake flour. A pantry door organizer may also be your new best friend; they're the perfect spot for small, hard-to-find spices and seasonings.
[DIY IT: Easy Bin Wall Organizer]
To Prevent Food Poisoning
If you're living with a cluttered pantry, there are likely a few old foods hidden from plain sight -- it's not hard to believe a box of cereal that expired in 2014 is sitting behind your untouched Italian breadcrumbs. If you haven't eaten it, it's time to get rid of it, especially if it's long past its best-by date.
There may also be a few common items that expire long before you realize: If natural almonds are stored in a cool, dry place, they can be kept for about two years, but after that, it's time to toss them, according to the Almond Board of California. Once opened, a bottle of olive oil should be used up within 30 to 60 days, according to the California Olive Ranch. It's best stored in a cool, dry place. Pure vanilla can last you a very, very long time, but imitation vanilla has a much shorter shelf life. Store it in a cool, dark place, and toss it four years after opening it.
[READ THIS: Here's a List of Expiration Dates for Common Pantry Items]
To Give Back
Remember that cold weekend in April when you bought all the ingredients for that new chili recipe you wanted to try? Time got away from you, the beans are still in the pantry, and they're not going to be eaten anytime soon. Donate these -- and other extra goods -- to your local food pantry and help a hungry family share a warm, hearty meal. If you're a fan of buying in bulk, and there's no way you're going to eat all those cans of cranberry sauce, drop of these foods too. Traditional side dishes are always in high demand, but are often in short supply.
Non-perishable items that are rich in protein, like canned tuna, canned meats, beans, and peanut butter, are especially helpful. Do keep in mind that not everything can go to your local pantry: boxed brownie and cake mixes, junk foods, and any opened or expired items can stay home. To find your local pantry, visit Feeding America.
[NEED MORE HELP? Try Our 10 Best Pantry Storage Ideas]