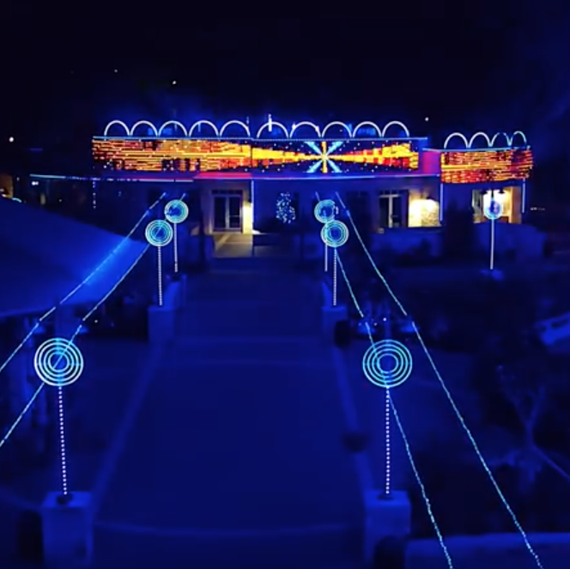 'Tis the season for Christmas carols and glittering holiday light displays. However, the Johnson family is putting a fresh, hip, and totally cool spin on the tradition, including dubstep and EDM tracks.
You might remember them from ABC's holiday TV series, ''The Great Christmas Light Fight" in which various households compete against each other to see who has the most Christmas spirit in the sense of showy outdoor holiday lights paired with music, outdoor decorations, and other dazzling high-tech special effects.
[FEELING INSPIRED? Try These Christmas Lights for Around the House]
Software engineer and holiday light magic-maker, Matt Johnson, credits his success to his ''Spirit of DIY and cutting edge technology with all custom built elements, kit based controllers, and both custom and open source software.'' In Matt and his family's light show, you will not see any pop up seasonal figurines in the front yard, no corny holiday gimmicks, but true creativity when it comes to lighting selection and choice of music. Instead of using traditional LED lights, Matt prefers pixels for maximum light quality. "We use pixels, which are similar to what you would see on Jumbotron," he explains. "Each pixel can be controlled individually and set to any color and/or intensity. This means many more effects can be down with Christmas lights.'' 
As for choice of music? Let's just say it's not what you would expect from a Christmas light show. It's a custom soundtrack composed of dubstep, EDM, hip-hop, and movie clips. Matt also likes to point out that there are no jolly inflatable characters or other Christmas decorations to distract the eye — it's all about the music and lights.
This year, the Johnson family's light show in their hometown of San Antonio, TX, includes some new additions like 12 x Living Light Shows, 48" Pixel Mega Wreaths, 50 x Panel Living Light Shows Modular Matrix, and Super High Power Light Cannons (17R beams) among other superb light effects. And if you're inspired to create your own neighborhood light show, Matt offers his services for light installation, light consultations, and pixel project management. With his help, your holiday is bound to merry and seriously bright.