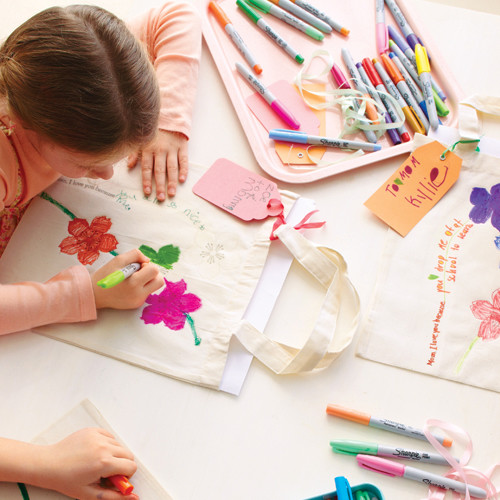 Hosting a holiday craft party is a great way to spend time with your friends during a busy holiday season -- not to mention a great way to jump-start your gift giving as well. With a few craft projects in mind, some appetizers and a nice festive drink, holiday craft parties are a lot of fun.
Craft parties are also a great activity to bring kids to -- Crayons make the best babysitters and kids love doing what mom's doing! But, while crafting is a relatively safe to-do, there are some safety precautions you need to be aware of too.
SafeKids.org, a global organization that's dedicated to preventing injuries in children recommends that if you're taking a child with you to a holiday craft party or you're hosting one where children may be present, you follow some simple, but important, safety precautions.
1. Keep their curiosity at bay.
Of course, not all homes are built for toddlers and children so it's a good idea to do a once-over to make sure there isn't anything obvious that could be a danger to young kids.
"Take a look at your home from their point of view," suggests SafeKids.org. "Check coffee tables, (dog food bowls!) and low surfaces, and remove anything they might choke on or break. If there are toys around with small pieces, store them up and away."
2. Serve child-friendly food.
"If it has been a while since you had kids in the home, you might need a refresher on food choking hazards to avoid for kids under the age of 4," suggests SafeKids.org. Food like hot dogs, grapes, peanut butter and dried fruits can be choking hazards for young children so keep those out of reach and offer food that's safe for the little tummies.
[TRY THIS: Party Food for Kids]
3. Be aware of your tools.
Crafting with young children? Use blunt scissors to make it safer for small hands.
Using glue guns? Remember to teach kids about using it safely to avoid burns. And watch out for cords strung from the table, across a walkway, to the outlet.
Considering a battery-operated craft? Button batteries are very harmful if swallowed. Be sure to keep them away from kids.
4. Plant safety matters, too.
Not all plants are made the same and if you're going to be crafting with some holly berries and other real plants, you need to make sure they're safe. Some plants can be poisonous if eaten and if you'll have little kids around, it might be best to swap those for plants that aren't toxic or see about using a synthetic in its place.
5. Busy kids need keen eyes.
"Parties are a great time for moms to catch up with friends and it can be tempting to take eyes off little explorers," warns SafeKids.org. They suggest that if you know you'll have little ones around, see if there's an older child available who can supervise the littler ones with a kid-friendly craft or game.
[KEEP THEM BUSY: All Our Best Kids Crafts]