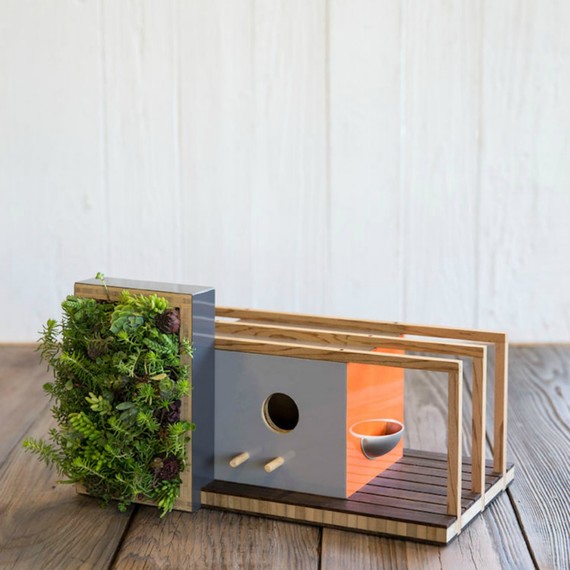 Nope, Douglas Barnhard is not fluent in the language of birds (that we know of), but his modern, clean-cut designs, use of natural elements, and iconic architectually-inspired birdhouses have us thinking that he might be.
Each one of Barnhard's bird homes is filled with character, movable roofs, an unexpected jolt of color, and a wide variety of various succulents. Indeed, Barnhard mentions that he has been inspired by great architects such as Joesph Eichler, Frank Lloyd Wright, and others. Barnhard's Mixed Media House is well-known as he meant to combine designs traits from Eichler, Wright, and The Bauhaus into one small bird home. The outcome is breathtaking.
Many if not all of his homes have some sort of succulent included in the home's design. In Barnhard's Mixed Media bird home, there is a succulent off to the left. In his other homes, succulents appear to be popping out from the roof or can be seen in teeny tiny potted plants on the bird's front porch. Another one of Barnhard's well-known bird homes, The Bauhaus has one wall that is nothing but a succulent plant. To those who are familiar with his designs, most of Barnhard's bird homes have a detectable, sloping, or flat roof that gives a slight nod to the sixties' era. In fact, one of his designs was influenced by Eichler's California home built in the sixties. Of course, the Barnhard's birdhouse variation has a bright orange front door which pairs nicely with the rich wood and metal exterior. Many of the bird homes that he creates Barnhard uses teak wood, bamboo, and mahogany in his birdhouse construction.
[DON'T MISS: This Artist Made Over 3,500 Birdhouses for a Beautiful Cause]
With nature, birds, iconic architects, unique fusions of wood and metal building materials you may think that is the extent of what motivates Barnhard to build his bird homes. Barnhard also constructs homes from his travels to California and Hawaii. The Tea Garden Bird House originated from his voyage to San Fransico's Japanese Tea Garden located inside the Golden Gate Park. The beach lover's dream birdhouse, The Kauai, is equipped with two robin egg blue mini surfboards and stems from his love for Hawaiian culture. Any bird that gets to dwell in a Hawaiian paradise is one lucky bird indeed.
No little bird needs to tweet to remind you that his designs would make an excellent holiday gift as it is now the season of giving (and receiving). Any bird lover, watcher, or an actual bird would love to have one of Barnhard's groovy bird homes to call their very own. Barnhard is selling his creations on his website, Sourgrassbuilt. Barnhard crafts all of his bird creations from his home in sunny Santa Cruz, California, and prices range from $170 to $350.
Feeling inspired to make your own birdhouse? Watch this video for Martha's easy how-to: