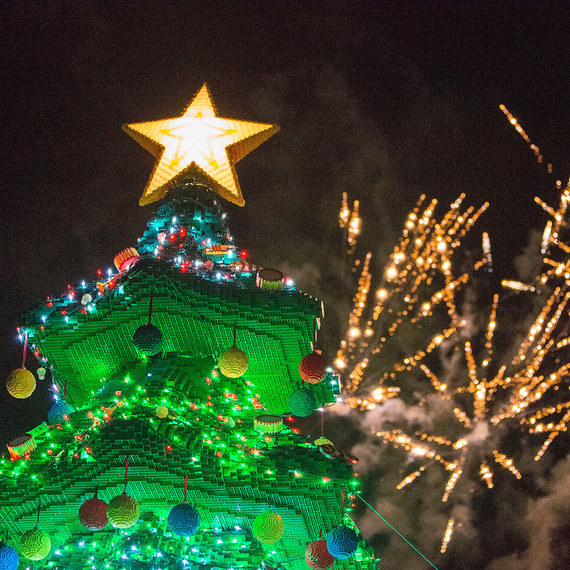 Just when we thought that we couldn't be more excited about all the interesting and unexpected twists people put on their Christmas trees this year (like say, pure gold wire or a magical Harry Potter theme), we were reminded of the annual tree lighting at Legoland California. If there's something that can impress us, it's a 30-foot tree made entirely out of Lego pieces. In fact, it's the world's largest Lego Christmas tree and you can see it at Legoland California Resort.
[GET INSPIRED: All of Our Best Christmas Tree Ideas Right Here]
The Lego Christmas tree stands 30 feet tall, is built with over 245,000 green Duplo bricks, and is festooned more than 400 Lego ornaments like candy canes and hanging balls, plus 11,000 LED lights. (Pretty spectacular, right?) Imagine the patience it takes to put so many small pieces together into this beautiful behemoth of a tree. This week, Castle actress Stana Katic was just there to officially light the tree at the ceremony. As an added gesture of holiday cheer, Legoland California Resort donated $10,000 to Children's Hospital Los Angeles, a nonprofit pediatric academic medical center dedicated to children who are in need.
Watch the tree lighting ceremony below:
Think you could recreate this at home? One can dream, right?