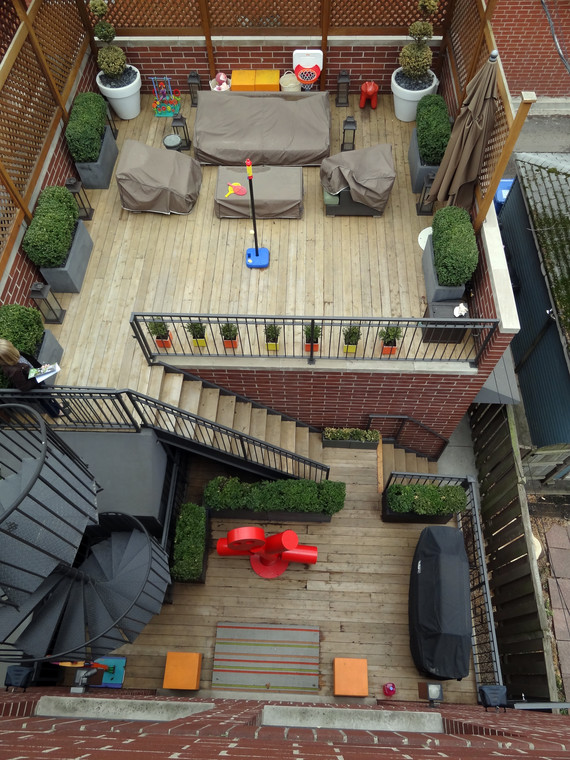 Despite being a bit bland, the before photos seem to have a lot of potential to the naked eye. However, once we started working it was clear that the rooftop was rotten and needed a complete overhaul. While fixing the roof became our primary concern, we also
To get to luxurious living, the old decking and pergola structure had to be removed. Unfortunately, we discovered that the roofing membrane had been installed incorrectly only a few years earlier by the house builder. This meant that the garage frame had rotted and was a safety hazard. While a major set-back, the project continued.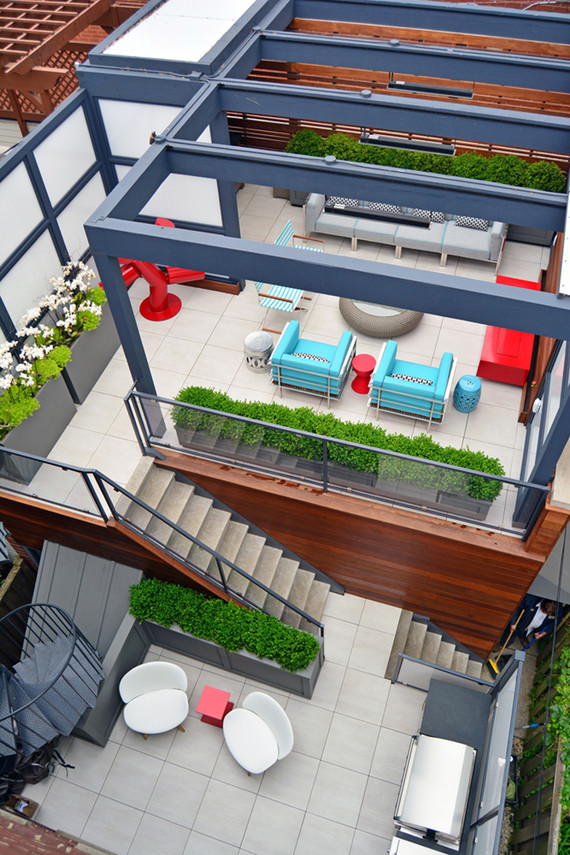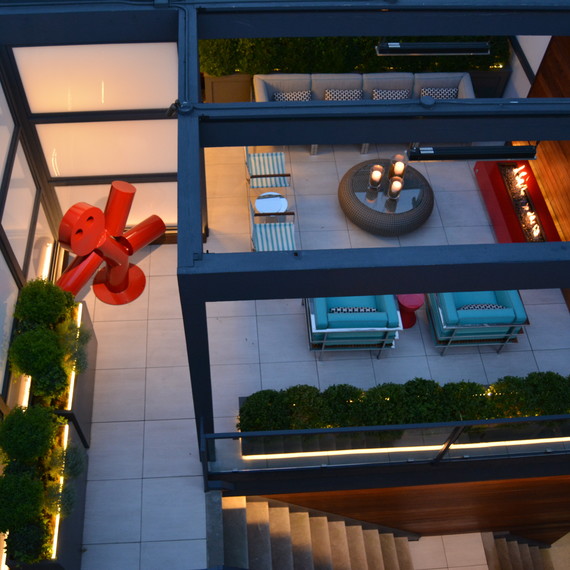 The client really wanted to maximize their space for lots of entertaining. It needed to be as comfortable and easy to use for as long as possible during Chicago's outdoor season. By covering the main roof deck with a pergola frame, we were able to provide stationary acrylic covering over the kitchenette to limit rain over any food or drink, retractable shades for hot days, as well as, three heaters for the cooler days and nights. And with Chicago's weather, you might need heat one day and shade the next!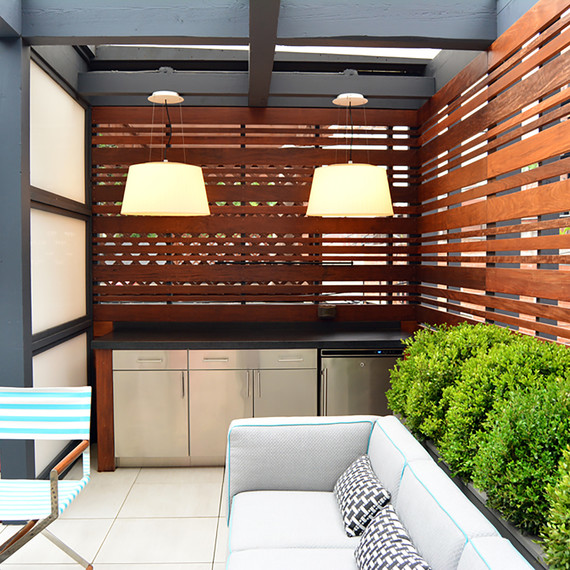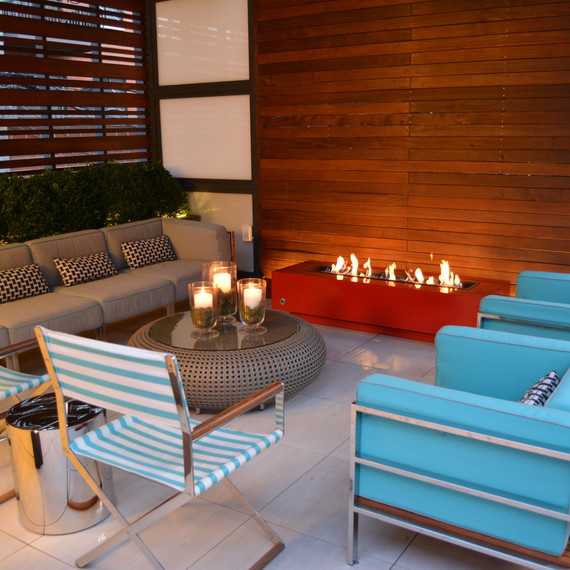 Living close to neighbors and living with an ally can also be an impetus for privacy screening. On this project, there is a mixture of materials to provide additional interest. We used painted wood frame with opaque acrylic, as well as, Ipe horizontal slats.
Not only did the space need to be luxurious and functional, but it needed to display the client's fun design style. Patterned pillows and striped chairs provide a funky look while still complimenting the modern and linear themes. We also added pops of blue and red to add a punch of boldness to this sophisticated space. The fireplace adds a special touch, especially for night time entertaining.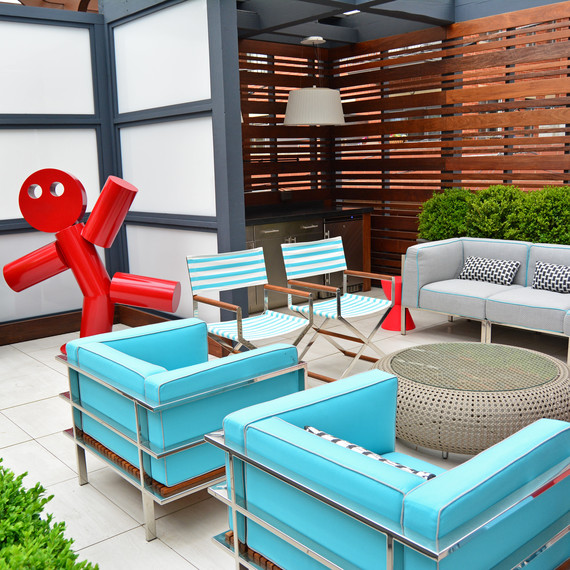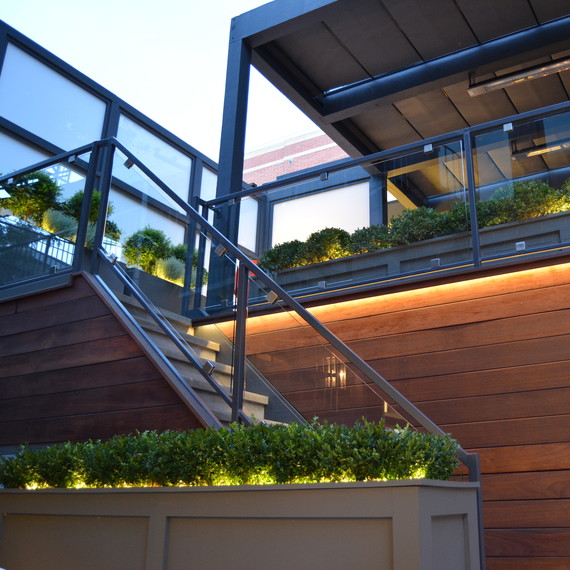 While decking is an option, we kicked it up a notch with porcelain pavers on pedestals. (If there is ever again a roofing issue, you can simply pick up a paver to look.) The lower area uses the same pavers but is set on a decking system that allows pavers to be set directly on the framing. The stairs needed to be replaced as well. Rather than using wood stairs, limestone treads were installed.
[SMALL PATIO IDEAS: Smart Ways to Maximize Your Space]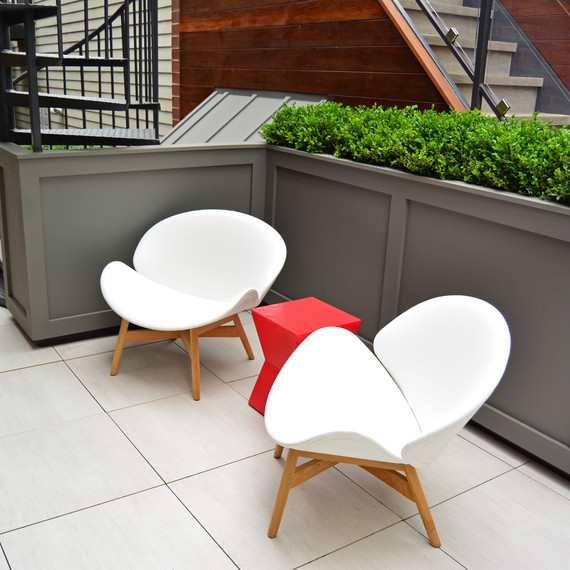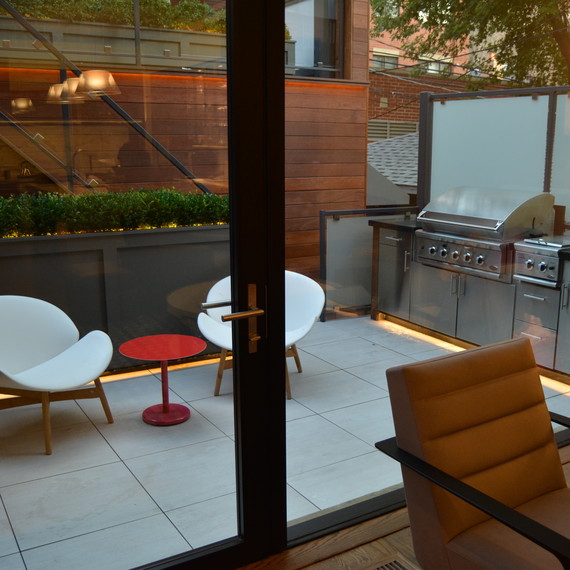 The lower level grill continued to be stationed by the back door for year around access, but upgraded with granite counter and stainless cabinetry, adding necessary counter and storage for entertaining. We also added a small seating area for more intimate entertaining on the lower level.
Overall, this project turned out to be a major success. Despite the initial structural nightmare, the finished space is cool, cohesive, luxurious, and perfect for outdoor entertaining.
[GET MORE: Tips on Outdoor Living]