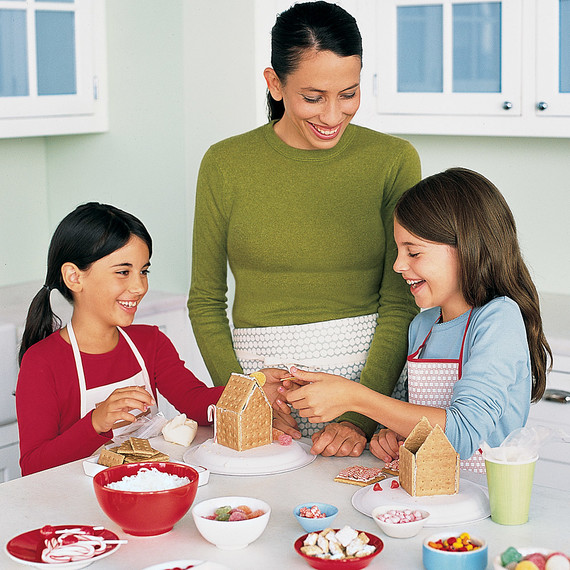 The holidays can be a hectic time with constant traffic from friends and family. You might be hosting several holiday dinners and parties, and having your kids help you to clean and get organized can go a long way in lessening some of that holiday stress. These chores range in difficulty and are suited for children of various ages.
1. Organize the Decorations
Do you have boxes and boxes of Thanksgiving and Christmas decorations? Your older children can help you to sort through all of it and organize what you intend to keep. That way, you'll be able to find that heirloom ornament with ease and not have to worry about breaking it while rifling through the boxes. Turn a disorganized holiday center into a glorious holiday decorating station with storage bins, shelves and boxes. Use labels to make it easier to find certain decorations. Depending on how many decorations you have, this chore can take anywhere from half an hour to an hour to complete.
2. Prepare the Guest Rooms
If you haven't used your guest room all year but your great-aunt is planning a visit before the first frost, it's time to get those guest rooms ready. Children can dust and vacuum. You can have them change the linens and fluff pillows. Add a few decorative touches, such as stuffed animals and throw blankets. Children can even help to arrange flowers for guests. This chore should take 15 to 30 minutes.
3. Address Your Envelopes for Cards
Getting 100 cards ready to mail can be a huge task when you already have a million things to do. Here's a holiday chore for older kids: Give them the list of holiday card recipients, complete with names and addresses, and let them prepare the envelopes for the post office. This could average 20 to 30 minutes to complete, especially if you send out a lot of cards.
4. Decorate Homemade Cookies
If you bake several batches of cookies during the holidays, get your kids in on the fun. They can help with mixing and whisking the dough, cutting out the cookie shapes, setting them out to cool, or decorating the cookies with festive frosting and candy pieces. Kids of every age can participate in the cookie making process! Time will vary.
[SEE OUR IDEAS: Christmas Gifts Kids Can Make for Parents, Grandparents, and Teachers]
5. Clean the Entire House
Little kids can dust and straighten, while older children can vacuum and mop. You can assign rooms to clean for each child or work together to clean a large room in less time. It's also a perfect time to remind your kids that cleaning their rooms is part of preparing for the holidays. The house will be spotless and ready for holiday company by the end of the day!
And if you're looking for extra help, ask Martha about setting up a family-friendly Christmas tree: