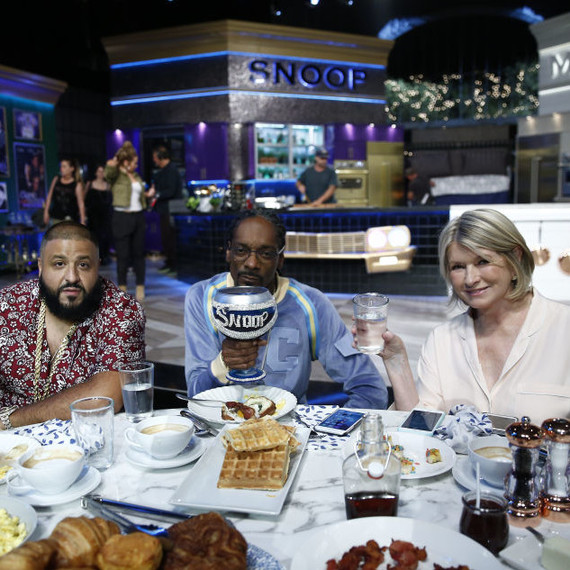 Martha Stewart and Snoop Dogg are in bed together ... sort of. Opening the show while seemingly under a comforter and both wearing pajamas, the hosts present the night's theme: all things breakfast.
From clever jokes ("Just to clarify, I'm not high right now but whoever gave us this show must have been") to relatively simple and totally delicious morning cocktails, here are a few things we learned about AM meals, courtesy of this very funny dynamic duo.
1. Breakfast cocktails are totally acceptable.
The first thing that Martha teaches us tonight is how to make a Mary's Knees: a lemon juice, lime juice, orange juice, vodka and orange liqueur concoction on ice. Snoop's reaction after tasting the drink in his big-boy sippy cup? "Mmmm ... I see why Mary is on her knees."
(THIRSTY? You need a brunch (breakfast!) cocktail!)
2. Always eat breakfast in your pajamas.
The show was filled with a wide variety of pajama styles: Snoop's purple onesie, Martha's pastel two-piece set, Kiki Palmer's comfy outfit, and Robin Thicke's owl-adorned (we think those are owls?) PJs, and we loved every single outfit.
3. Talking about the most scandalous moments of your career while eating breakfast breaks the tension.
Martha unabashedly asks Robin if he's working on another "naked lady album." He laughs and mentions the record he is currently working on: "Just finishing it right now. As I'm sure Kiki and Snoop know, sometimes when you get to the end, that's when you realize you're not finished ... it's kind of like making love."
4. Martha knows it's vital to get all the batter out of the bowl.
While Kiki and Snoop are making waffle batter, Martha advises the Scream Queens actress to use a silicon spatula to, well, rub that batter off the side of the bowl. "Oh my gosh, I love this rubber scraper," says Kiki. "I never knew what this was called. I just [called it] baby spatula."
5. Sing to your food.
That's what Snoop does when demonstrating his unique bacon-cooking technique (basically sticking all the bacon you've ever wanted to eat in a single pan). "I never seen bacon cooked like this," says Kiki. "I'm a real chef so it's real hard to keep me from cheffing," retorts the rapper before serenading the food "until I start to hear you sizzling."
6. Always cover up in the kitchen.
Tonight's surprise guest, social media superstar DJ Khaled, walks in with a true-to-character pajama that looks like a Hawaiian shirt and is completely unbuttoned. First order of business? Cover up, as instructed by Martha herself.
7. Waffles are a great breakfast option.
"I always wanted to open a Waffle House. We got 'em in Florida but I don't fly so I'm on tour buses and it's non-stop [driving]," says DJ Khaled. "But when you do stop, it's a Waffle House. The chicken, the waffle, this little egg white vibe!"
(HUNGRY? You need waffles for sure!)
8. Snoop knows: munchies should be satiated by creative food mashups.
"Sometimes when I get the munchies, I just combine whatever I got laying around," says Snoop. "Once upon a time, I did this chicken wing masterpiece. I had BBQ potato chips and I put the chicken wings in the potato chip bag and I mixed them up and I swear it was the best chicken wings I've had in my life." Other munchie mashups worth mentioning? According to some of the show's fans on Twitter: maple syrup with potato chips, pizza omelet (leftover pizza mixed with eggs in an omelet) and birthday cake soaked in a bowl of cold milk. Triple yum or triple yuk?!