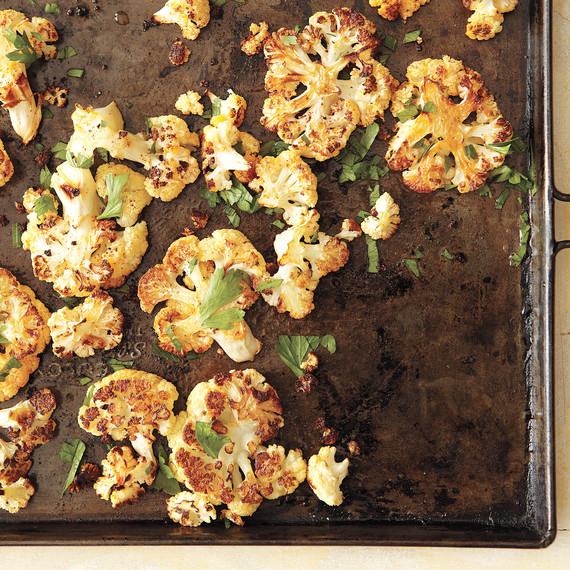 Cauliflower is in. Kale is out.
Once upon a time, it was the vegetable you ignored in the produce aisle. Sure, you may have grabbed a few along with the brussels sprouts for a holiday dinner, but more often than not it was ignored as you reached for broccoli or kale. That was a mistake. You could've been one of those smug people who when others started talking all excitedly about their cauliflower steaks, tacos, or gratin said yes, I've been eating cauliflower for years.
Searches for cauliflower rice recipes on Pinterest are up 135 percent year-over-year and Google search interest for cauliflower rice is also booming, according to Green Giant Vegetables, which recently released a line of frozen veggie swaps featuring cauliflower.
 
Get our Basic Roasted Cauliflower Recipe
It was only a matter of time before the vegetable had its chance to shine. It's gluten-free, it's paleo, it's vegan, it takes center stage and you don't miss the meat. Basically, it's the vegetable for our time.
"Cauliflower is a very misunderstood vegetable and often gets lumped in with broccoli as a vegetable that you hate growing up and are forced to eat. But once you're a grown-up, you give it a second chance, and there is that beautiful creamy, sweet buttery flavor," said Executive Chef Lauro Romero of Three Degrees in Portland, Oregon.
In season from October through April, although available in most markets year-round, cauliflower is part of the cruciferous vegetable family -- think broccoli, cabbage, brussels sprouts, bok choy, and kale. And like kale, it's full of vitamins, minerals, and nutrients that make it a power vegetable. The sulfur compounds it contains, which give off that sharp smell when steamed, may prevent some types of cancers and fight other kinds. There's also evidence that cauliflower boosts heart, digestive, and brain health.
Get the Cauliflower Gratin Recipe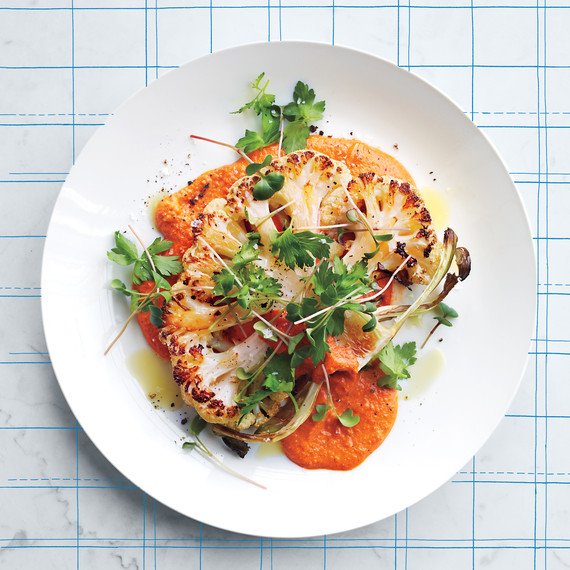 Ask chefs why they love it, and they'll tell you it's because of its versatility. Romero serves the vegetable in many forms; from simply roasted to cauliflower "rice," rice-size pieces of cauliflower sauteed in olive oil and garlic and finished with fines herbes and shallots, which accompanies bone-in lamb shank, to a creamy cauliflower soup. Chef Brandon Boudet of Little Dom's, an Italian-American restaurant in Los Angeles uses shredded cauliflower in place of traditional risotto and also a rice bowl with wood oven-roasted eggs, romesco sauce, and salsa verde. And when chef Nicholas Cox was revamping the menu at Boston's Lolita Cocina & Tequila Bar, he put cauliflower front and center in tacos topped with a green-chili pimento cheese, spicy chamoy sauce, and a cabbage escabeche. "Cauliflower, when fried, has a meaty bite. So it's a good vegetable for when you're still looking for that textural satisfaction of eating a protein like steak," Cox said. 
Get Our Cauliflower Steaks with Romesco Sauce Recipe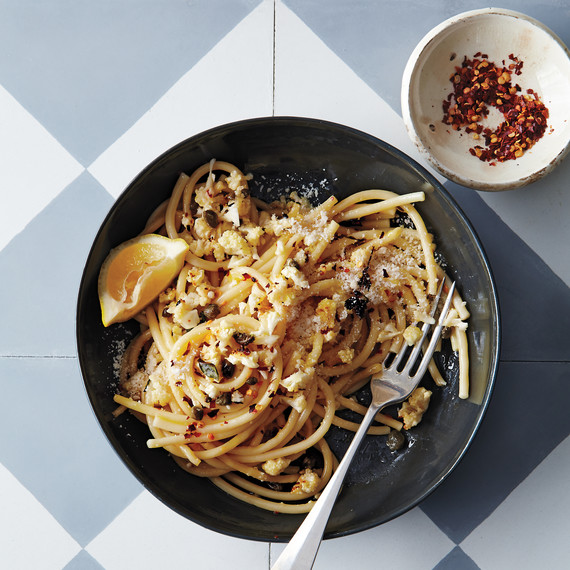 Get the Bucatini with Cauliflower, Capers, and Lemon Recipe
And watch how to make cauliflower fried rice: