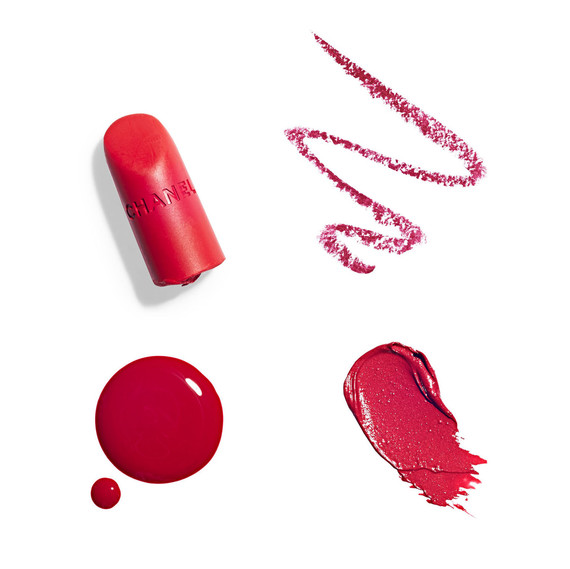 The chic shade miraculously looks good on everyone, and with everything -- the distressed jeans to the cocktail dress. And it's so impactful on its own that you don't have to apply much more makeup. All you need to do is pick a hue you love, in a formula you feel confident in, and let its powers take hold. Soon you'll see red in a new light, too.
With four color groups to choose from -- orange-reds, pink-reds, berry-reds, and blue-reds -- the only rule is to select one you gravitate toward.
Clockwise from top left:
Chanel Rouge Allure Velvet, in Rouge Feu (an orange-red), $37, chanel.com.
Stila Stay All Day Matte'ificent lipstick, in Framboise (a berry-red), $22, stilacosmetics.com.
Shiseido Rouge Rouge, in First Bite (a pink-red), $28, shiseido.com.
Christian Louboutin Loubilaque lip lacquer, in Rouge Louboutin (a blue-red), $85, us.christianlouboutin.com.
[NEED MORE IDEAS? 6 Lip Crayons That Will Simplify Your Beauty Routine]
10 Tips for Red Lips
1. Trust Your Instincts
Disregard all those rules you've heard about the right reds for cool and warm skin tones, and reach for whatever shade you're drawn to, says Tim Quinn, a makeup artist for Giorgio Armani Beauty. "If you feel great in it, you're going to look great."
2. Make A Love Match
Swipe on a color and take a good look in the mirror. If you radiate confidence, like an internal light has been switched on, you've found the one, says Poppy King, founder of Lipstick Queen.
3. Get Prepped
Exfoliate! Nothing ruins the effect more than dry, flaky lips. A smooth surface ensures uniform color and shine.
4. Try Different Textures
Matte formulas are the longest lasting and make lips appear fuller. Cream lipsticks are hydrating but require frequent reapplication. Stains and sheer finishes are the easiest to wear and exude a quiet confidence. Glosses have shine and wearability, but beware of blue-red tints, which are all "too reminiscent of the '80s" (and not in a good way), says Quinn.
5. Put Down The Brush
Hollywood makeup artist Molly Stern suggests applying color straight from the tube or wand. Blot lips on a tissue, apply another layer, and blot again. "This crushes the pigment deeply into lips, giving it longer wear."
[TO-DO LIST: Cleaning Your Makeup Bag]
6. But Try A Pencil
If you want to use liner to define the shape of your lips, make sure it precisely matches the lipstick.Then use it to outline and fill them in.
7. Reorder Your Routine
Remember that old adage about removing one piece of jewelry before leaving the house? The same applies here. A red mouth is an accessory and a focal point, says Stern. "If there's too much going on elsewhere, it can look costumey." To prevent that, apply lip color before eye makeup. As for blush, a light flush is enough.
8. Focus On Your Face, Too
"Beautiful skin is key to balancing a red lip," says L'Oréal Paris ce- lebrity makeup artist Sir John. Aim for a contrast, like luminous skin with a matte lip, or a velvet-finish foundation to balance a shiny gloss.
9. Go Casual
Red lips are a stylish daytime look, but you may want to tone them down. Start with a hint of tint to subtly stain your lips, then use your finger to dab lipstick in the center of your mouth, building the intensity as desired.
10. Nail It
What goes best with red lips? Crimson nails, of course. This monochromatic match is always on point.
[ALSO TRY: How to Choose the Right Hair Brush for Your Mane]
Color Theories
Whether you want to come on soft or bold, there's a formula for you.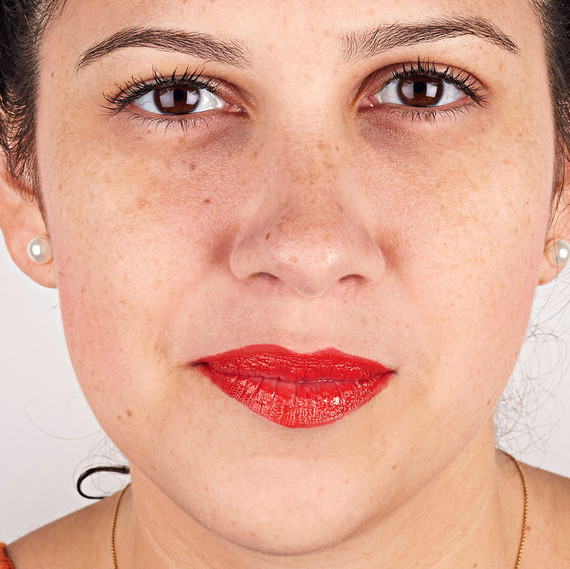 Orange-Red
A bright hue warms up pale skin. (A caveat: It can also highlight yellow teeth.)
Above: Rimmel Lasting Finish by Kate lipstick, in Idol Red, $6, rimmellondon.com.
To come on subtle:
Avon True Color lip balm, in Cherry Kiss, $4, avon.com.
To come on strong:
Giorgio Armani Lip Magnet, in #302, $38, giorgioarmanibeauty-usa.com.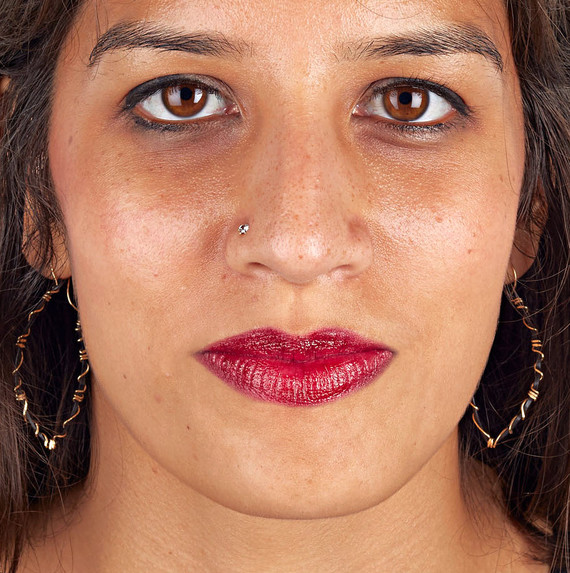 Berry-Red
Berry shades are universally flattering. They suit all ages, skin tones, and styles -- from easygoing to edgy.
Above: Tom Ford lip color, in Smoke Red, $53, tomford.com.
To come on subtle:
Fresh Sugar Tinted lip treatment SPF 15, in Berry, $24, fresh.com.
To come on strong:
Cle de Peau Radiant Liquid Rouge, in #18, $48, cledepeaubeaute.com.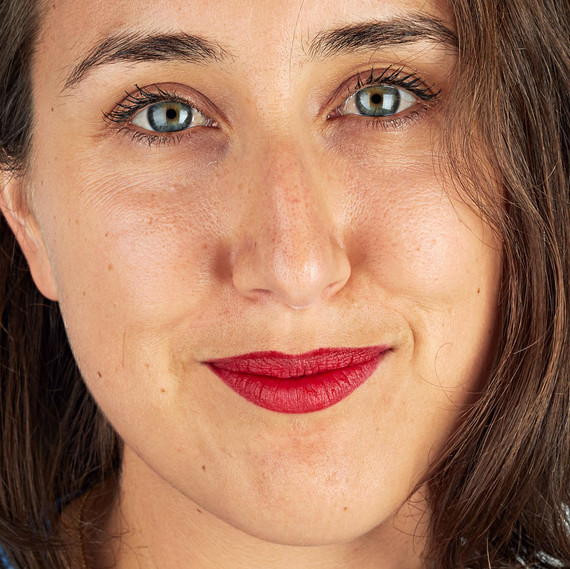 Blue-Red
Classic and cool, it looks modern in a matte finish, paired with a minimally made-up face.
Above: Charlotte Tilbury Hot Lips, in Carina's Love, $32, charlottetilbury.com.
To come on subtle:
Tarte LipSurgence Tint, in Lust, $24, tartecosmetics.com.
To come on strong:
Nars Special Edition Audacious lipstick, in Rita, $32, narscosmetics.com.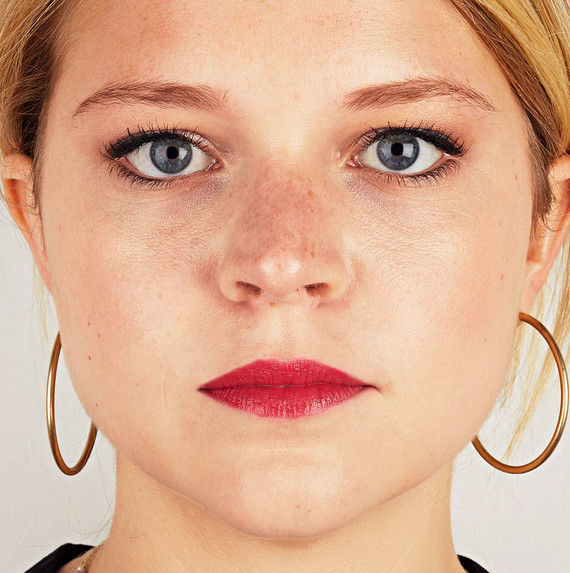 Pink-Red
Still hesitant? Take a baby step with this rosy shade, which is especially pretty on redheads.
Above: CoverGirl Outlast Longwear lipstick, in Pink Shock, from $7, covergirl.com.
To come on subtle:
Clinique PopGlaze Sheer Lip Colour + Primer, in Fireball Pop, $19, clinique.com.
To come on strong:
Bobbi Brown Luxe lip color, in Imperial Red, $35, bobbibrowncosmetics.com.