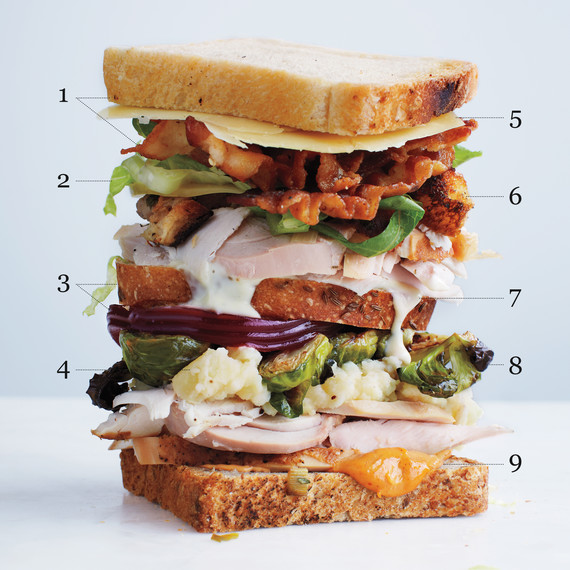 We hear that more of us like the leftovers than the feast itself; a recent survey found 79% of respondents feel a fridge full of leftovers is the best thing about hosting Thanksgiving.
For anyone who has been planning and prepping Thanksgiving dinner for weeks now, that might seem like heresy but think again. Those sandwiches are a once-a-year wonder. Our test kitchen editors are day-after leftover sandwich fans. What each assembles between their bread varies, as does the bread they choose but for all the turkey sandwich is as beloved -- and as deeply personal -- a tradition as the holiday meal itself.
Feast your eyes on our list of must-have ingredients, all piled into one glorious, fantastical stack.
1. White Pullman Bread & Bacon -- Martha Stewart
2. Romaine Lettuce -- Sarah Carey
3. Rye Bread & Canned Cranberry -- Jennifer Aaronson
4. Mashed Potatoes -- Laura Rege
5. Cheddar Cheese -- Greg Lofts
6. Bread Stuffing -- Lauryn Tyrell
7. Mayo -- Every cook in our kitchen!
8. Roasted Brussels Sprouts -- Shira Bocar
9. Whole-Grain Bread & Chipotle Mayo -- Lindsay Strand
Try Our Other Recipes for Leftovers