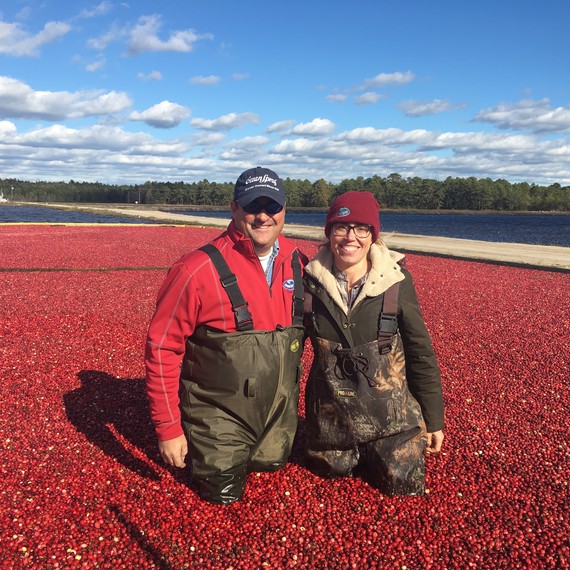 A few weeks before Thanksgiving cranberry growers are hard at work on the annual harvest to ensure your feast is complete -- it wouldn't be Thanksgiving without cranberry sauce. Cranberries are picked from mid-September to November, so I jumped on the opportunity to visit Steve Lee IV's 1,800 acre farm in New Jersey and see the unique beauty of the harvest. 
 
Most people, including me until I visited the farm, think cranberries grow in water. Steve explained the berries actually grow on long running vines in sandy marshes or bogs and are flooded as part of the harvesting process. And though the harvest is short and we all tend to only think of cranberries around Thanksgiving, cranberry farmers are tending their vines year round.

Cranberries are one of three fruits, along with blueberries and concord grapes, that are native to North America. And yes despite their tart flavor, they really are berries. Most cranberries grown in the U.S. come from Wisconsin, New Jersey, Massachusetts, and Washington. Steve's farm is located in Southern New Jersey, which has the best soil conditions in the state for harvesting. Lee Brothers Cranberry Farm has a long history with cranberries. Steve explains, "Our family has been working this land for seven generations. It is pretty special, it comes from the heart." 
Like most growers, Lee Brothers Farm, uses the wet method of harvesting; flooding the bogs a day or two before harvesting and picking the fruit off the top of the water. We drove a picking machine through the water, gently knocking the berries off the vine. Each farm develops their own proprietary machine that works best for their terrain, so there are no two alike. Once released, cranberries float because they contain four air chambers.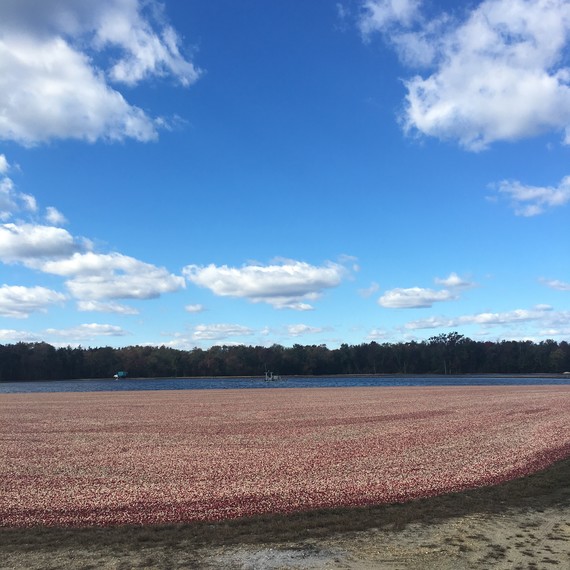 Another thing I assumed is that cranberries are always red, not thinking about where the white cranberry juice I'd seen in grocery stores might come from. The lesser-known white cranberries grow towards the bottom of older vines, receiving less sun exposure. They are used for that white cranberry juice. The red cranberries grown on Steve's farm are usually used for Craisins. 
Get our Cranberry Recipes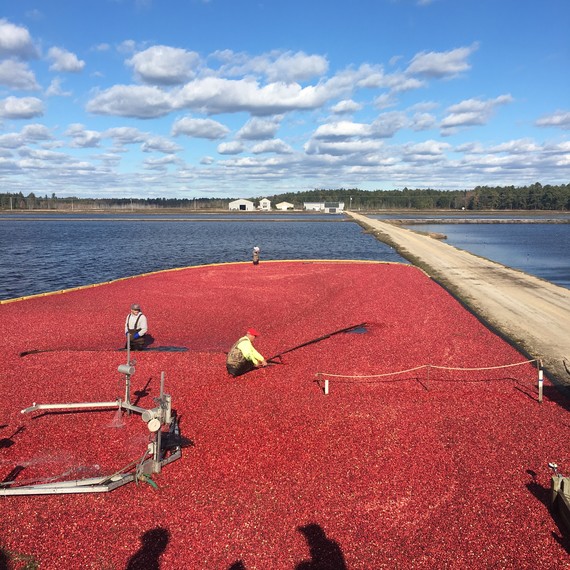 Once the fruit is picked and floating, we put on the waders and got into the bog. We corralled berries with wooden booms and then used rakes to push them into a pump that lifts them onto a conveyer where they are cleaned and transferred to a truck for delivery to Ocean Spray. Steve like many other cranberry farmers in the U.S. and Chile, is a member of the Ocean Spray growers' cooperative.
See Laura's Thanksgiving Menu