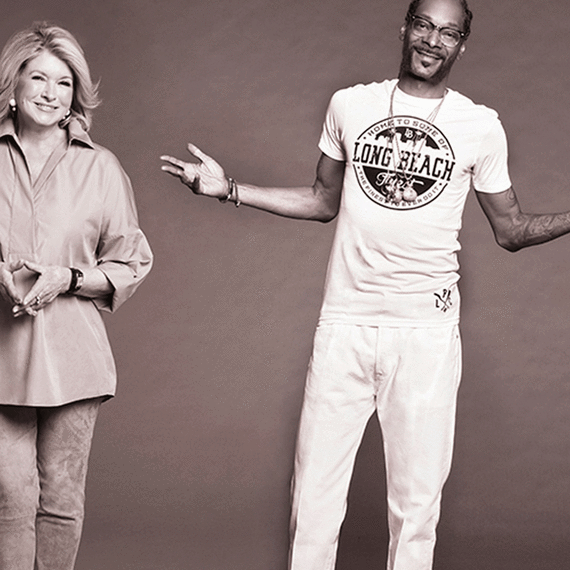 Martha and Snoop went all out with the traditions in the third episode of Martha and Snoop's Potluck Dinner Party, because Thanksgiving is all about traditions, old and new. In addition to special guests Naya Rivera and 2Chainz and surprise guest Chris Bosh, the hosts were joined by (drum roll!) two turkeys. What did we learn this week? Snoop knows a thing or two about glazing meat, Martha looks awesome in a turkey hat, and more:
1. Snoop is a Secret Turkey Caller
Introducing us to two live turkeys on set, Martha and Snoop attempt to get the animals to gobble. Dare we say unsurprisingly, the rapper seemed to have a sort of connection with one of the turkeys. "You're a turkey caller!" exclaims Martha at the top of the episode.
2. Cider Ice Cubes Are a Thing
Using an ice carving machine, Martha shows us a new favorite Thanksgiving party treat: ice cubes made of cider, to be added to her powerful cider bourbon cocktails ("I'ma have to rename it for you though," says Snoop after tasting the concoction. "I think this one is called the turkey timer because in about five hours, you gonna pop up suddenly and say, where am I?")
3. Snoop and Martha Are Trend Setters (Didn't We Know that Already?!)
Actress Naya Rivera joins the duo on stage as a special guest. Her thanks-for-having-me gift? Turkey hats for everybody. And, after seeing Martha and Snoop in matching turkey hats, we think we spy a new fashion trend.
4. Turkey Isn't the Only Thanksgiving Meat
If Snoop's culinary proficiency wasn't yet clear, it is now after we've seen his honey glazed, er "blazed" ham. Mixing milk, brown sugar, honey, and juice in a bowl to "tenderize" the ham, Snoop makes it look incredibly easy and extremely delectable.
5. Cooking Can be Sexy
Just watch Martha rubbing butter all over her Thanksgiving turkey (Dare we say food porn?!).
Get Martha's Roast Turkey Recipe Card
6. Chris Bosh is Fun!
The NBA player surprises the audience with a mid-episode appearance. Upon entry, he tests out both hosts' fridges and starts swaying to the various sounds produced.
7. You'll Want to Spice Up Your Thanksgiving Grace
As all five stars sit down to devour the Thanksgiving feast, Snoop takes the lead on a group recital of grace ... which he ends up rapping: "Thanksgiving is a time we all gather together to eat a big bird that once had a whole lot of feathers. Cranberries, stuffing, and hot pumpkin pie with football featuring the Detroit Lions, I have no idea why. Amen!"
8. You Should Use Your Utensils "European Style" -- Martha does!
2Chainz notices Martha's interesting use of utensils. "European style!," he exclaims. What's that, you might ask? Hold the fork in your left hand and your knife in your right hand. Proceed by using your knife when adding a dab of whatever side dish you're enjoying to any fork bite (which is probably carrying a piece of turkey).
9. Dreams Really Do Come True
In true Thanksgiving spirit, Martha and Snoop end the episode by breaking the turkey wishbone. His wish? "That we come back for season two and three." Hers? "That we come back for seasons two, three and four." Hello season 2!