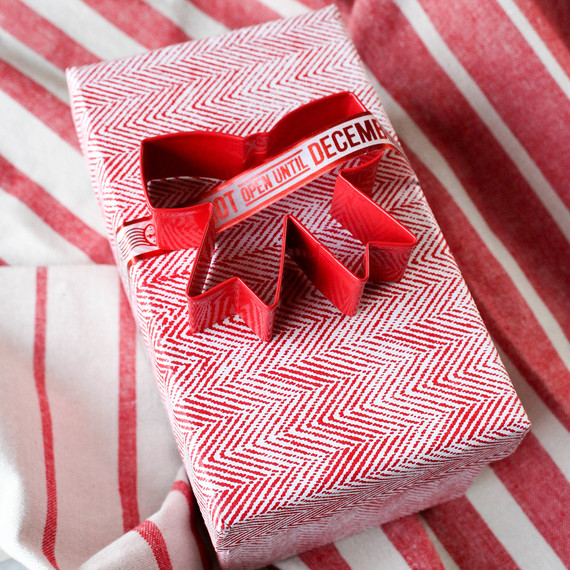 If you're anything like me, the first thing I do around the holidays is plan my "theme" for presents and wrapping. I love spending time each year finding ways to tie gifts together and package up each individual box and bow in a unique and adorable way. It's fun to look back over the years and reminisce on past ideas. This year, I decided on a theme of food and beverages. Here, I have created eight ways for you to gift-wrap and present your holiday gifts with some sort of food or drink involved.
1. Cookie Cutters
Forget the ribbon, when you can top your box with a cookie cutter in the shape of a ribbon! Not only around the holidays, but for other occiasions, I find myself tying cookie cutters to gift packaging. Whether it's a cute dog or bone cutter for your animal lover, or a wedding dress for your next shower, cookie cutters make for adorable gift toppers. And in search of the perfect cookie cutter topper I was overjoyed with the irony of the bow!
[GET MORE IDEAS: 5 Things You Didn't Know You Could Make with Christmas Cookie Cutters]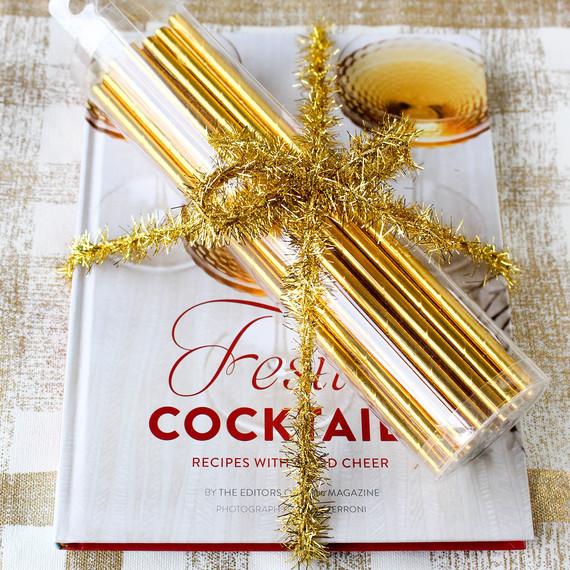 2. Paper Straws
For the cocktail enthusiast you know, give him or her a book and top it with festive paper straws. Not only can they look through the book and find their next idea, but they will have something to serve it with too! Happy sipping!
3. Drink Coasters
Add a little holiday cheer with these glitter coasters and nip. Encouraging your friend to get the party started and spread the holiday cheer round the table.
[TRY THIS: Painted Leather Coasters]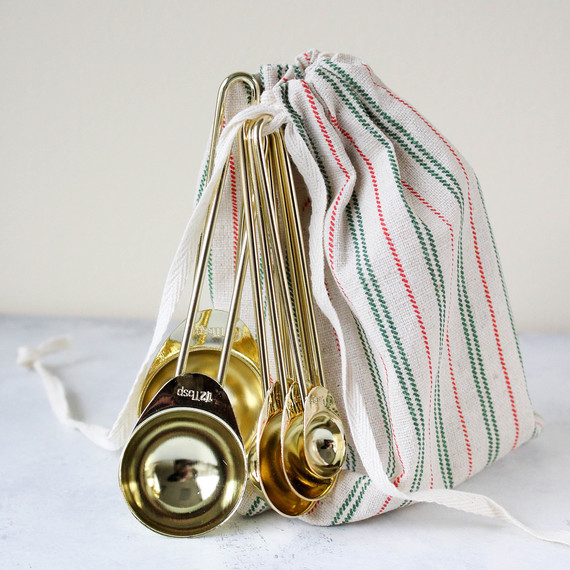 4. Measuring Spoons
For the baker in your life, tie these beautiful gold measuring spoons to a festive burlap sack.
5. Food-Inspired Ornaments
What better gift topper than an ornament? And a donut at that! There are so many food ornaments to choose from that you shouldn't have any trouble finding one that matches your gift inside. If you're giving someone a pizza stone for Christmas, package it with a pizza ornament. Wine? Do the same. Find a way to tie the matchig ornament to the top of the package for a little extra creative fun.
[DON'T MISS: The Untold Story of the Christmas Pickle Ornament]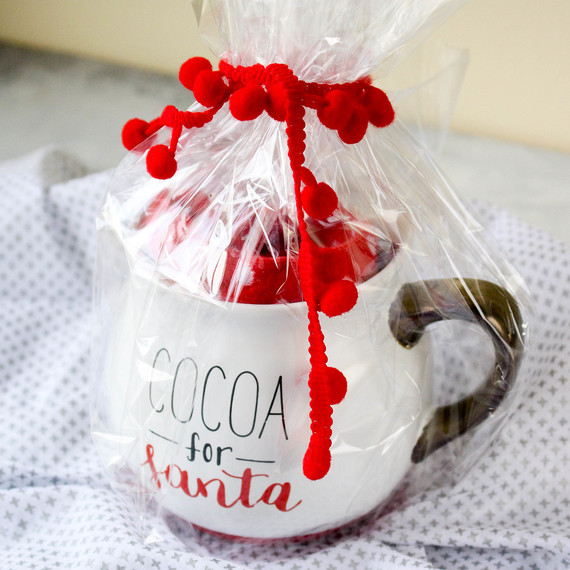 6. Cocoa Mug
And for those small stocking stuffers? Package them in a cocoa mug! It's like two gifts in one.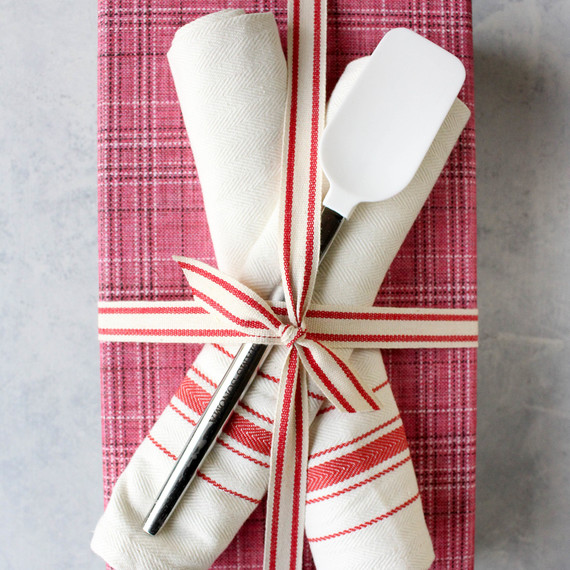 7. Dish Towels and Kitchen Utensils
White and red combined reminds me of the holiday season like candy canes and peppermint or cranberries and snow. I love topping gifts with dish towels and spatulas — a little extra elf gift to help with all the holiday cleanup.
Want more ideas? In this video, Martha offers her best gift-wrapping tips of the season: