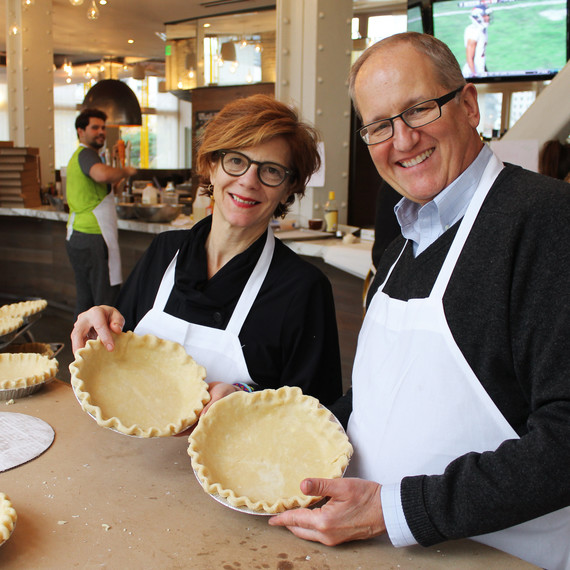 Pie in the Sky is much more than a fundraiser. This year 21,000 apple, pecan, pumpkin, and sweet potato pies were made in the kitchens of 150 of Massachusetts' top restaurants and bakeries, who all donated their time and efforts. Each pie is priced at $30 and 91c of every $1.00 from those pie sales goes towards feeding clients of Community Servings, a non-profit based in Boston that provides nutritious home-delivered meals and other nutrition services, not just on Thanksgiving but weekly. This year the goal was to raise $750,000 -- with pastry and love!
(ELEVATE: your Thanksgiving with these standout pies)
In what he calls the "flavor ratio" David B. Waters, who heads Community Servings, says about 32 percent of the pies are apple, 28 percent pecan, 24 percent pumpkin, and 12 percent sweet potato says. Pie in the Sky began when Waters and other volunteers were brainstorming ways to raise money for Community Servings in its early days, more than 25 years ago. "We went out to ask friends in the restaurant business to bake pies for us at Thanksgiving thinking we could sell a few hundred pies, sort of like selling Girl Scout cookies." he explains.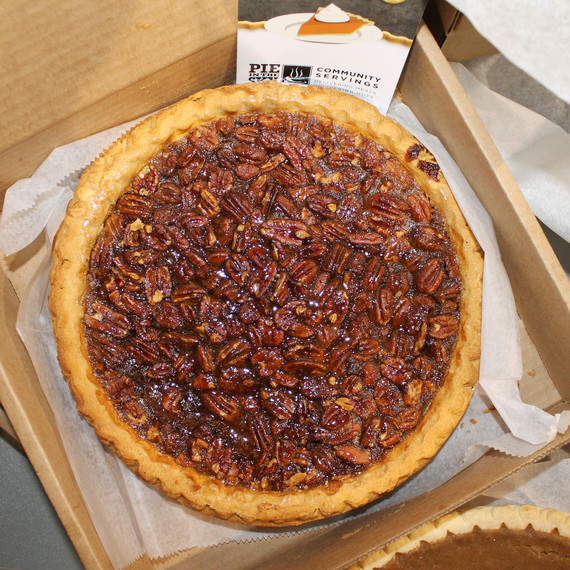 Each November since then has been pie time. Planning begins in June and sales happen through 700 Pie Sellers. They take orders from their family, friends and coworkers in the weeks before Thanksgiving. Once the sales are made the process transitions to the annual "Box Party" where a team of 75 volunteers construct and label 20,000 pie boxes. Volunteers then head out to deliver boxes and pie tins to the 150 bakers. Next is the first pickup; volunteers collect the donated pies from the bakers located across Greater Boston are and deliver them to "Pie Central" at the Boston Convention and Exhibition Center. On November 23, buyers pickup their pies at their preselected pick-up location, one of possible 60+ public distribution points.
And it's not just Boston any more, Pie in the Sky is now in Philadelphia, Washington D.C., San Diego, and Denver. All the bakers, volunteers, and of course buyers have helped create what might be the world's biggest bake sale and is certainly it's greatest.