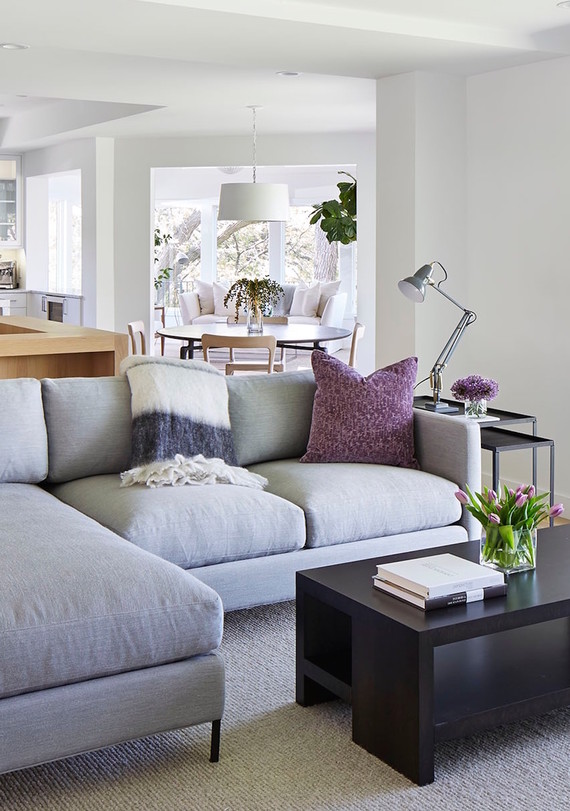 Of course, a spare bedroom is always nice to offer your out-of-town guests, but it doesn't need to be an essential part of opening your home to overnight visitors. You can be hospitable and comfortable by following a few guidelines for putting up guests on the living room sofa, the office futon, or the blow-up in the finished basement.
Provide a Private Space
You might not have a dedicated guest room, but if it's possible, try to give your guests a room of their own. Whether this means having your kids bunk together for the night so you can make one of their bedrooms available, or working from the coffee shop for a few days so your visitors can sleep in your home office, a little privacy will make everyone more comfortable.
Create a Visual Boundary
If your guests will be sleeping in a public area of your home (like the living room or family room of an open-layout house) set up a barrier between the area where they'll be sleeping and the rest of the room. A folding screen is the simplest solution (try this DIY Five-Panel Version), since it can be easily tucked away once guests have gone.
[TRY THIS: 12 Room Dividers to Instantly Divide Up a Room]
Give a Warm Welcome
Give your guests a small welcome package to let them know you're happy they're there. Include things like restaurant, shopping, and activity suggestions, spare toiletries, bottled water, and late-night snacks.
[HERE'S HOW: Create a Welcome Package]
Make a Cozy Bed
Whatever bed you're offering, dress it like you would if it were in a permanent bedroom. Fresh, high-thread count sheets, a lofty duvet, and a feather-mattress topper can turn even the sofa-bed into a luxe spot for some shut eye.
Clear a Spot for Their Things
Guests come with luggage, coats, shoes and toiletries, and you'll both appreciate having a place for them for them to store their belongings while they're there (that isn't on the floor). Clear out a corner of a closet close to the room where they're staying, or purchase a rolling clothing rack to create a convenient temporary storage space whenever visitors are in town.
Offer Thoughtful Extras
Does your living room have floor-to-ceiling windows and face due east? If it also happens to be where your pull-out sofa is, offer eye masks to stop the morning sun from waking your visitors at dawn. Or, if you're putting friends up in the basement, set out a white-noise machine or a set of earplugs to muffle the stomps of your toddler in the wee hours.
Choose a Space Near a Bathroom
If it's possible, pick a place for your guests to sleep that has easy access to a bathroom or powder room, ideally a private one. Having a place to brush their teeth or wash their face in the morning that doesn't require bumping into the rest of the family first will make their stay much more comfortable.
[FEELING AMBITIOUS? How to Make Personalized Guest Towels]
Consider Climate Control
It's likely that whatever area your guests will be making home won't come with its own thermostat. A small fan and a few extra blankets will make visitors comfortable no matter the temperature you keep your home.
Set Out a Reading Light
In a large, open room, having a light that guests can turn on and off without getting out of bed is a small, but , luxury. It also makes their quarters feel more intimate in the evening hours since they won't have to turn on bright overhead lights to find their way around.
Follow these simple tips and both you and your visitors will enjoy their stay.