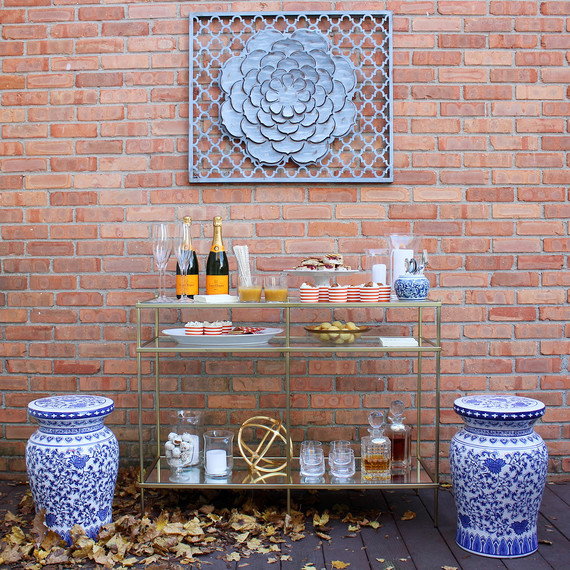 Who said Thanksgiving had to be formal? Or better yet, served on a table? That's right: This year, we are serving Thanksgiving entirely on a bar cart. By planning out three simple things, your Thanksgiving feast will be easier to plan and result in far less dishes than the traditional version. So let's start with a plan. 
Here's What You Need:
Utensils, napkins, glassware, and straws
Simple. Set out champagne glasses and straws up top and put a few decanters of bourbon and whiskey on the bottom with rocks glasses. If your guests prefer something else, lead them to the bar and they can help themselves. Use paper napkins that work for both cocktail and food. And place utensils in a pot.
Traditional Thanksgiving Food
Think of your heavy hitters: turkey, cranberry sauce, mashed potatoes, a vegetable, and a pumpkin pie. Now, think of new ways to make those in easy-to-eat ways.
Snacks
Don't forget to put a few snacks on the bar cart for your guests to grab when they pour themselves a drink.
Decor
Stick to a simple color palette to keep it clean and cohesive. I went with blue and white paired with orange and gold.
[START HERE: Plan Your Thanksgiving Menu With Our Ideas]
Start your guests off with two of my favorite things: champagne and snacks. Try this butternut squash puree! I serve my soup in small glasses — that way, people can drop them by the sink when they are finished. On the second shelf of the bar cart, you'll see individual servings of popcorn and chocolate-covered graham crackers.
[GET THE RECIPE: Pureed Butternut Squash Soup]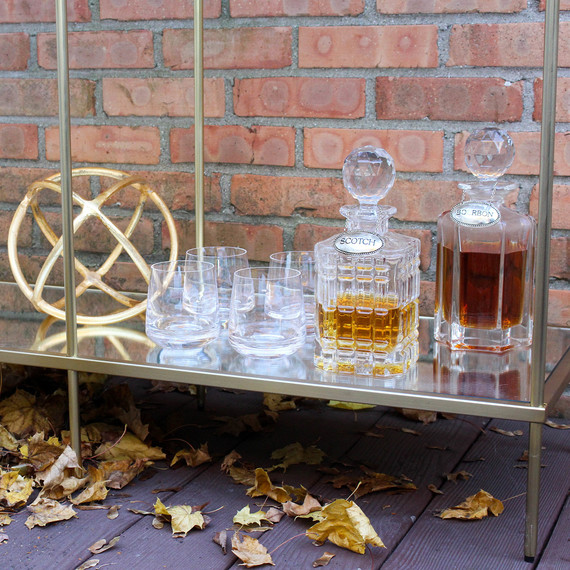 Here's that whiskey and scotch I was talking about — perfect for a grab and pour from the bottom shelf.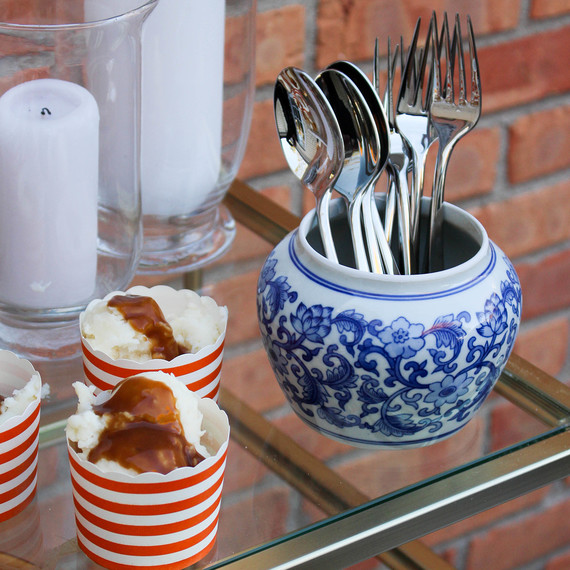 Get creative with storing dinnerware: I placed my utensils in a blue and white porcelain pot to match my nearby garden stools.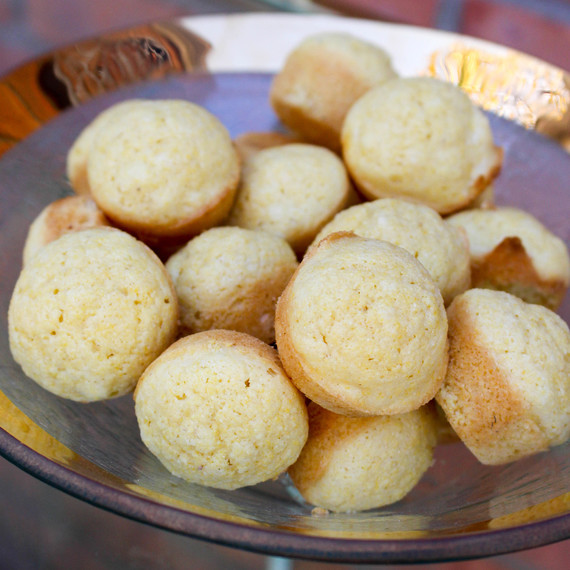 One of my favorite things to make are these tiny poppable cornbread bites — it's another great treat for your guests!
[GET THE RECIPE: Cornbread Bites]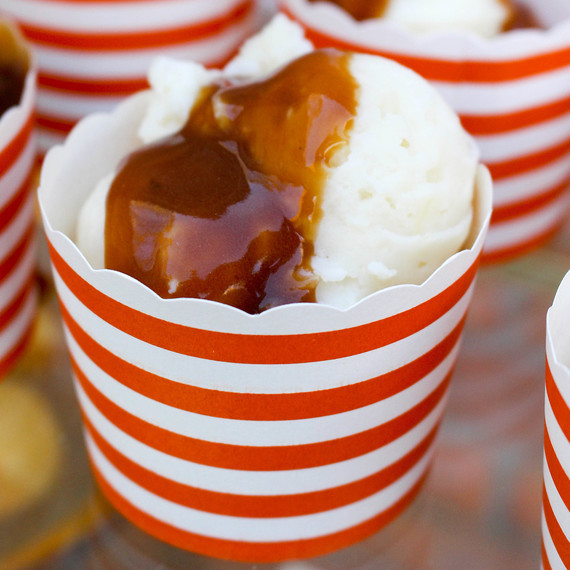 Of course, you can't have Thanksgiving without mashed potatoes and gravy. But why serve it in a giant bowl when you can use an ice cream scoop to make individual portions for your guests?
[GET THE RECIPE: Mashed Potatoes]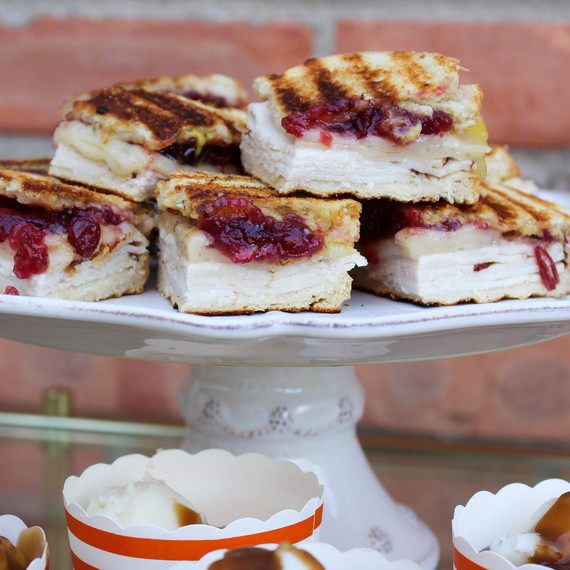 Instead of serving a turkey, I take the traditional elements of a Thanksgiving main course and combine them into a delicious panini. It's stacked with roasted turkey, havarti, cranberry sauce, and grainy dijon mustard on sourdough bread. Slice in bite size pieces and let your guests enjoy "leftovers" on the actual day of Thanksgiving.
[GET THE RECIPE: Thanksgiving-Leftovers Pressed Sandwiches]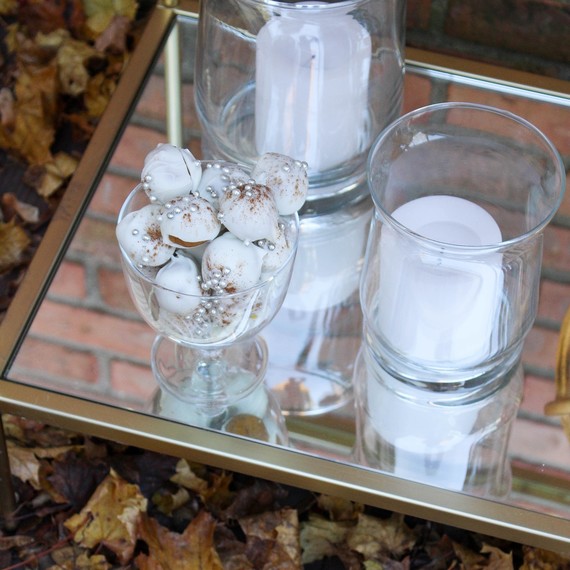 And last, but not least, skip the pie and make pumpkin pie truffles!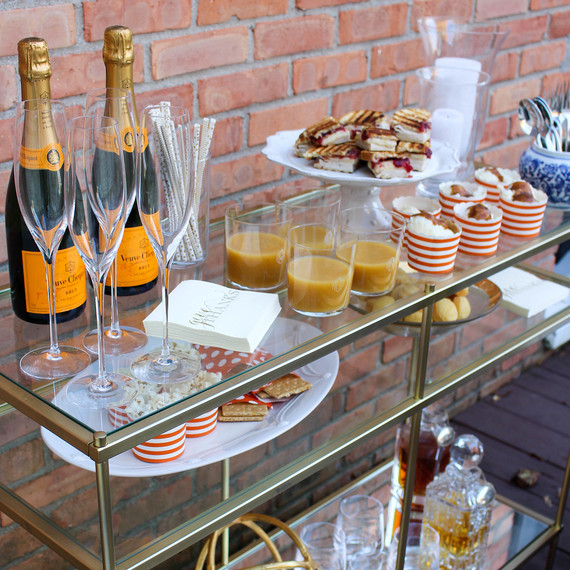 Traditional Thanksgiving is one of my favorite things, don't get me wrong. But if you're having friends over and want to mix it up, try serving it on a bar cart!
Want to add miniature Thanksgiving pies to your menu? Watch this video on how to make easy-yet-impressive embellishments: