When you're hosting your friends and family for Thanksgiving, it's easy to get bogged down by your to-do list. From prepping the meal to cleaning your house to making space in your home for out-of-town relatives planning to spend the night, the list of essential things to get done often leaves little room for you to focus on the smaller details of the day, like decorations. (Who cares about a festive garland by the mantle if the turkey isn't cooked to perfection, right?) Luckily, there are a few decorative projects that you can totally breeze through in a few hours this weekend, and that are totally worth creating if just to have all of your Thanksgiving guests in awe. (But, then, that's what pie is for, too.)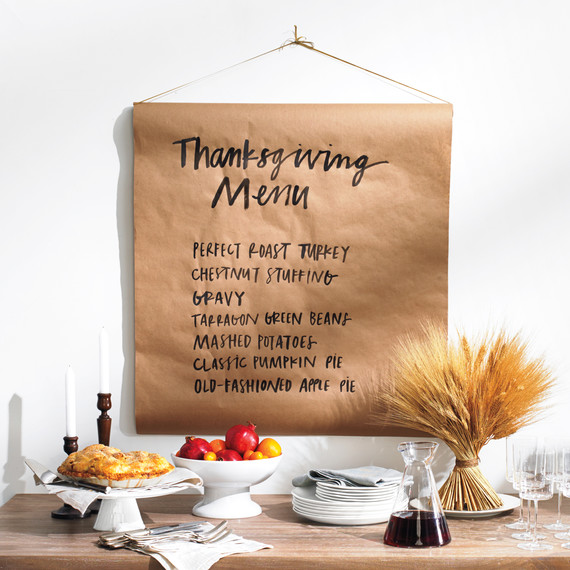 Put Your Menu on Display
Even if you're prepping the usual fixins this Thanksgiving – turkey, stuffing, sweet potatoes, and the whole shabang – putting your menu up on display is quite possibly the easiest way to elevate the dining room, or accent a buffet table. This is an uber simple and charming way to dress up the wall of your dining area, and is a fun teaser for hungry guests, especially if you're cooking up something particularly out of the ordinary or creative. (Cornbread, wild mushroom, and pecan stuffing, anyone?)
[DISPLAY: Put Your Thanksgiving Menu Up on the Wall]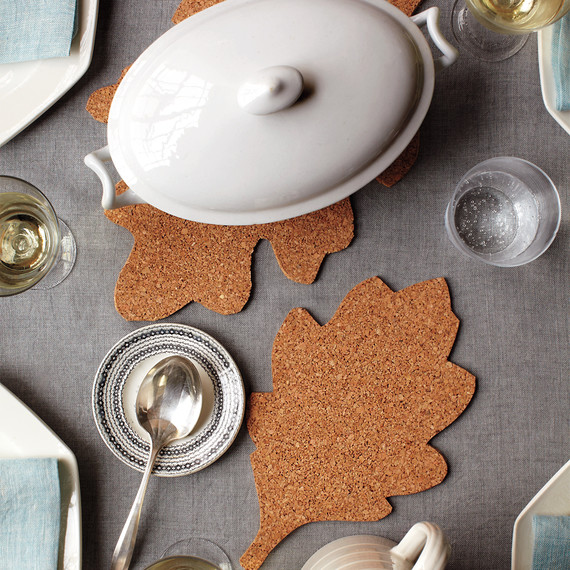 Make Decorative Trivets
With a ton of dishes hitting your table on Thanksgiving, you can never really have too many trivets on hand. So if those trivets can double as decorations in their own right, it's kind of like killing two birds with one stone. Try for something simple, like cork trivets cut into leaf shapes, or create something with a little more texture using some twigs and twine. 
[MAKE: Create DIY Leaf Trivets for Your Thanksgiving Table]
Create a Natural Centerpiece
If your idea of the perfect Thanksgiving centerpiece is the turkey, then a simple swap might be all you need to give your spread a more artistic, thought-out look. And that doesn't necessarily mean having to go all out with a DIY cornucopia or meticulously arranging the perfect fall floral centerpiece. The perfect accent can be as simple as collecting a few branches from outside and decking them out with fleece, or popping some wheat and grass into a vase to create a "harvest bouquet." 
[COLLECT: Turn Collected Branches into Instant, Colorful Table Accents]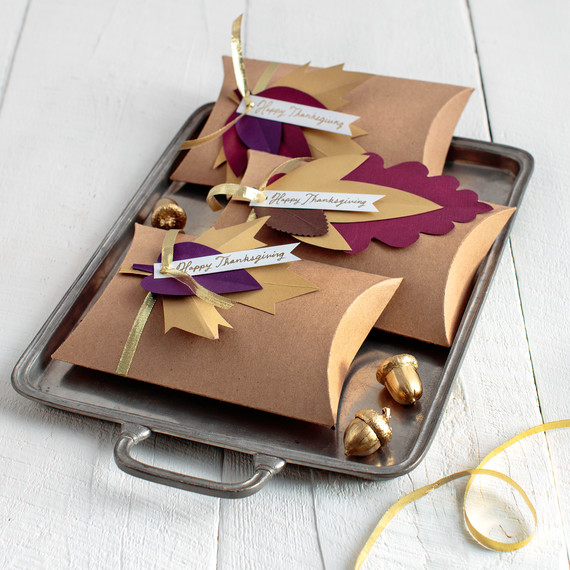 Make Favors for Guests
An expert host or hostess will always send their guests home with a little more than just a full stomach on Thanksgiving. Party favors with treats like chocolate or nuts are always a super sweet gesture – and are made all the sweeter with the help of a pretty presentation. Go for something chic and simple with a paper leaf-accented box or a cornucopia favor, or try something with a bit more novelty, like favors topped with paper squirrels. You can even go all out and send your guests home with pie slice party favors (talk about host of the year). 
[PACKAGE: How to Make Cute Containers for Thanksgiving Favors]
Personalize Place Settings
Whether you'll be hosting a huge crowd or throwing a more intimate shindig this Thanksgiving, there's always something sweet about giving your guests' place settings a touch of personalization. Consider whipping up some simple place cards using natural elements like mini gourds, which you can coat in gold leaf for a lavish feal, or some dried leaves with guest names written delicately on the surface.  For a place card with a little more novelty, go for something like hand-cut paper pumpkin place cards, or paper Mayflower ship place cards. 
[GET INSPIRED: Try These Ideas for a Top-Notch Thanksgiving Table]