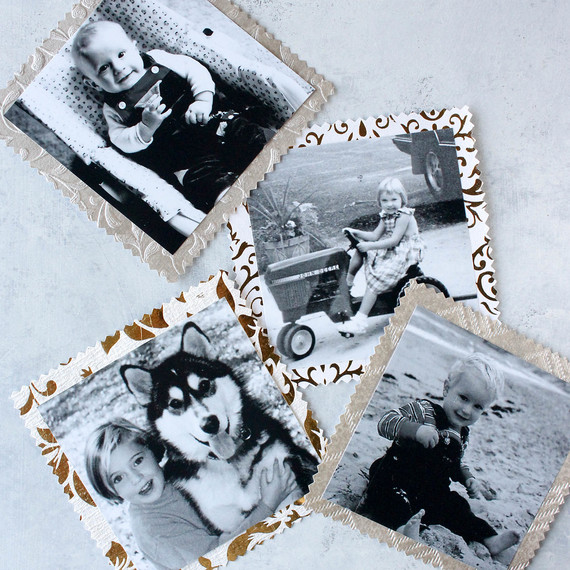 #TBT and Friendsgiving: What do those two things have in common? Everything! Your friends have been by your side through good times and bad times, and without them, #throwbackthursday would be nothing! So here's a sweet idea: After sending out your invitations, hunt for photos of your friends (pull from their Facebook or Instagram accounts, or good old-fashioned yearbooks) and find the perfect photo from their past to make an adorable place card.
What I love about this idea is how easy it is to make for a big crowd! To create your place cards, download the photos and print in black and white. I like printing in matte, as the reflection is less shiny and it looks more "vintage" or that it came from 30 years ago. Purchase an assortment of scrapbook paper. (I went for gold patterns this year, but you can match yours to your decorative tablescape!)
[TRY THIS: Glowing Photo Centerpiece]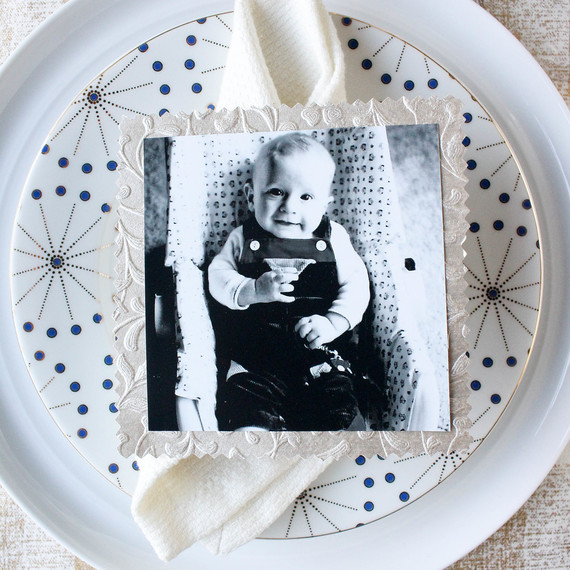 Once you have your photos printed and paper purchased, trim the photos into squares, to look like an Instagram layout. Then, measure your border and use a pair of crinkle-cut scissors for a fun edge. The crinkle cut also helps visually because you do not need to worry about your lines being perfectly straight.
I rested the place settings right on top of napkins. You could also punch a hole and tie it around the linen, or tuck it under the wine glass. I liked them front and center because without any names, the picture is your indication of where you sit!
[GET MORE IDEAS: 8 Printable Place Cards for Your Table]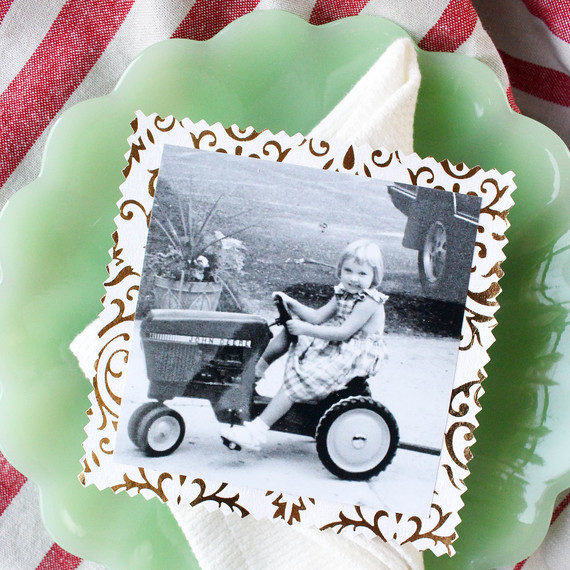 When it comes to Friendsgiving, one tip is to mix things up when it comes to linens, plates, and glassware. It can be a big assortment of your favorite stuff. In my case, I gathered retro and vintage looking table settings.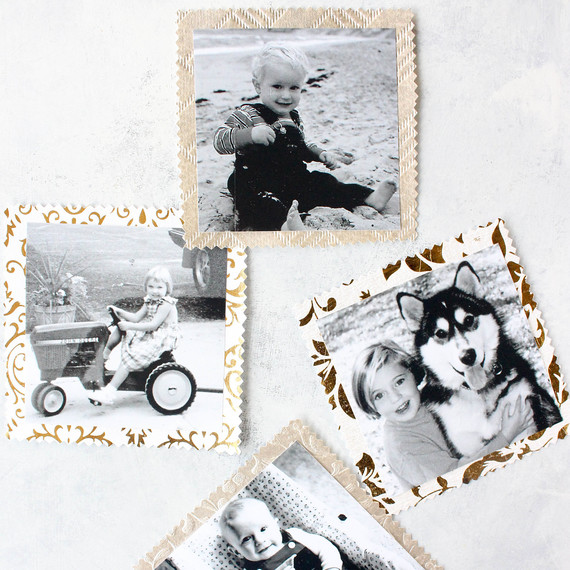 It's so fun to see people look around the table, recongize friends, be surprised by some, and laugh when they see theirs!
Want more ideas for a #TBT Friendsgiving? Watch this video for more photo-themed table decorations: