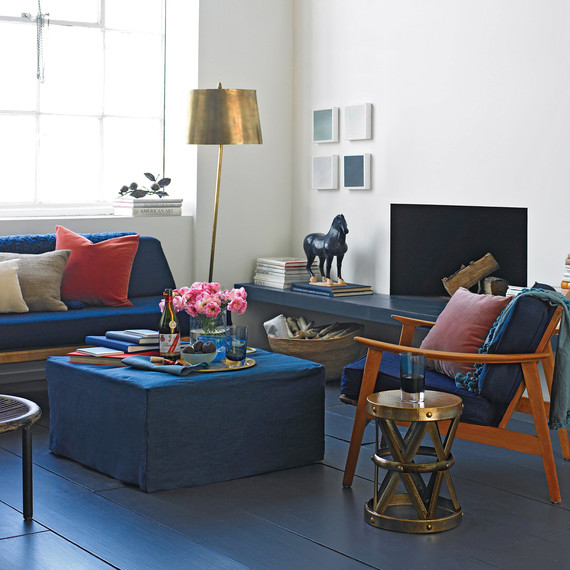 Designing a room is no easy task, just ask Brooklyn-based interior designer Dionne Rivera. But once you have a roadmap in place, you'll be surprised at how quickly everything comes together. Here, Rivera shares five of the first things she does whenever she starts a new project.
1. Figure out the purpose and layout of the room. Do you plan on turning the room into a nursery or a library? Do you have a pet or are you planning on starting a family? "Once you know what you want the room to serve as," she said, "then you can start figuring out the layout."
2. Take measurements. This may be one of the least glamorous aspects of design, but it's pivotal if you want the space to look inviting and not crowded. A good measuring tape should do the trick. "You want to make sure that all of your furnishings fit and don't look squished," she says. "Also, don't forget to measure the room height." (This measurement comes in handy when you're deciding on art.)
3. Start a Pinterest board. Rather than collect tear sheets and clippings from magazines and newspapers, set up a Pinterest board that can serve as a catch-all for all of your decorating ideas. "I like to create Pinterest boards with my clients where they can add in items they like," she says. "This gives me a better idea of their tastes and often helps us come up with a theme for the room."
[START PINNING THESE: Living Room Design Ideas]
4. Find a focal point. Inspired by the color palette in an oil painting you purchased at a local art gallery? Why not use that for inspiration when designing your room. "Often my clients will have a piece of furniture or art that's really special to them and that they want to decorate around," she says. "That single piece often sets the tone and color palette for the rest of the project."
5. Begin decorating around said focal point. Now that you've figured out a focus and a color palette, begin adding in additional elements that complement these things, such as furnishings and accessories in complimentary patterns and colors. "This is also a good time to figure out the placement of power outlets, and whether or not you'll need additional ones installed," she says.
[SOMETHING TO CONSIDER: How to Make an Accent Wall Look Sophisticated]