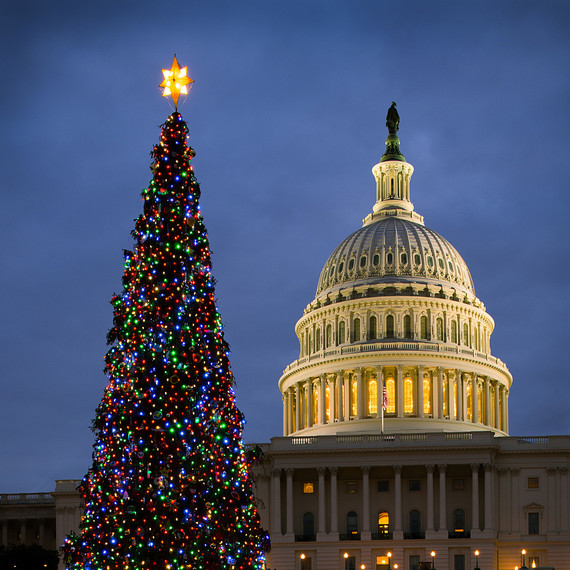 Brace yourself, America: your tree is coming! The 80-foot Engelmann spruce is making its way to the nation's capital from Little Ski Hill in Idaho and is expected to arrive in Washington, D.C. in two weeks, but not before it makes a few stops along the way. 
The tree will tour 25 communities in Idaho and travel 3,000 miles to the the west lawn of the U.S. Capitol Building. To make sure the People's Tree — as it is famously called — remains fresh throughout the long journey, Operation Supervisor for the Mccall Jumper Base Chris Niccoli is in charge of watering it. "I'm taking care of the tree by watering it on a daily basis [...]," Niccoli told localnews8.com. "I also keep the humidity up in the trailer by spraying it to keep the tree moist." He also added that the tree needs 10 to 20 gallons of water a day.
[USE OUR HANDY CHECKLIST: How to Pick the Perfect Christmas Tree]
When it finally makes its last stop at the Capitol, the spruce will be decorated with thousands of ornaments handmade in Idaho and will be officially lit in a ceremony on Thursday, December 1. The tradition of the Capitol Christmas Tree started a little over 50 years ago when then Speaker of the House of Representatives John W. McCormack placed one on the lawn in front of the Capitol. Since then, different national forests are chosen every year to provide a tree and this year's comes from Payette National Forest.
So if you are planning a trip to the nation's capital next month, make sure to add the People's Tree to your sightseeing list!
Are you picking out your own Christmas tree this year? In this video, Martha shares her personal tips for tree-picking: