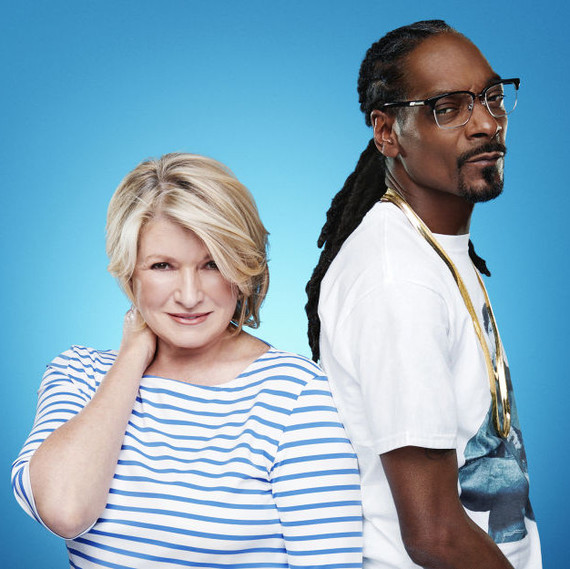 Martha and Snoop went all out for this week's potluck and cooked a luxurious lobster dinner, putting their respective spins on two classic dishes -- Lobster Thermidor and a New England clambake. On tap as guests and sous chefs were model Ashley Graham and rapper Rick Ross, who was quite taken with Martha and not shy about showing it. After Martha taught everyone how to eat lobster properly (classic Martha!), the group played a revealing game of Show and Tell. Last night's episode may have been half as long as the super-sized premiere, but it had just as many shenanigans -- here are 10 of the most memorable moments.
1. Martha makes a giant martini
Watching Martha empty an entire bottle of vodka into a gigantic cocktail shaker is like therapy. She balances it out with lots of ice and a touch of vermouth, "just enough for the aroma," then lets Snoop shake it.
2. Rick gives Martha a gold chain with an enormous cheese-grater pendant.
Clearly, cheese is the way to Martha's heart. She says, "This is my first piece of real bling!"
3. Snoop's nickname for Lobster Thermidor
Snoop's take on the traditional French recipe gets it richness from generous amounts of brandy, cream, Gruyere, and heavy cream. It also goes by the moniker Boiled and Broiled Skrilla Godzilla.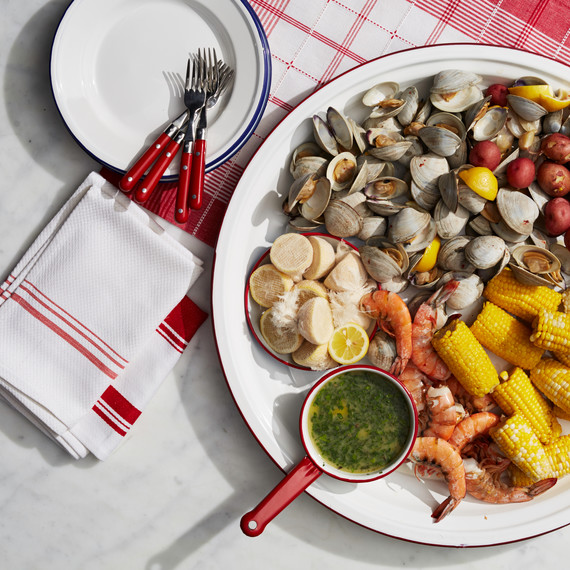 4. Martha uses vodka in her clambake
Why? "I never like to cook anything alive without giving them a drink." (That's what she said about killing chickens in the premiere, too!) When Snoop mentions that he feels guilty about cooking the lobsters, she says, "Don't feel bad! They've got their vodka." They're also in good company on the stovetop -- Martha adds clams, shrimp, potatoes, corn, lemons, and plenty of aromatics and fresh herbs.
Get Martha's Stovetop Clambake Recipe Card
5. Rick gives Martha a massage
Rick treats Martha to a shoulder rub after all her hard work in the kitchen. She leans in and says, "That feels good, baby. I've never had a beard so soft."
6. Martha explains what heavy cream is to Ashley
When Ashley asks what the white substance is, Martha deadpans, "That's heavy cream. It's very, very good for you."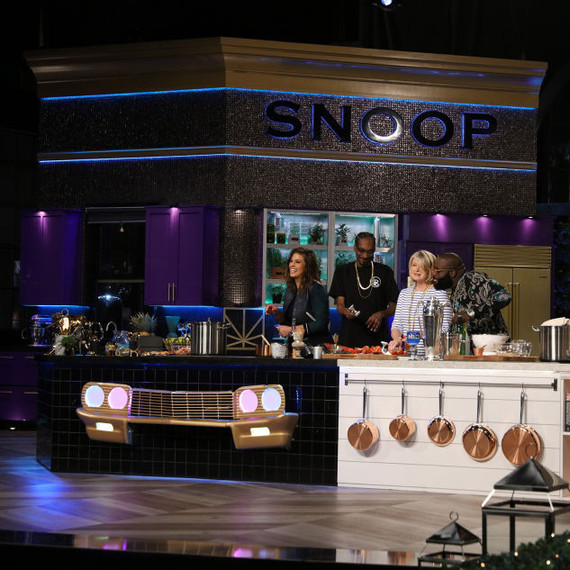 7. Martha hand-feeds Rick lobster in slow motion
Ask and ye shall receive. After watching Martha cheekily dangle a piece of lobster above Rick's mouth, Snoop says, "I want to see that in slow motion." Wish granted!
8. Martha's anecdote about Barbra Streisand
Martha's Show and Tell item is a toilet-paper holder that was a gift from Babs herself. Martha says, "I invited Barbra Streisand to stay at my house, and she didn't like that she had to turn slightly to get the toiler paper in the bathroom. Next thing I know she delivered these to my house."
9. Rick's MOB ring for Show and Tell
After Rick explains that it stands for Mama's Only Boy, Snoop says, "I really think that ring stands for Martha's Only Boy." Martha's response? "Dream on!"
10. Snoop introduces Martha to Golden Oreos
It's Snoop's turn to teach Martha something in the kitchen -- how to eat his munchies staple, Golden Oreos. Snoop's favorite method is to dip the cookie in vanilla ice cream, lick it off, and repeat. Martha gamely follows suit, but we don't think these will be making it into her snack rotation anytime soon.
Watch Rick turn on the charm with Martha below: