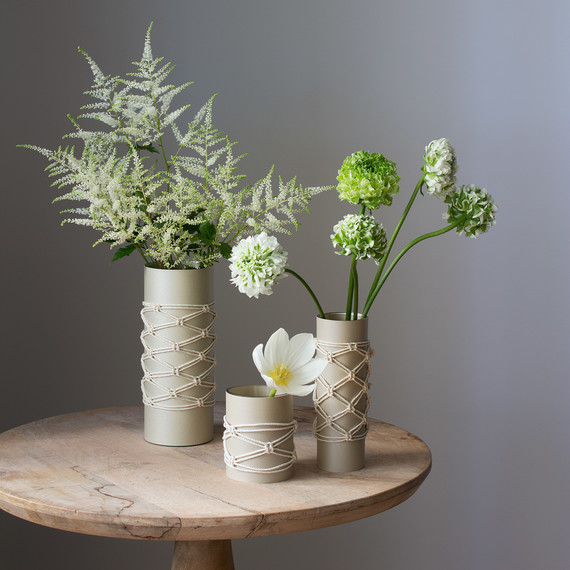 A trend that sees regular resurgence every few decades, macramé is a type of textile created by tying string into a series of knots (instead of knitting or weaving it together). And although its origins are thousands of years old, perhaps most people today associate macramé with the swinging '70s, when it was used to make everything from tablecloths to vests. Today, macramé is once again finding a place at the popular table, with classic DIY planters and other home decor items.
From an aesthetic perspective, it balances the line between homey, subtle femininity, and a stark sense of masculinity. Basically, this style will work in almost any home — especially one with a dueling sense of design. Our unexpected take on the macramé trend eschews the usual planter fare and embellishes a classic cylinder vase instead. We chose classic white cotton as our cord, but this is where your own style takes the lead. Choose metallic, neon or any string that sparks your interest. We've also created our own color scheme by covering our glass vase with paper. You can use any color paper you like, or you can make your own macramé over a clear, colored or frosted vase. This technique works on anything straight sided, so use your imagination.
[DON'T MISS: You Have to See This Artist's Massive Knot Collection]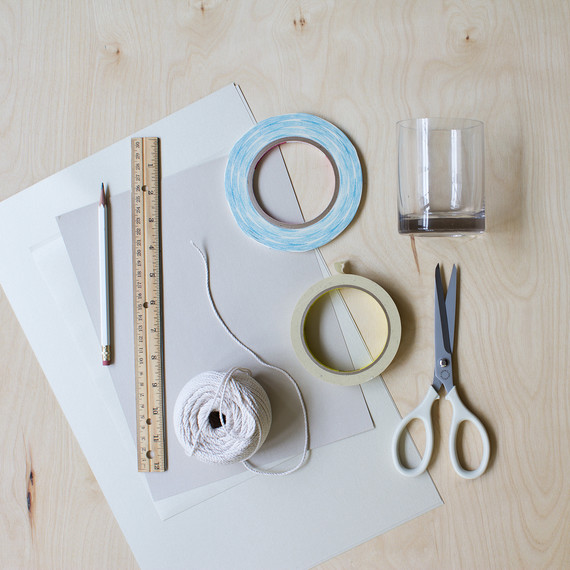 Materials
Cotton string
Scissors
Glass cylinders
Paper
Double stick tape
Ruler
Masking tape
Pencil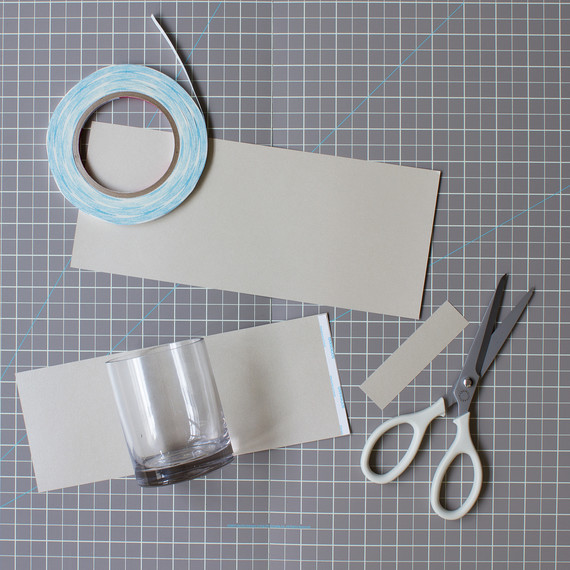 Step 1
Using the paper and double stick tape, cover a straight-sided vase with the paper of your choice. We chose a pretty pearly-gray color that provides a perfectly subtle contrast with our white string. But feel free to be as creative as you want with your combination of paper and string shades.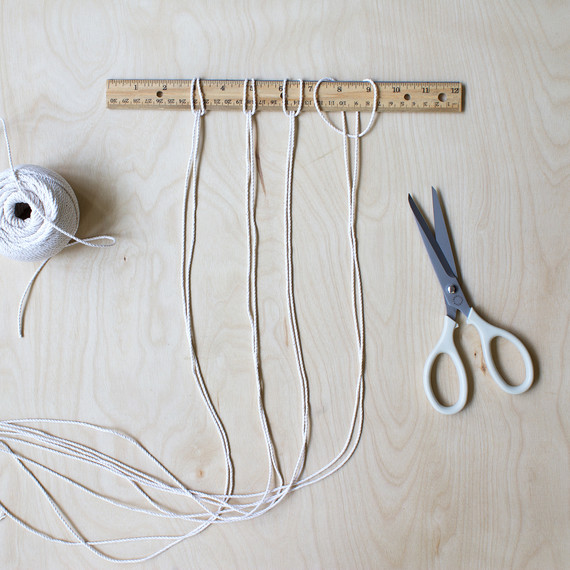 Step 2
Now that your vase is prepped, it's time to start your macramé. Cut an even number of strings approximately a yard and a half long (go longer if you have a wide vase). Loop each string around your ruler as shown. If you don't have a ruler on hand, try a broom handle, dowel rod — almost anything can work as long as you can slip the string off one end when you're finished.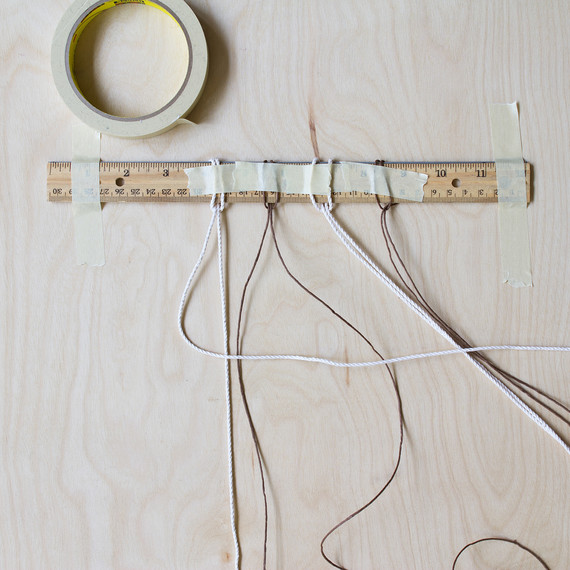 Step 3
Next, tape or clamp your ruler down to your work surface, which will secure the base of your string to make the tying process easier. Each knot is made using four strings. And to make it easier to spot the knot, we're using two different string colors for this part of the tutorial. Take the left string and place it over the middle two strings. You'll want to leave a few inches of space from your ruler to work with later.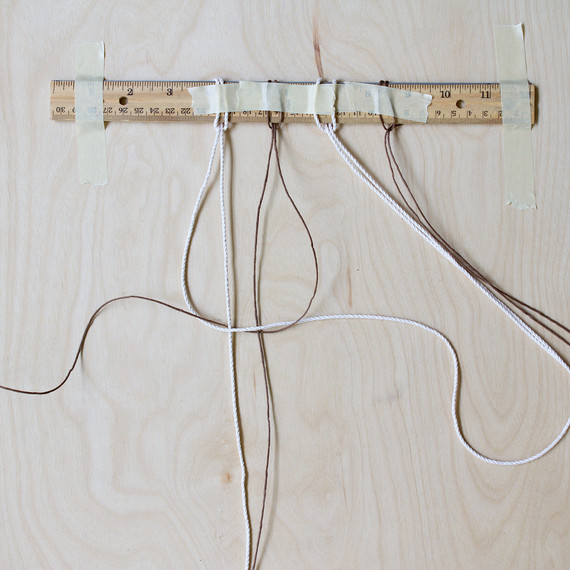 Step 4
Take the fourth string (the one on the right) and go over the first white string that you just finished moving and then under the middle two. Then go through the loop you created on the left.
Step 5
Repeat Step 4 with the same exact strings. You've created a square knot! Now simply repeat that same knot again and again down the length of your string.
Step 6
Repeat the process on the other side with the four strings to the right.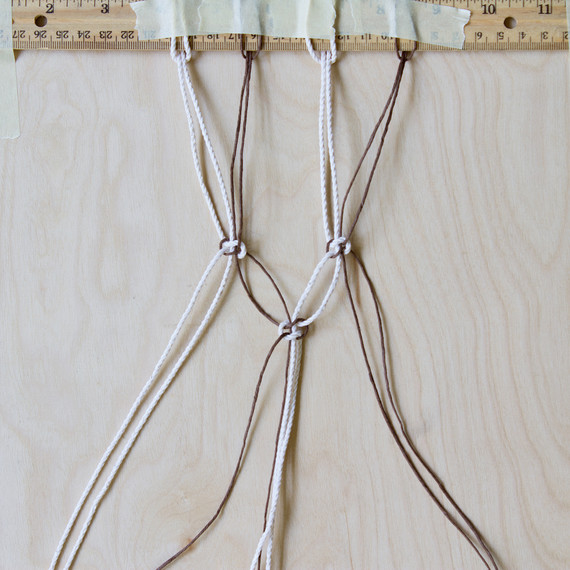 Step 7
Then, to join both sides together, repeat the process with the middle four strings, using two from each original grouping.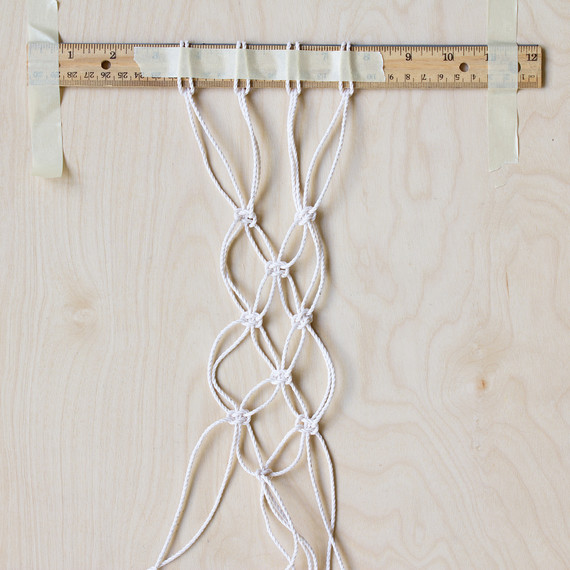 Step 8
Now that you have the knotting basics down, we're back to using our original white string. Repeat the knotting process until you have a long enough macramé to wrap around your vase. We suggest checking the length sporadically as you work to prevent making it too long.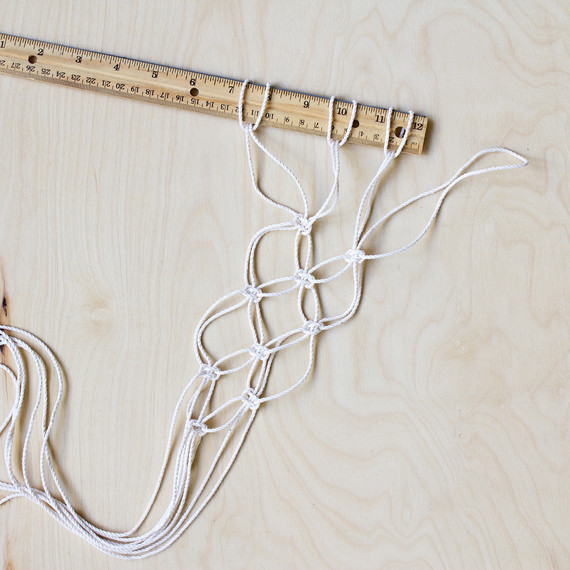 Step 9
Remove the tape and carefully slip your work off of your ruler (or whatever you used).
Step 10
Finally, working with two strings from each side at a time, tie your macramé around your vase and trim the excess. We trimmed just enough to create short tassels for added detail and texture.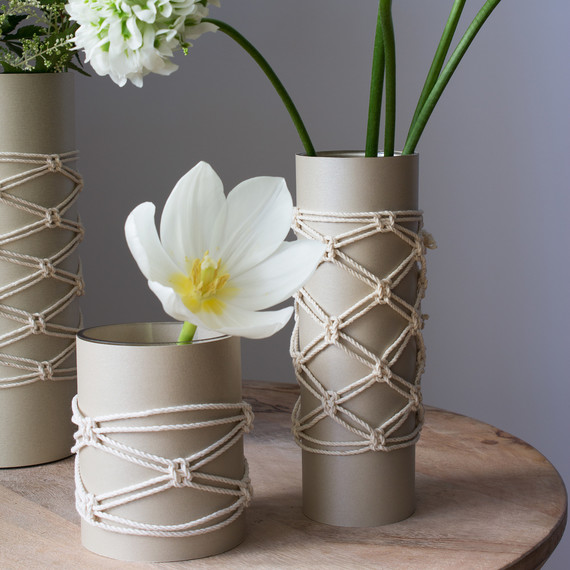 And then, you're finished!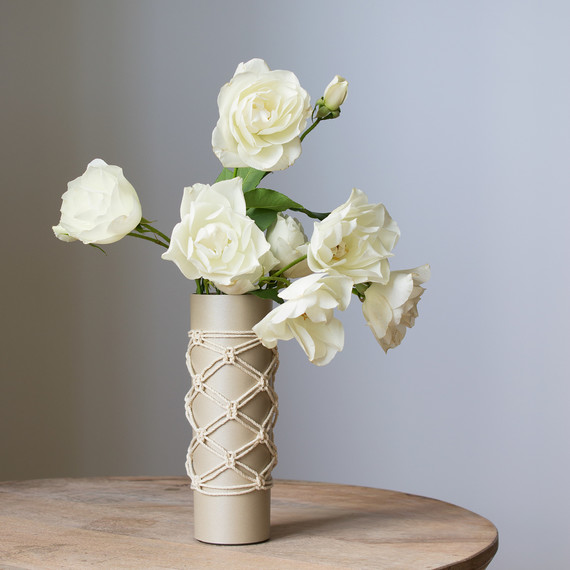 We like the idea of minimalist arrangements to pair with these containers, but the choice is yours!
Feeling inspired? Why not try making a chic thread-wrapped bracelet with similar techniques?