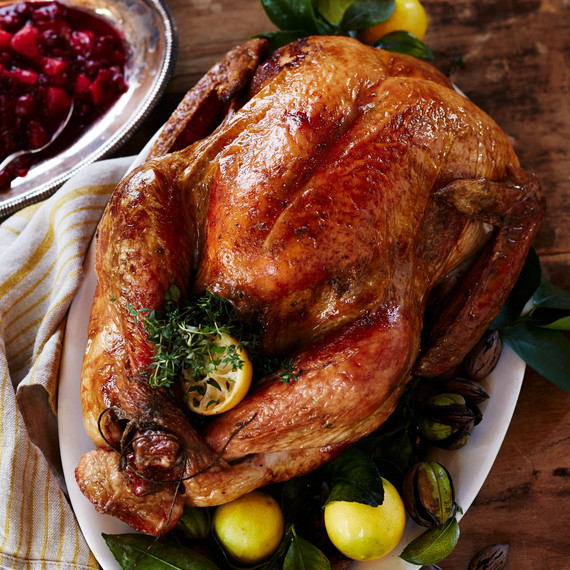 When I started dating my now husband, I was brought into the annual Friendsgiving he does with a small group of friends each year. It started ten years ago when he lived in a loft with five other guys in Manhattan, then moved to various apartments in Brooklyn, and this year, it will be hosted by our friends who just bought a house in Westchester, NY. Since it's a Friendsgiving and we will all be splitting the responsibilities, I'm making a few sides and a dessert—plus this turkey!
Grilled Salt-and-Pepper Turkey with Giblet Gravy
Living in a small city apartment, we rarely get the luxury of outdoor space, so this year we've decided to focus the menu around this grilled turkey. I love the way it comes out, the drippings make for an incredible gravy, the meat is super flavorful and tender, and I have a feeling that the subtle smokiness of the bird will make for exceptional sandwiches.
Get the Grilled Salt-and-Pepper Turkey with Giblet Gravy Recipe
Whenever I cook for a large crowd I try to include a few items that can not only be made ahead, but actually benefit from it. I'll definitely be making a big batch of rye whiskey switchel base that the host (who happens to be a former bartender) can serve up before the meal.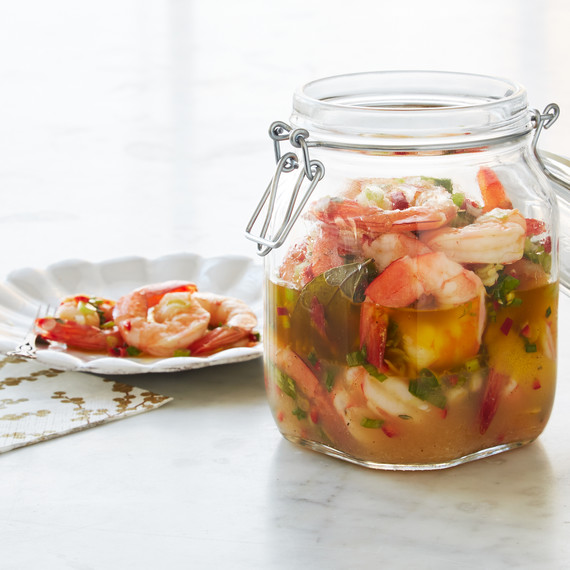 Appetizer
Low-Country Pickled Shrimp
Another crowd pleaser (and make-ahead gem) is this lemony pickled shrimp. It's also easy to transport if you're celebrating at someone else's house. I find that I get a little more bang for my buck if I use medium shrimp instead of large. It's nice to serve a big jar of these shrimp before the meal with little crispy toasts and good quality mayonnaise.
Get the Low-Country Pickled Shrimp Recipe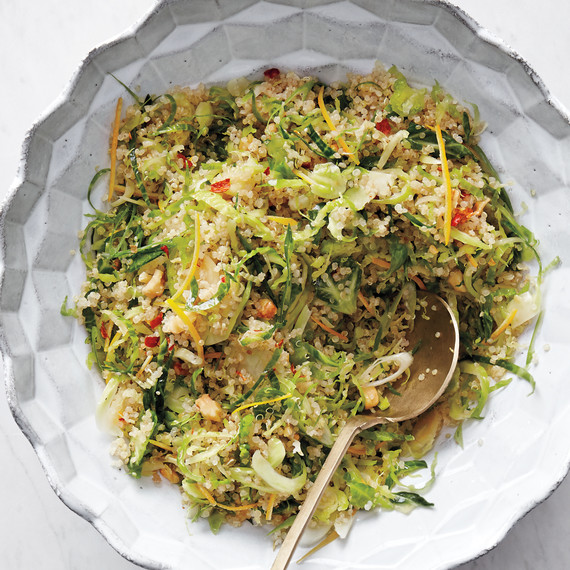 Sides
Shaved Brussels Sprout, Meyer Lemon, and Quinoa Salad
I always have something really fresh and bright to balance out all the heavy dishes that usually dominate the Thanksgiving table. This shaved Brussels sprouts and Meyer lemon salad from is one of my favorites.
And this Braised Celery -- it's simple, affordable, and so comforting. Plus I don't think celery gets enough credit!  
It's a little unusual, but I plan to do a take on colcannon this year instead of plain mashed potatoes. I'm not the biggest mashed potato fan and adding greens like kale or Swiss chard really elevates them for me. Plus I like to add as many green vegetables to the Thanksgiving table as possible. 
Get the Shaved Brussels Sprout, Meyer Lemon, and Quinoa Salad Recipe
Dessert
Chocolate-Sesame Tarte Soleil
For dessert, I'm making this visually very impressive, but in reality super easy tart. It tastes like a big piece of chocolate-covered halvah. Plus, since we'll probably stay the night, we can have leftover slices the next morning with lots and lots of coffee. 
Get the Chocolate-Sesame Tarte Soleil Recipe
If you're hosting a Friendsgiving, you need to read this.