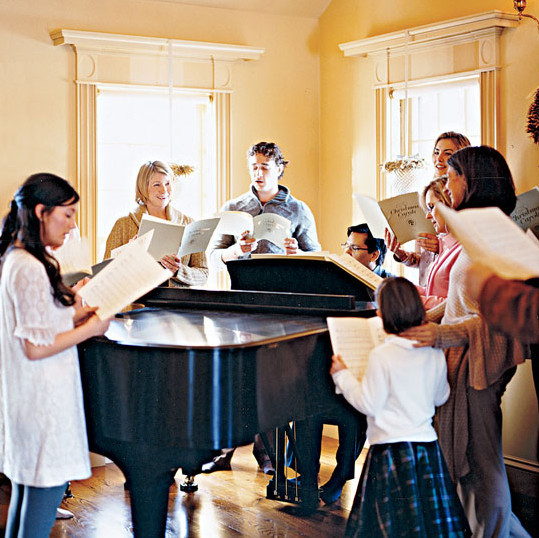 Martha loves music during the holiday season. In the weeks leading up to Christmas Day, the Bedform farm is decorated from top to bottom, the trees (yes, multiple!) are brought in from the cold and beautifully ornamented, and a big batch of her signature eggnog is whipped up in the kitchen. This is how she sets the scene for her annual open house to celebrate with family, friends, and neighbors. Upon arrival, each guest is given a caroling songbook and everyone gathers around the Steinway & Sons grand piano for a happy, collective sing-a-long.
(To make the songbook that Martha hands out to guests at her holiday parties, download and print this file.)
Here are some of her personal favorites for listening and singing along.
1. "Santa Baby" performed by Eartha Kitt
2. "The Christmas Song" performed by Nat "King" Cole
3. "White Christmas" performed by Frank Sinatra
4. "Sleigh Ride" performed by Johnny Mathis
5. "It's the Most Wonderful Time of the Year" performed by Andy Williams
6. "Have Yourself a Merry Little Christmas" performed by Judy Garland
7. "Silent Night" performed by Kiri Te Kanawa
8. "O Holy Night" performed by Kiri Te Kanawa
9. "Deck the Halls" performed by Teo Macero & his Orchestra
10. "The First Noel" performed by Chris Botti
11. Handel's "Messiah" performed by the Trinity Church Choir
12. Bach's "Christmas Oratorio" conducted by Kurt Thomas
They're all in this Christmas playlist. Just press play! (And follow us on Spotify for more party playlists.)
[GET THE CLIP-ART: Martha's Christmas Songbook]