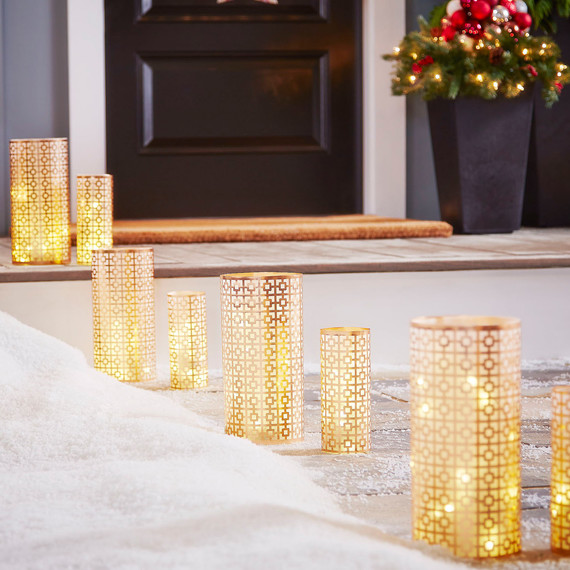 Copper Lanterns
With 30 minutes and a few materials, you can light up your walkway with the warm glow of these lanterns. They're made from sheets of perforated copper and illuminated with battery-operated LED wire lights. To assemble, cut the metal sheet to your desired height and width, bend into a cylinder shape, "sew" the seam with wire, line the inside with waxed paper, and fill with lights. Be sure to position the battery pack toward the top of the lantern so it's easy to turn the lights on and off. With no electrical cords to plug in, you can place the lanterns wherever you'd like. They can also be used as decorative pieces on the mantel and dining table.
[WATCH: How to Decorate with Lights]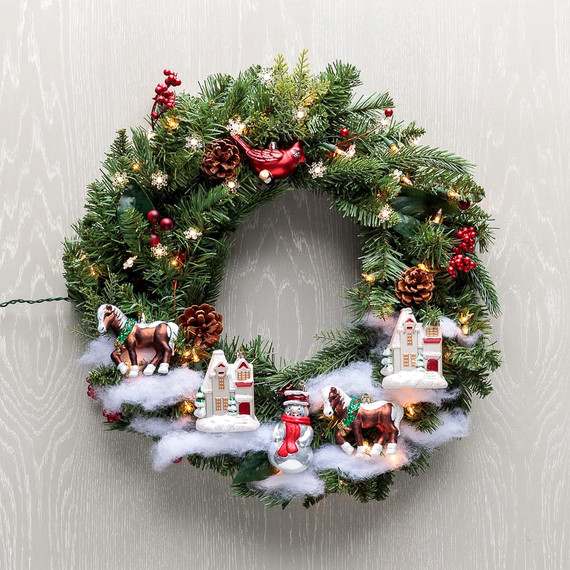 Diorama Wreath
Transform an artificial wreath into a winter village diorama with ornaments, battery-operated lights, and snow cover blanket. Shatterproof ornaments nestled into the branches are kid- and pet-safe. Purchase a set of ornaments to create a cohesive theme, and use the extras for your tree. Have a family crafting day for the kids to decorate their own wreaths with their favorite ornaments and embellishments. Show off their creativity by hanging the wreaths on their bedroom doors using removable adhesive hooks.
[WATCH: How to Decorate a Wreath]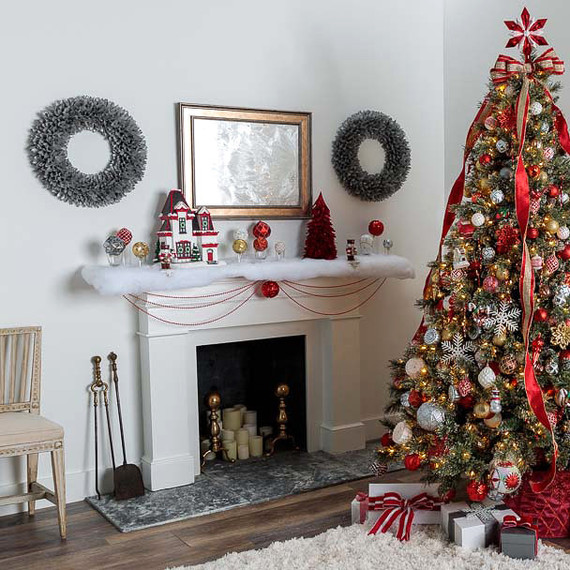 Mantel Decorations
Deck your mantel with artificial snow, shaved wood trees dusted with glitter, and figural ornaments to create a winter wonderland scene. Hang wreaths on both ends to finish the look. To avoid tangled cords, opt for wreaths that are either unlit or strung with battery-operated lights. Position your Christmas tree next to the mantel and gather around the cozy fireplace to open presents.
[WATCH: How to Decorate Your Mantel]